Broughton Spurtle
hyperlocal news, views and features
Breaking news
Thursday, 15 February 2018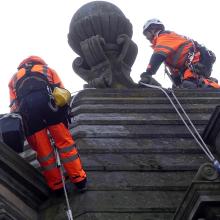 Onlookers outside the Balmoral Hotel today could be forgiven for thinking that Rocco Forte had introduced a new, SAS-inspired initiative to speed-up room-service. 
In fact, the daring workers, in day-glo, Guantanamo Bay orange overalls, were either cleaning windows, preparing window frames, touching up render, reattaching loose stonework, or removing the Christmas lights. 
We put all five suggestions to various Balmoral staff this...
Wednesday, 14 February 2018
 POLICE SEEK HELP AND RELEASE IMAGE 
Police Scotland issued the following press notice today. We reproduce it unedited and in full.
Police in Edinburgh investigating a serious assault in the city centre have released an image of a man they believe may be able to help with their inquiries.
The incident took place around 7.50pm on Saturday 3 February near to the Phoenix Bar on...