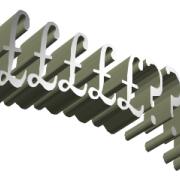 In a partial but significant climbdown, Administration councillors are now promising to reduce the cut in the schools budget from 2.5% to 1%.
The devil, of course, will be in the detail, but Education Convener Marilyne MacLaren claims 'the Administration has listened to serious concerns expressed by teachers and parents and has done everything possible to protect schools'.
The overall budget will go up by 2.6% (£5.2m), says MacLaren, and the budget for school supplies and services will increase by 8.1% (£250,000). MacLaren's department has faced additional costs (maximum class sizes, teachers' leave entitlement, teachers' pay settlement, higher property rates) amounting to £7.2m. This sum, though, will be met from elsewhere in the Council's budget.
However, the cuts which really matter are from that part of the overall schools budget which headteachers manage themselves (the so-called 'devolved budget'). The 2.5% cut originally proposed would have meant a 50% reduction in the devolved budget. The revised 1% cut represents a 20% reduction. It translates at Broughton Primary School into a loss of £10,000 in the coming 2010-11 financial year, with further cuts likely in future.
Why outrage from teaching professionals and parents – and these consequent amendments – could not have been foreseen weeks ago is anybody's guess. Some cynics are already suggesting that hired-in PR consultants deliberately floated unrealistic proposals early so that the Administration could later 'generously' retreat to a 'compromise' figure of its own choosing.
Other observers note that however welcome today's news may be, the fact remains that schools with nothing left to cut but staff and standards are being asked to find another 20%.
Spurtle will return to the story with views and comments as we gather them.