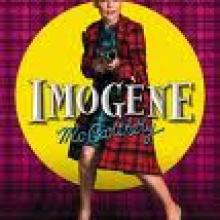 In May 2009, Abercromby Place, Heriot Row and Nelson St doubled as 1960s London during filming of the French espionage caper Imogène McCarthery (see Issue 172).
The movie was released earlier this month in France, and now promotional clips are online at www.youtube.com. Blink and you'll miss it, but Abercromby Place is definitely there (as is William Street). Old College, Neidpath Castle and the road to Talla reservoir also feature.
Directed by Alexandre Charlot and Franck Magnier, Catherine Frot stars as the eponymous heroine: a Russo–Scottish anglophobe with a penchant for rugby, bagpipes and whisky. She works as a humble secretary in the Admiralty, where she is much put upon by her boss and the 'satanées Anglais' in general.
When – against all expectations, training and ability – she is entrusted with a secret mission to deliver warplane designs to a contact in her home town of Falkland, Imogène becomes embroiled in the machinations of 'Bolshevik' spies and a childhood sweetheart with a terrible secret.
Nostalgic, stylised, completely daft, unashamedly indulging every national stereotype and Gallic prejudice going, the film looks enormous fun.
[img_assist|nid=770|title=|desc=|link=node|align=center|width=150|height=200]