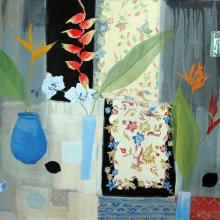 This exquisite painting is one of the centrepieces in Union Gallery's May exhibition of mainly watercolour paintings by Edinburgh-based artist Jenny Matthews (Extras 1.5.10).

Burung Jawa (meaning Javanese bird) was influenced by the artist's four-year domicile in Indonesia, and features some of her collection of Indonesian fabrics.
Her trademark flower pieces are inspired by her Edinburgh College of Art teacher Elizabeth Blackadder, and her contemplative wanderings in the Highlands. Collectors of Jenny's work include the novelist Ian Rankin.
The exhibition has attracted wide attention and proved a spectacular success for the artist and this exhilirating Broughton Street gallery. JRM