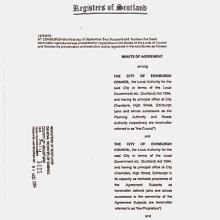 In our article in Issue 259, page 2 we promised to include here the S75 Agreement between City of Edinburgh Council and Kingsford Developments Ltd.
Unfortunately, the file is so huge that our website practically collapses under the weight.
Please follow this link instead, and click on the second item down. Be warned: it takes ages to download.
Sorry for any disappointment.