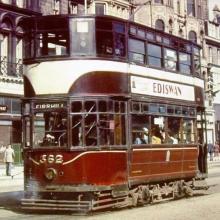 ALARMING SMASH AT YORK PLACE. — A collision between a 3-ton motor lorry and a tramcar at the crossing of York Place, Edinburgh, and Broughton Street, caused some alarm yesterday forenoon.
While the lorry, belonging to the A.C.S. Motor Company, was turning from York Place into Broughton Street, it skidded and crashed broadside into a tramcar which was proceeding northwards down Broughton Street, and partially knocked it off the permanent way.
Two windows of the lower saloon of the car were smashed by protruding packing cases on the lorry, while the wind-screen was much splintered. Two passengers in the car received slight injuries from broken glass.
No damage was done to the lorry, but a bag of lentils burst, and the breakdown gang which had been hastily summoned from Shrubhill had to wade about in lentils while engaged in freeing the jammed car and lorry.
In a very short time after the arrival of the breakdown gang the roadway was cleared of all obstruction, and traffic proceeded as usual.
The Scotsman, Tuesday 21 October 1924
Image above courtesy of Edinburgh Trams Club