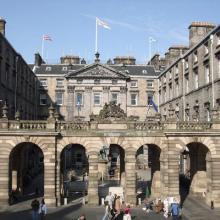 COUNCIL ADAPTS TO CORONAVIRUS CRISIS
City of Edinburgh Council is taking extraordinary measures in extraordinary times.
 
In order to steer the city through the current Coronavirus crisis, and the expected disruptions caused by elected members being unable to meet in person owing to health precautions or illness, it has established a five-person Leadership Advisory Panel (LAP). 
 
This comprises Councillors Adam McVey (SNP, Convener), Robert Aldridge (Liberal-Democrat), Cammy Day (Labour), Melanie Maine (Green) / Alex Staniforth (Green), and Ian Whyte (Conservative).* There are no independents represented.
 
The LAP delegates considerable authority to unelected Council officials, but keeps these decisions under review.
 
Sceptics say LAP members will inevitably lack relevant experience in some of the areas they now oversee. They will therefore be even more dependent than usual on the clarity, objectivity, and good sense of advice they receive from officers. This arrangement does not fill all observers with unbridled confidence.
Virtual democracy 
The most recent LAP meeting took place yesterday by Skype, with its 5 members and another 8 interested parties (local politicians and officials) listening in or participating when invited.
 
You can see the agenda of the yesterday's LAP meeting here, and the webcast Skype conversation where it was formally discussed here.
  
There emerged the usual technical difficulties of broken signals, microphones fading in and dropping out, occasional confusions over who was to speak when. Mostly though, it was efficiently chaired and politely attended in a spirit of not necessarily agreement but certainly cooperation.
 
The Convener, however, wields tremendous influence in such virtual meetings, determining who will be heard and/or seen to be wishing to be heard. This was not a problem yesterday, as far as one could tell, but in other hands and in other circumstances, there is distinct potential for abuse.
 
Changes to Planning
Planning has been among the most contentious areas of Council policy in recent years, with highly visible effects at the macro and micro levels for residents.
 
'Straightforward' cases can be delegated to officials, and processed depending on reduced availability and resources in the developing Coronavirus period.
 
However, delays to more difficult or significant applications that would normally be determined by the Development Management Subcommittee have opened the possibility of some developers appealing directly to the Scottish Government on grounds of non-determination within the statutory time-frame.
 
To avoid this, and to keep the Planning process on track, the Council will revert 'controversial' decisions that cannot be delegated to the LAP.
 
This was laid out in Item 7.14 of yesterday's meeting, discussed at 2:07:58 in the webcast mentioned above.
 
A Green addendum, later accepted, sought to define 'controversial', and proposed that elected members should recognise it on a case-by-case basis, relying on collaborative working and consensus. Ward councillors' opinions should be sought and carefully considered for local expertise on what does and does not constitute controversy.
 
The Conservatives and Liberal Democrats had an amendment, to the effect that a virtual Development Management Subcommitee should be trialled in April for controversial cases. Cllr Ian Whyte suggested DMS members should agree to speak through nominated representatives in order to make the meetings easier to manage online in real time. Officials at the LAP meeting cautiously agreed this would be legal and practicable.
 
Cllrs Whyte and Aldridge pointed to the non-whipped status of DMS members, and feared this independence would be lost if planning decisions were instead handled through a more party-political LAP.
 
Cllrs McVey and Day appreciated such concerns, but suggested the LAP could act as a pseudo DMS if some or all of its members stood down temporarily in favour of more informed DMS members. Backed by Cllr Staniforth, they succeeded in having the motion accepted.
 
Cllr McVey concluded by promising to revisit the arrangements if they proved unduly problematic.
 
To sum up
This was a technically and socially complicated meeting, which for the most part ran well.
 
However, it engaged with and itself demonstrated very real difficulties we now face in ensuring governance arrangements are accessible, orderly, and transparent.
 
Frankly, there may not be a desirable solution. Democracy is under strain and we shall probably just have to grin and bear short-term shortcomings. For the time being, we rely on a shared sense of necessity, forebearance, and goodwill. How long that will last during the challenges to come is anybody's guess.
* On LAP membership, see Cllr Mowat's helpful clarification below.
[Image top-right: Ronnie Leask, Wikipedia, creative commons.]
------