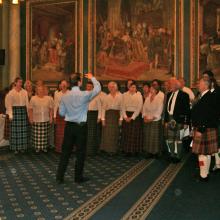 The Edinburgh Saltire Gaelic Choir sing traditional Gaelic songs, many of which have been arranged in 4-part harmony, writes Paula Sharp. The highlight of our singing year is the National Mod held (this year in Oban) each October. We compete in two or three of the competitions, and although prizeless this year our conductor Seonald MacDonald was very pleased with our performances.
We are quite a small choir and are therefore always recruiting, but just after the Mod is a good time to join as the pressure is off and it's more fun! We are reasonably well balanced across the parts, with nearly as many male voices as female, so any pitch is welcome!
Knowledge of Gaelic is not essential as we have experts in the choir who will explain what the song is about and help with pronunciation.
As well as the Mod, we perform about 4 or 5 times a year – usually at the Museum in Chambers Street around Christmas (probably 13 December this year), sometimes at ceilidhs run by ourselves or others, and by request at other places (sometimes during the evenings or at weekends).
We rehearse each Wednesday evening from 7.15–9.15pm in the SNP Rooms, 16 North St Andrew St (but have no political affiliation!) – a convenient location for Spurtle readers. Newcomers are always welcome (see 'Events' for our 28 October taster session).