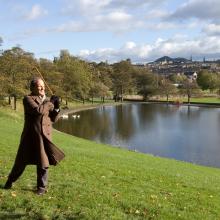 In Issue 204 (published today) we feature Rhys Fullerton and his new short film Birdie.
Since going to press, the film has won a Golden Osprey (first prize) in the Open Category at the Keswick Film Festival, where John Hurt presented the award.
Space prevented us printing all the information which may be of interest to other budding film directors and producers, but we have acres of room online so here goes.
For a start, Rhys has been busy entering the film for the following festivals and competitions: Short Cuts Film Festival, Holmfirth Film Festival, Strawberry Shorts Film Festival, Deep Fried Film Festival, Loch Ness Film Festival and The INDIs Young Filmmaker Award. This, however, is not an exhaustive list, and there will be many more when submissions open.
For seconds, here are the complete credits:
[img_assist|nid=2737|title=|desc=|link=node|align=right|width=200|height=149]Mark Mansell as Robert Fripp & Golf Commentator

Written and Directed by Rhys Fullerton
Produced by Jérémy Durand & Rhys Fullerton
Director of Photography – Maude Rivard-Haustrate
Sound Designer – Álvaro Buendía
Editor – Maude Rivard-Haustrate
Production Manager – Jérémy Duran
Sound Recording – Álvaro Buendía
Still Photography – Andrea Bartlett & Noelia Tobalo
Poster Designer – Martin Leman
[img_assist|nid=2739|title=|desc=|link=node|align=none|width=441|height=640]