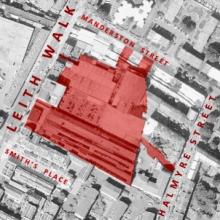 DEADLINE EXTENDED FOR PUBLIC'S VIEWS ON SECOND DRAFT
In March, Edinburgh Council published a draft Place Brief for the partially vacant 'backlands' between Leith Walk, Smith's Place, Halmyre and Manderston Streets.
Due to the Covid-19 crisis, the deadline for online public responses has now been extended to 1 June. You can take part here.
An earlier consultation round took place in January, and attracted over 230 responses to the online questionnaire.
Based on analysis of the replies, Council Planners say their latest draft reflects, among other issues:
a strong sense of community cohesion
support for architectural heritage and local/independent businesses
concerns about traffic and planning pressure in the area, and about short-term lets and student accommodation
a local desire for additional, affordable and environmentally sustainable housing and green spaces in which to meet.
The finished Place Brief will eventually comprise non-statutory guidelines establishing high level principles for the development, based on 'community principles and council requirements'.
It aims to provide:
a strong, inter-generational community with good quality of life
an architecturally well-integrated site with opportunities for active travel
a respectful built relationship to the adjacent Conservation Area
green spaces, reduced energy use, low carbon heat choices.
There are three owners of the site at present, including the Council. Current uses are shown in the plan below.