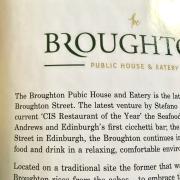 Since the Phoenix reopened under new management as the Broughton Bar this autumn, we have heard nothing but positive comments about the refurbished, welcoming establishment and its upgraded menu at the heart of the barony.
If its aim has been to 'embrace the new, while giving a respectful nod to the familiar,' then it has amply succeeded.
Less successful has been its recent foray into print advertising. A Spurtle Reader alerts us to the bar's double-page spread in Luxury, a stand-alone complimentary publication published by the Herald for free delivery across Edinburgh in January/February 2020.
Within, the Broughton's close-up photograph is sumptuous. The accompanying prose, however, is … unusually worded and loosely punctuated.
In general, we like the sound of 'consistent refined comfort food and a bloody delicious Sunday roast'.
But in particular, the spelling in Sentence 1 leaves much to be desired.
Jugged Hare, anyone?