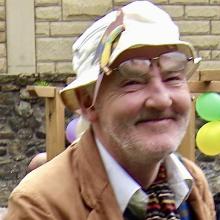 Our friend and colleague Ross Maclean died last night.
He was a charming aesthete, a lover of fine art, poetry, wine, and all growing things. He was insatiably curious about people. He was intrigued by birds and admired cats.
He was entangled in a vast and multi-layered net of Highland memories, genealogies, folklore and historical connections.
He was for many years a member of the New Town & Broughton Community Council and served also on the Drummond Civic Association, whose annual Newsletter he assembled.
From 2005 Ross was a regular contributor to the Broughton Spurtle, and its joint editor during a period of transition in 2007. He had a remarkable eye for the barony's fine detail – animal, vegetable and architectural – which he reported with scintillating gusto.
Ross was passionate about tennis, and relished its sporting and social niceties from the 'Giraffe Garden' beside East Scotland Street Lane. That eccentrically shaped space – fecund, unruly, delightful – was a perfect expression of the gentle man who tended it.
A more complete obituary will follow in due course.—AM