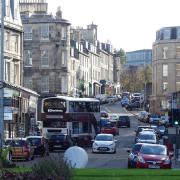 Scottish Gas Networks has announced plans for a major 26-week project to replace mains along Broughton Street and two offshoots.
Phase 1 work will start on 7 January and last for 12 weeks. Broughton Street will be reduced to one lane travelling southwards (uphill) for the duration.
Deliveries to shops on Broughton Street will be possible using the inside northbound lane. Some parking restrictions will apply on Albany Street.
Phase 2 (London Street) and Phase 3 (Forth Street) will follow, extending the project for a further 14 weeks.
Work will take place between 7am and 4pm on weekdays, with reinstatement as required between 8am and 4pm at weekends.
Signed diversions will be in place for motorists, but access for pedestrians (and dismounted cyclists) will continue throughout.
There should be no lengthy loss of gas supply during the work, but neighbours wishing to alert SGN to elderly or vulnerable people who may need 'additional care and attention' are invited to call Tel. 0800 912 1700.
A necessary evil
Operations manager Matt Ferguson told the New Town and Broughton Community Council last night that the work is essential to upgrade pipes which are roughly 100 years old and increasingly likely to fail.
During the £500k project, deteriorating metal pipes will be replaced with durable plastic ones, which are expected to last around 80 years 'ensuring a safe and reliable gas supply'.
Ferguson said January had been chosen for the project as it is a comparatively quiet time of year. Open-cut trenches would be used, which method allows for greater accuracy in assessing timings, and for taking breaks so as not to disrupt businesses such as restaurants during their busiest points in the working day.
Despite such assurances, local businesses are dreading further disruption in what is already a difficult economic climate.
A leaflet with explanatory map will be distributed to around 1,000 local residents over the next few days.
Just when you thought it was all over …
Over the horizon, in connection with the new Edinburgh St James quarter, SGN is planning additional reinforcement of gas mains between Dundas Street and Bellevue Crescent, and along Dublin Street.
This will take place over the summer. More details when we have them.