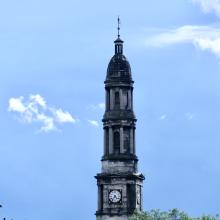 Hello Spurtle Readers,
We are a group of university students pursuing an MSc in Architectural Conservation at the University of Edinburgh.
Since last semester we have been taking a course on Urban Conservation, and as a part of our Urban Conservation coursework we are analysing the area of Bellevue Crescent, for which we require your help.
We believe that the voice of the community is extremely important in any proposed development or recommended urban conservation strategy. The questions in the survey seek to gauge information on demographics, housing, social aspects, place, travel, and any further recommendations you may have.
We are looking for people living in Bellevue Crescent, Bellevue Road, Bellevue Place, Bellevue Terrace, Bellevue Street, Cochran Terrace, Cornwallis Place, East Claremont Street, East London Street, Drummond Place, London Street, Melgund Terrace, Rodney Street, and Scotland Street to fill out our survey.
We would be extremely grateful for your help. Should you have any further information regarding the survey or our project, please feel free to reach out to Shaheera Pesnani s2120046@ed.ac.uk.
Here is the link to the survey. It should not take you more than a minute to fill it out.
Thank you.