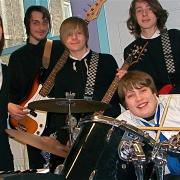 Local rock bands Ascendant (pictured), Sneaky Monkey, and Sugar Rush will star in a concert hosted by Drummond CHS on 22 April. ESRE (Edinburgh Schools Rock Ensemble) will guest.
Event Manager Victoria Marshall says: 'This is an event not to be missed. We need the support of the whole community to buy tickets and get involved.'
The concert is part of Drummond's Wider Achievement Opportunity Programme, and gives musicians and their vital technical, marketing and sales supporters a chance to experience what making it in a musical career is really like.
Tickets (priced £5.00) are available from Drummond Community High School office Mon–Thurs, 8am–8pm, and Fri 8am–3.30pm. Doors open at 6.30pm. Concert, 7–9pm.