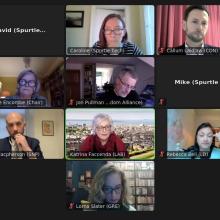 Spurtle's hustings for the Edinburgh Northern & Leith constituency took place last night, with numbers attending the Zoom event never dropping below 72 (including 6 organisers) and probably exceeding that on shared devices.
Leith Central Community Council's Charlotte Encombe chaired. Candidates were: Rebecca Bell (RB, LibDem), Katrina Faccenda (KF, Lab), Callum Laidlaw (CL, Con), Ben Macpherson (BM, SNP), Jon Pullman (JP, Freedom Alliance), and Lorna Slater (LS, Grn).
This article paraphrases who said what in their 90-second answers, and summarises (in coloured panels) the live Chat-column rumblings and responses that accompanied the event in parallel. It was all transcribed at lightning speed by a Spurtle stenographer wearing boxing gloves. Any errors will be corrected later. A link to the Labour manifesto will be added on Thursday.
Questions were grouped by theme in 6 main rounds over an hour-and-a-half. Candidates were invited to answer all or some of them as they saw fit.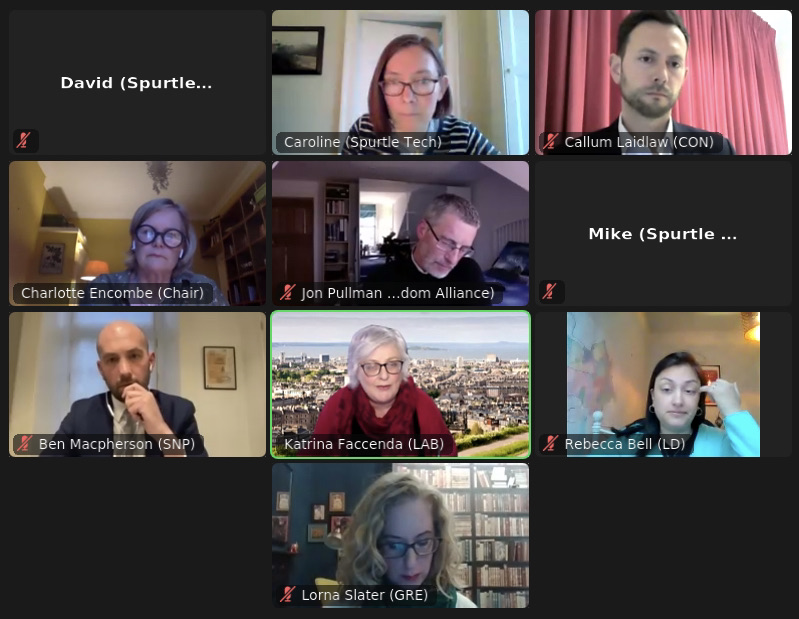 TOURISM
(a) Tourism is generally considered to be good for the economy, but some of its side effects are less desirable, for example: environmental impact; impact of short-term lets on housing stock. Do you see any major problems with Scotland's tourism set-up, and if so how would you address them?
(b) Scotland's Arts and Culture are a significant part of this country's attraction. How would you support Performing Art, Classical, Traditional and Popular Music, Visual Arts and the variety of historical attractions and artefacts that Scotland is custodian of?
LS: As a Leith resident, she is well aware of Airbnb's' unwelcome effects. They should be treated like businesses. We must avoid a resident-free city centre like that around the Alamo in San Antonio in Texas. A Tourism levy is appropriate for Edinburgh, as we benefit from the likely staycation boom following lifting of Covid restrictions. Artists will be key in transformation towards a zero-carbon economy, and crucial to collaborations with the health sector.
RB: We need balance. Tourism has really suffered under Covid, and now needs sustainable and strategic support such as: electric charging points, more public toilets, improvements to waste collection, funding for career development.
KF: I've worked in Tourism as a blue-badge guide for 30 years. I recognise the hollowed-out High Street as a result of over-Tourism. Endless growth in the sector is not the way forward. We need to learn from good Italian practice, and insist on living wages and an end to zero-hours contracts. Good Tourism encourages healthy Culture, but we need home-grown artists as well as international ones.
CL: As a ward councillor, I'm aware we need more Scottish Govt funding for local authorities – a Barnett formula for councils. Tourists must use sustainable transport. We must secure funding to 'liberate' Culture across Edinburgh, not just in the city centre.
BM: Short-term lets have occupied a lot of my attention as an MSP, pressing for reforms to control them through the Planning system, and licensing in Pressure Zones like Edinburgh. Tourism must become a sustainable industry. Creative industries are vital part of national infrastructure, and the SNP has many manifesto commitments in this sector.
JP: Tourism seems like a concept from a bygone age. Edinburgh's priorities are wrong: for example the Virgin Hotel rising next to the Central Library; lack of support for local businesses; but also fear generated that now results in tourists being regarded as 'disease vectors'. We need a return to basics and see how we go from there.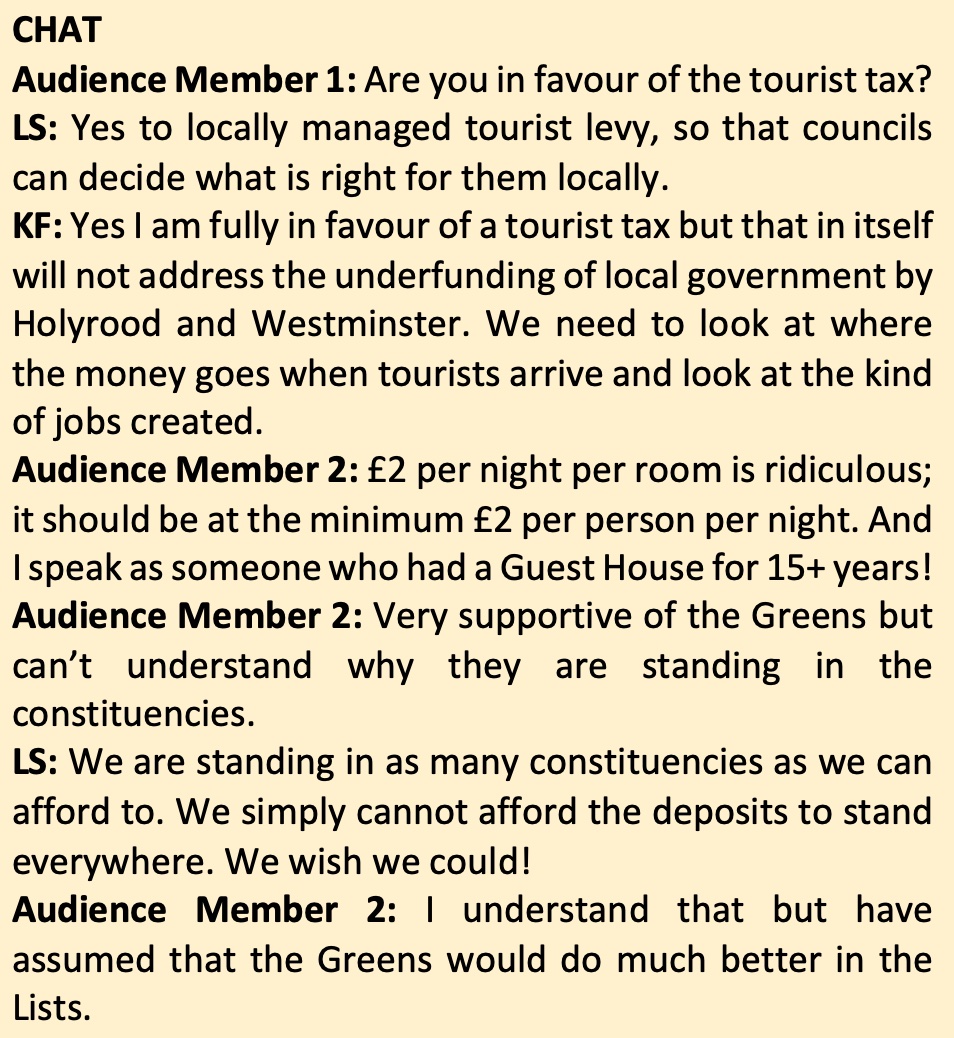 2. HEALTH
(a) In 2018 the Scottish Government published a document 'Scotland's Public Health Priorities' in which the second paragraph read: 'Scotland now has one of the lowest life expectancies in Western Europe and the lowest of all UK countries'. Among the big challenges are obesity, drug use, mental health, stalling improvements in life expectancy and increasing health inequalities between rich and poor. How can this worsening picture be addressed, other than just by throwing ever-more money at the National Health Service?
(b) On the whole, Scotland has an unhealthy relationship with alcohol and tobacco. Where do you think the balance should be between reducing the damage to individuals and communities, leaving people alone to have fun, and encouraging a thriving hospitality and entertainment industry?
JP: Health has, to some extent, been weaponised to ensure mass compliance with national shutdown, which restricts healthy lifestyles. People must take more responsibility for their own health. We need to spend more time outdoors. We need better messaging on food and exercise.
LS: Better funding for the NHS is crucial. Health problems are aggravated by endemic poverty and inequality, for which reason the Greens have initiatives on bus travel, school meals, affordable housing, support for the poorest, Universal Basic Income pilot, and the living wage. Aspirations for a National Care Service (to relieve pressure on NHS) have cross-party support.
RB: As a Health research for the LibDems, I'm well aware of the role of inequality. I would remove drug use (not supply) from the Justice system and make it a Health issue. Government can play a useful role, as with smoking reduction and minimum pricing of alcohol.
KF: After 14 years of SNP rule, we still have 260,000 Scottish kids living in poverty. It's a national shame, with bad effects on life chances and health. Preventative interventions funded by local authorities are undermined by Greens supporting SNP budget cuts. Labour has supported the idea of a National Care Service since 2011.
CL: Conservatives would increase spend on NHS, with ring-fenced sums for community-led mental-health initiatives. I support the Hospitality/Entertainment sectors, but they have a role to play in changing and moderating alcohol consumption outside the home. Early-years education and school breakfast clubs have useful role to play.
BM: Conservative austerity has meant SNP has fewer resources to spend, but has nevertheless prioritised Health and acted proactively on smoking, alcohol, drug rehabilitation and mental health.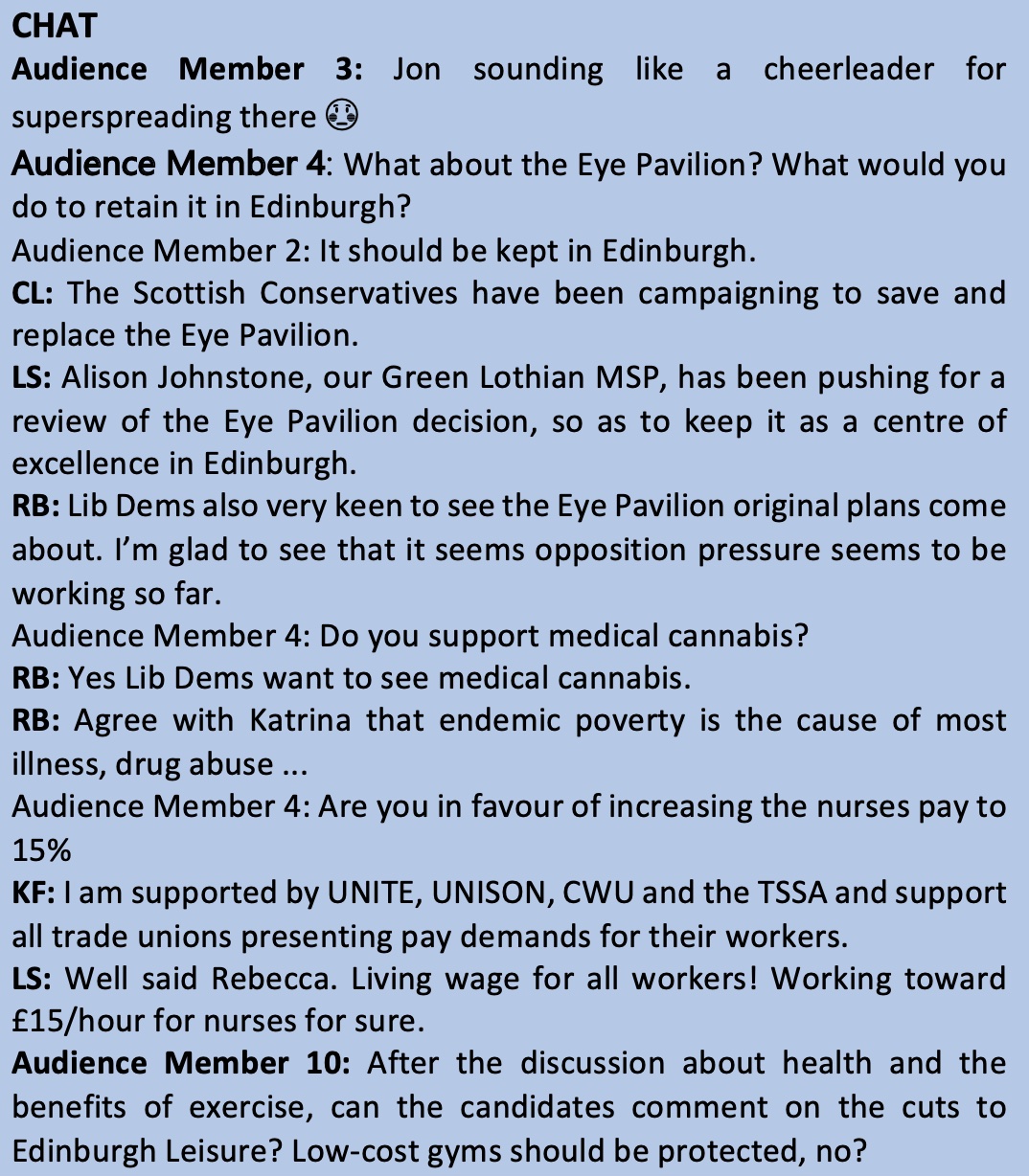 3. ECONOMY / COVID
(a) Businesses across Scotland have struggled to survive lockdowns over the past year, particularly in the Hospitality, Tourism, and Retail sectors. What support measures do you feel have been effective over the past year and what needs to change?
(b) Do you support firmer or looser restrictions during lockdowns? What areas of public life, if any, would you vote to restrict for people who do not have a covid vaccination status ID card?
(c) How would you help Scotland's Manufacturing and IT sectors to thrive? How would you support other sectors to grow as exporters?
BM: As your constituency MSP I've worked hard to help local businesses access innovative and helpful Scottish Government support. Uniquely in the UK, in Scotland there will be 100% rates relief for Tourism sector throughout next financial year. Economic stimulants include: £500M to new green jobs; £billions on infrastructure; £70+M on national manufacturing institutes. We continue to invest in manufacturing and digital.
JP: NHS and care workers should receive pay increases – no debate about that. Lockdowns have had catastrophic impacts – there should be no more of them, and healthy people should be left alone to get on with their business. The whole premise of vaccination and vaccination passports is unnecessary.
LS: Lockdown has been necessary because of Conservative Government's slowness to react on test and trace, isolation etc. A Universal Basic Income would have made it easier for people to stay at home. Greens are investing in a Green Industrial Revolution, with huge potential for the turbine industry. Importance of using a Scottish supply chain.
RB: Furlough was a necessary and successful provision. Lockdowns saved lives, but not without some negative consequences. Vaccination passports will be unnecessary. LibDems support a green recovery, investment in business, and reskilling workers in new jobs.
KF: I don't support vaccination passports. UK's ridiculously low level of sick pay did not encourage people to stay at home when ill. SNP has been guilty of passing-on Conservative Govt's austerity. Labour would give procurement incentives to companies committed to no zero-hours contracts, decent wages, and achieving a net-zero carbon economy.
CL: Furlough was a great success. Grants from local authorities have taken too long. Conservatives support a rate freeze and reductions until 2023. To grow the economy, we would look at making Leith a free port. Economic growth, not independence, is our priority. We recognise the strength of working together within the UK. I support vaccines, not vaccine passports.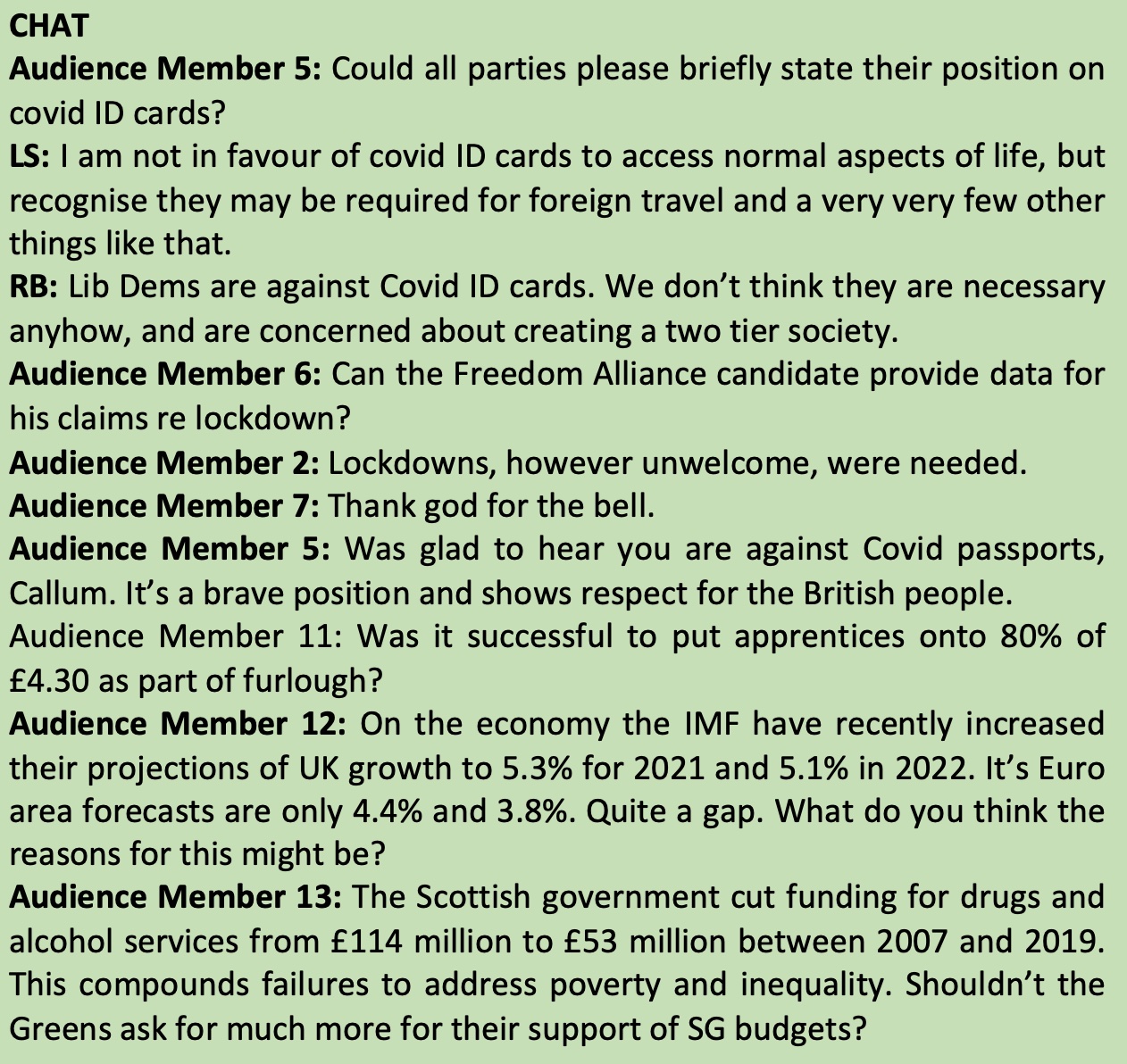 4. TRANS ISSUES
(a) Do we need more legislation on trans rights or less?
(b) How would you balance the rights of people to protected same-sex spaces, and the rights of trans people?
(c) What will the candidates and their parties do to improve the lives of transgender and non-binary people?
CL: I am a gay man, and these issues are close to my heart. We need to do more and more can be done in terms of education to address transphobia and homophobia. We need discussion, not confrontation. We should listen and support where necessary. Young people are leading from the front on this.
BM: I have a sibling who is part of the trans community, and I am well aware of the prejudice and stigma they face. I'm in favour of reforming the Gender Recognition Act 2004, and retaining the Equalities Act 2010 that enshrines women's rights. We need a national conversation – in Holyrood and away from Twitter.
RP: I echo everything that's been said so far. This has been a period of rapid transformation, through which we should move cautiously so that all parties can keep up and be respected.
LS: Agree about reforming the Gender Recognition Act, but no need for additional legislation. We need to recognise trans people's human rights and improve their health care. Trans people have been using public toilets and changing rooms for decades without causing problems.
RB: It's simple: trans rights are human rights. Reform the Gender Recognition Act. My feminist rights are not threatened by greater equality for other people. Better mental-health support for trans people is needed. Supposed problems around toilets and changing rooms are hypothetical, not real.
KF: Labour dismantled the Conservatives' Clause 28. This area is a difficult one. We must listen to the opinions of women who aren't entitled politicians, and persuade rather than shout when we disagree. I support single-sex spaces in some cases. We must cut inhumane waiting lists for treatment.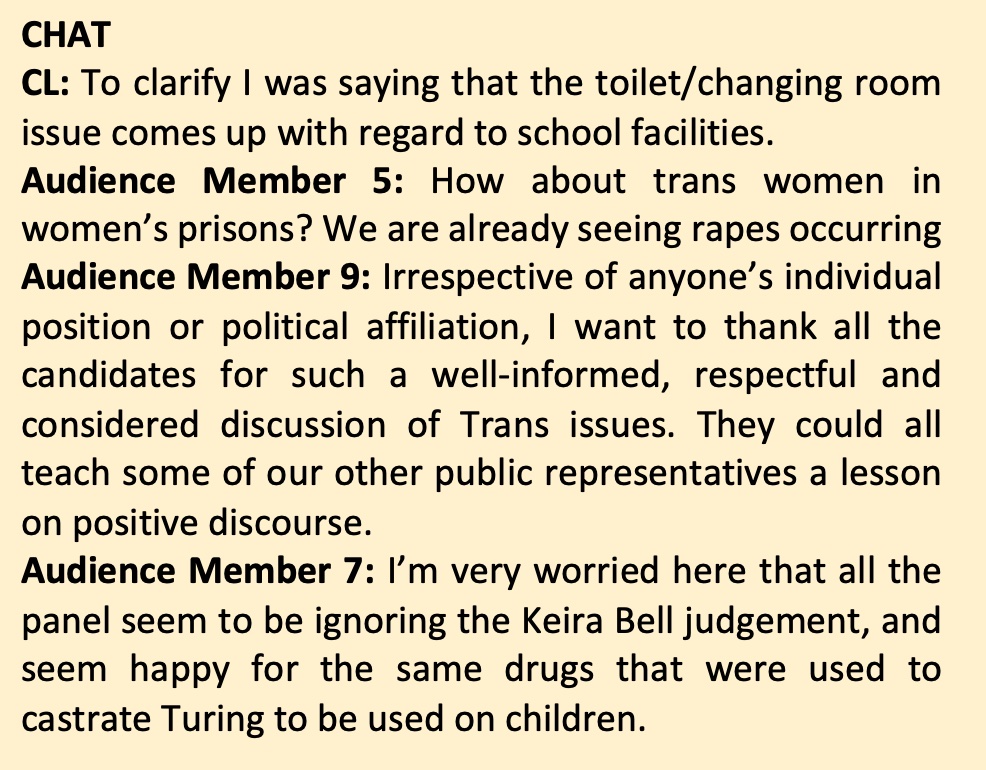 5. CLIMATE CHANGE AND THE ENVIRONMENT
(a) How seriously do you take climate change? How should we balance economic growth and protecting the planet?
(b) How would you balance managing Scotland's environment for business (grouse shooting, commercial fishing, energy generation) and for nature (mountain hares, raptors, plant diversity, fish stock, and sea-bed regeneration, discarded by-catch)?
KF: The climate emergency is hugely important. There isn't a conflict between planet an economy – protecting one will grow the other. Grouse moors are deserts which don't help the economy or develop local communities. Scottish Parliament must go further to reform destructive hunting environments.
CL: 40% of the world's emissions come from the USA and China. We have to work as part of the UK to make a difference at a global level. The Conservatives' Animal Welfare Bill would ban live animal exports (a change opposed by the SNP).
BM: As Minister for Rural Affairs and the Natural Environment I can tell you CL's answer is wrong. The SNP is in fact minded to ban live exports for fattening or slaughter. The SNP's targets for biodiversity net-zero carbon by 2045 are the most strenuous response in the world. We're spending £1.6B to decarbonise homes by 2030. We're encouraging greener buses, free bikes for kids who can't afford them, and investing in biodiversity and restoration of peatlands. There's loads more on this in our manifesto.
JP: I agree with what's been said, but would stress fairness for all as part of climate justice. Changes should not focus on only one demographic. We need an overall change in our outdoor culture, and reform of land use.
LS: This is my home turf! Greens are the only party which has practical costed plans for a fair and green recovery from Covid. We have policies on Transport, Homes, Energy, and the Environment. See our manifesto. We have only another 9 years to deal with climate change before the effects become unmanageable. We need transformational change and joined-up thinking in all aspects of every policy.
RB: This is a top priority for LibDems. Environment and business needn't be opposed. We support agricultural reforms that restore the environment as well as aid food production. We agree that domestic heating and transport need effective improvement.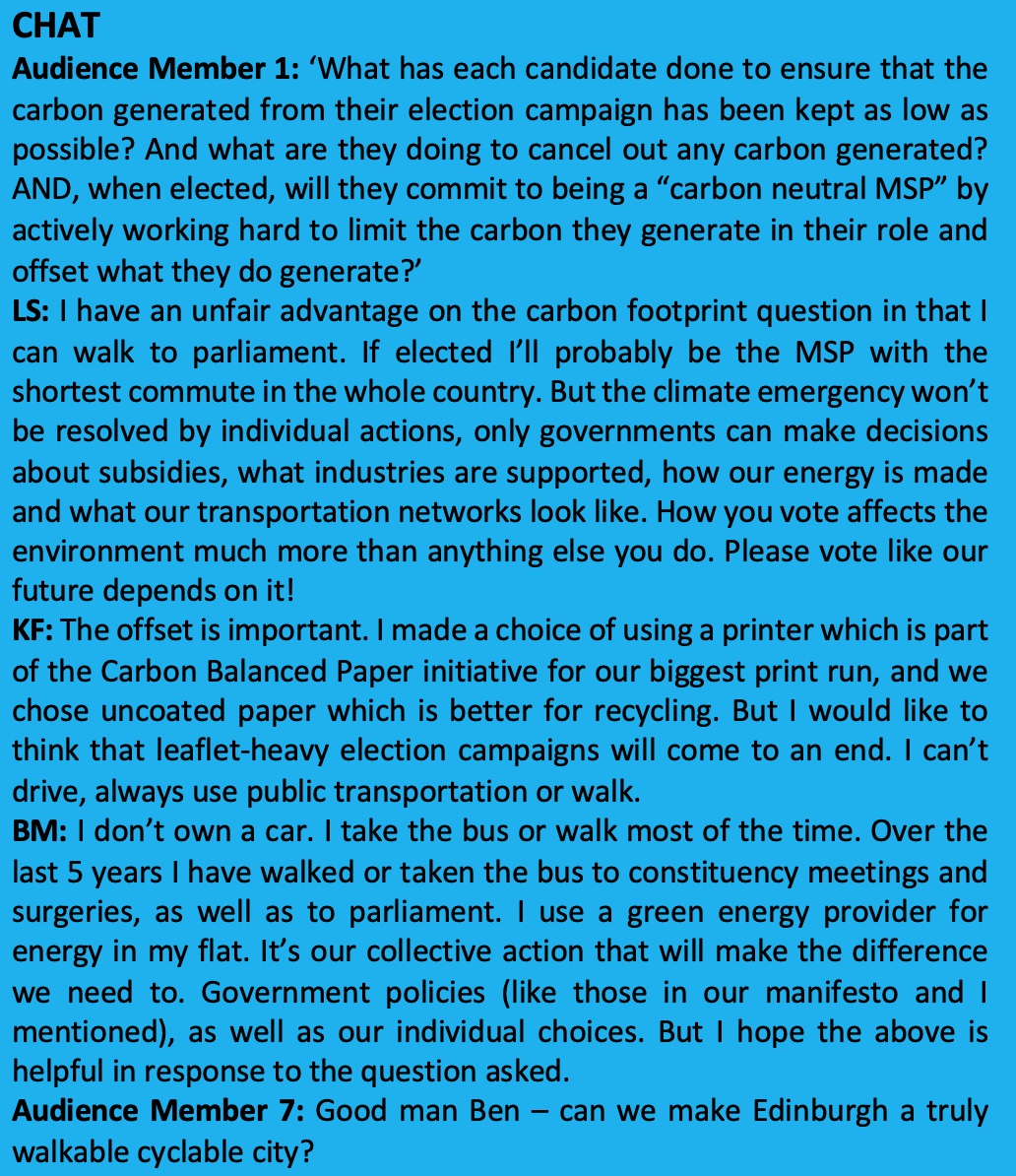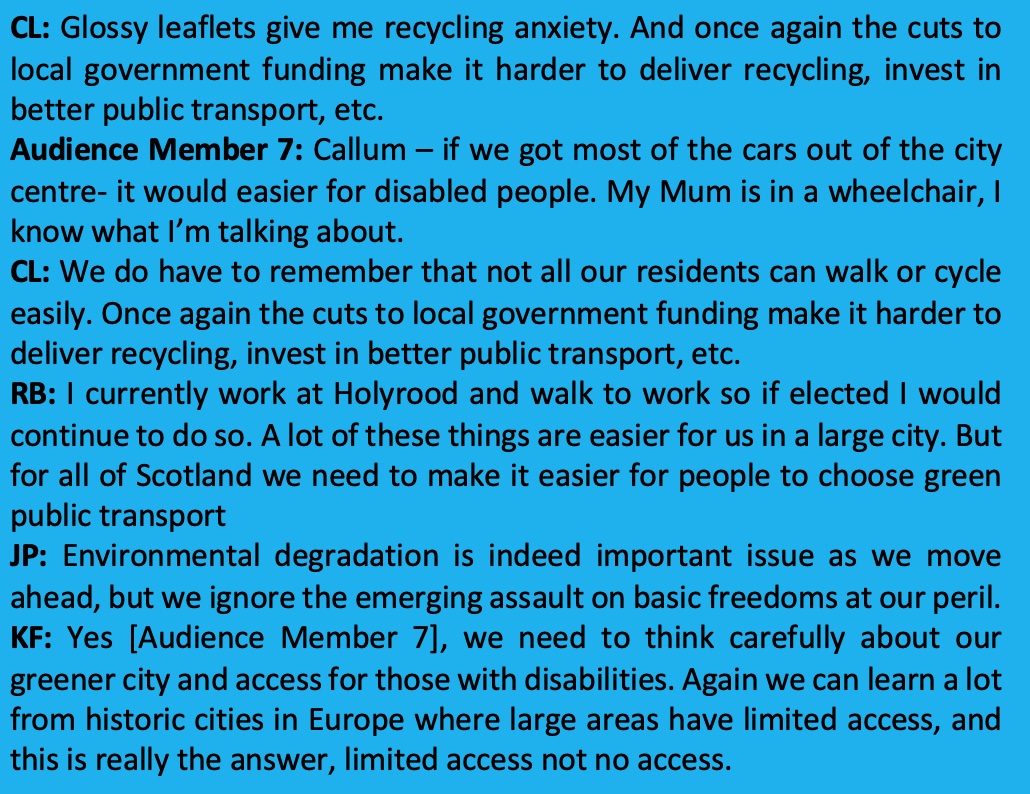 6. PRIVATE HOMES AND PUBLIC SPACES
(a) There have been several reports about the poor state of Scotland's pre-1940 housing, particularly tenements because of the shared ownership issue. Are there any problems with the legal framework for organising common repairs? Do you have any ideas for carrots or sticks to encourage property owners to address their repairs backlog?
(b) During the 2020 Hogmanay celebrations, the organisers attempted to close areas of the Mound and the Royal Mile to anyone who hadn't paid for an access ticket, even in some cases those who lived there. Where do you stand on the privatisation of public spaces, whether temporarily for events, or permanently for housing or commercial purposes?
RB: I believe crowd-safety concerns partially explain those access restrictions. Am happy to learn more about it. Regarding shared ownership and facilitating shared repairs, help is available from the Council.
KF: Labour would empower communities, not hoard power like the SNP. When it comes to festivals, bigger is not necessarily better. Taking over parks and streets is not on, and doesn't work for the city. The Fringe is now commercial rather than alternative and community-led. Hunt for profits is overriding local lives and decision making.
CL: I sympathise with locals affected by city-centre events. Locals need a bigger role in controlling these. Conservatives committed to building 60,000 new affordable homes, with 40,000 available for social rent. City of Edinburgh Council needs more funding and powers from Scottish Government to acquire properties, especially those of absent landlords.
BM: We have created 100,000 new affordable homes since 2007 and have plans for the same again. As an MSP, I set up a working group on tenemental reforms, and its recommendations (e.g. sinking funds for maintenance) now form part of the Scottish Government Housing Strategy 2040. Edinburgh Council is right to review Winter Festivals. Festivals must contribute to the economy, common good, and common realm. More work needs to be done.
JP: We mustn't relinquish our self-determination to unaccountable powers above. Freedom Alliance is pushing back against a so far largely uncontested public narrative.
LS: Greens oppose privatisation of public space, and support land reform in the countryside and cities. On tenements, we have a ton of stuff in our manifesto, e.g. raising environmental standard of homes at sale, control of profiteering landlords, regulation of short-term lets.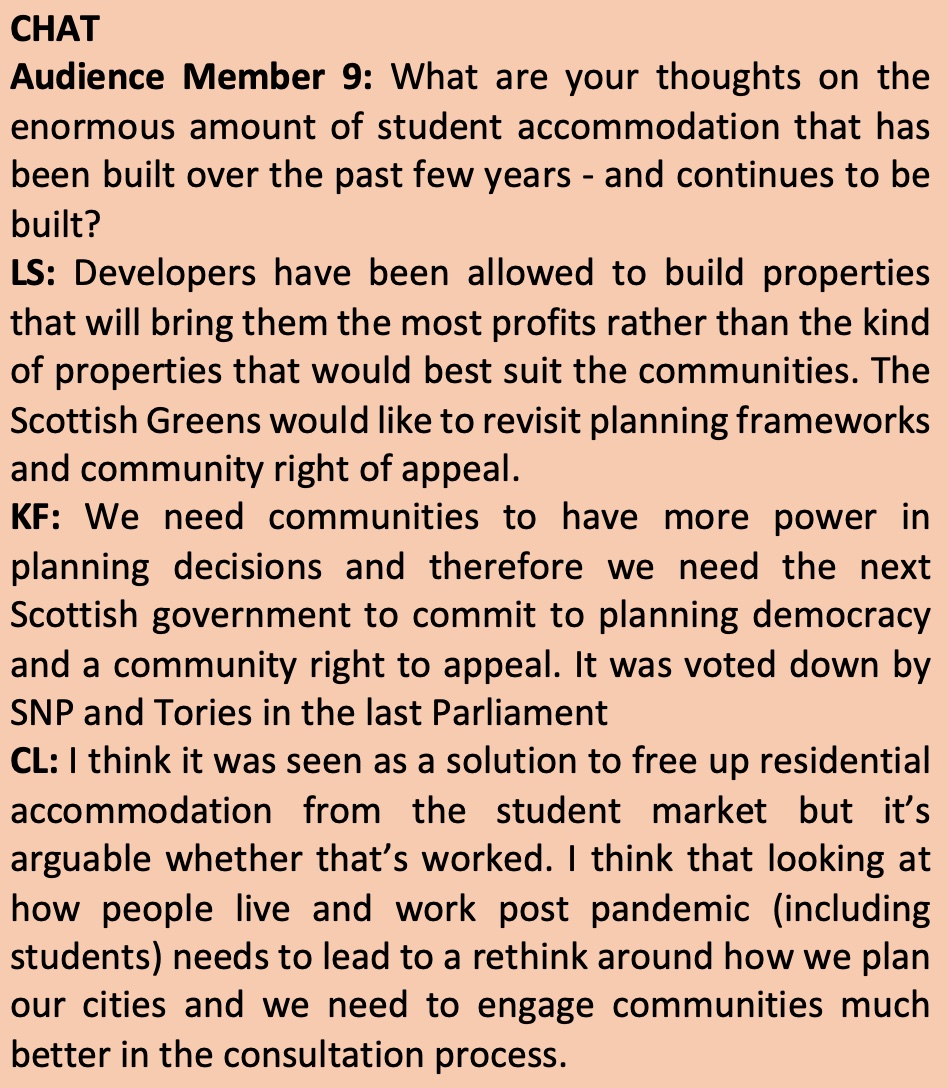 7. WHAT MOTIVATES YOU TO STAND IN EDINBURGH NORTHERN & LEITH?
RB: I love my home in Leith. I believe I have a lot to offer, and it would be a privilege to serve.
KF: I have an immigrant background but feel welcome in Leith. Poverty means people here need someone to speak up for them, not a politician looking for another step up the career ladder.
CL: I grew up here, and moved back 5 years ago. If I cross Princes Street I feel all funny. I want to refocus our politics on Education, Health, Safe streets, and a strong economy.
BM: I grew up here and am devoted to this area and its 96,000 residents. It's been an absolute privilege to serve, and I want more time to improve poverty, health service, the economy, education, and develop the Waterfront.
JP: I never planned to be here. I've never been a party member before. I'm motivated by the truth. I've lived here for a few decades, and seen the community being hollowed out as in other Western democracies. Something's not right. I stand for love of life and enjoyment of life.
LS: This is my home. I love its multicultural character and social enterprises. Vote like your future depends on it!
[THANKS IN ALL DIRECTIONS. MEETING CLOSED AT 8.30pm. JAUNDICED OF CLAREMONT WILL REVIEW IN ISSUE 306, PUBLISHED ON 1 MAY].