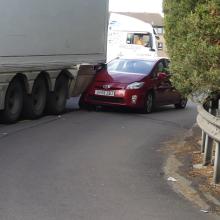 This was the narrow Logie Green Road exit of Tesco this morning.
Fortunately, no one was hurt, but police are in attendance.
Sources close to the accident say the collision happened at about 11am, when a red Toyota Prius drove into the back of a stationary delivery lorry.
It is now partially wedged underneath, and recovery specialists are working out how to disentangle them.
Customers are being directed out of the car park onto Broughton Road.