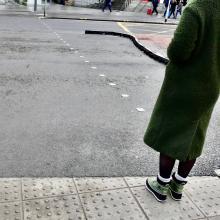 As work on the redesign of Picardy Place continues, there has been considerable debate about how well the final scheme will eventually satisfy competing needs.
There's also been social-media discussion about how safe the temporary arrangements at York Place are, particularly for pedestrians braving westbound traffic.
Now local resident DFM looks closely at another crossing in the vicinity, and questions just how safe and accessible this temporary solution really is.
The current crossing connecting Picardy Place (roughly outside the Holiday Inn Express) to Leith Walk (outside the Glasshouse Hotel) is an interesting combination, bringing together pedestrians, motorists and cyclists from multiple directions.
The scheme will change considerably with the arrival of the new tramline from Newhaven in 2021/22, but for now pedestrians are expected to negotiate a less than obvious path across.
[Source: adapted from bit.ly/2Oc37Vz]
Step by step
Pedestrians coming from Picardy Place must first press a button and then wait for the lights to turn green before crossing one lane of northbound motor traffic to reach their first island.
At the far side of that island there is another button which at first appears to serve no purpose.
Walking past this and across a misleading strip of tactile paving (normally used to indicate the meeting of pavement and road but here stranded in the middle of nowhere), pedestrians next cross a temporary, curb-delineated refuge to reach two lanes of southbound motor traffic (which lacks the expected tactile indicators at the crucial point).
It is only at this stage that they realise the purpose of the button they ignored earlier.
Having retraced their steps, pressed the button, then returned to the two lanes of southbound traffic, patient pedestrians now wait for the lights to go green before crossing to a second and significantly slimmer island.
Here, they face their final hurdle and a significant cause for concern … a two-way bike lane.
There are no green men here to offer safe passage. Instead, there is a grey and off-white stone zebra crossing (not the usual black and white kind with which we are familiar). Its dubious status and lack of lights inevitably cast doubt in the minds of pedestrians and cyclists as to who has right of way.
As if this were not enough, immediately following the confusing 'zebra' there is a right-angled turn for cyclists wishing to cross east to west, alongside the pedestrian crossing. For northbound cyclists heading downhill, this necessitates cutting the corner in motion or coming to a halt on or immediately after the 'zebra' – again causing confusion with pedestrians and potentially also with other cyclists.
The width of this last pedestrian island is a further cause for concern. There is no way it can accommodate crowds of theatre and cinema goers heading east to west across Leith Walk. People will inevitably spill out onto the road and cycle track.
The layout here is difficult enough in broad daylight, but how is any part of this temporary maze to be negotiated safely at night under a complex variety of moving and static lights?
And how can blind or partially sighted pedestrians confidently navigate the curbed refuge with its wide boundaries, strangely positioned textured surfaces, and an unsegregated bike lane crossing it from east to west.
This correspondent found the whole experience confusing and stressful despite having the benefit of working legs, good eyesight and daylight.
Sceptical locals
Peter Williamson, Chair of the Picardy Residents Association, agrees that the present arrangements are not immediately clear.
In particular, 'there seems to be a lack of an obvious visible barrier-line for those crossing from the Holiday Inn going towards the Glass House in respect of traffic coming up past the Playhouse and going up to the Omni centre'.
This, he believes, could pose a risk under certain circumstances and merits a review of the safety issues.
Martin McDonnell, speaking for the Lothian cycle campaign Spokes, describes the crossing as 'not ideal' and a 'compromise'. In terms of the two-way bike lane, his main reservation is that it won't be wide enough.
Both Williamson and McDonnell also highlight locals' concerns about future crossing times for pedestrians once trams are added to the mix. Some are worried about finding themselves stranded halfway across. Others fear impatient pedestrians will not be prepared to wait if other road users are given undue priority.
For now, we are facing a temporary guddle which will in time be replaced by other arrangements. But even temporary guddles have the potential for harm, and this one needs some basic improvements fast.
Got a view? Tell us at spurtle@hotmail.co.uk and @theSpurtle and Facebook
-------------