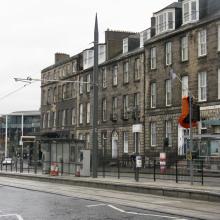 COUNCIL URGES RESIDENTS TO LOOK ON THE BRIGHT SIDE
York Place (Conan Doyle–Elder Street) will close to westbound traffic for eight weeks from Monday.
Diversions will be put in place via Broughton Street and the New Town.
The closure is required while Laing O'Rourke carry out new footway, cycleway, and drainage works as part of the Edinburgh St James project. They plan to complete by 11 October.
For some of this period, from 17–19 August and from 13–15 September, Bilfinger for Edinburgh Trams will re-bed chamber cover in the area, which sounds like something grisly from a Victorian nursing manual but isn't.
Siemens, meanwhile, will replace rail sealant on the tram tracks from 13–15 September.
Not only all that, but from 17 August–18 September, Balfour Beatty for Edinburgh Council will conduct 'investigation works' for the active-travel City Centre West to East Link.
Cheer up and carry on
Now, it may all resemble the last hours of Pompeii with hard hats, but City of Edinburgh Council is keen to look on the bright side. It is, they stress, a master stroke in project coordination and disruption minimisation.
Glass-half-full Transport & Environment Convener Lesley Macinnes says, 'Ultimately, each of these projects will deliver significant improvements for pedestrians, cyclists, and wheelchair-users in line with our broader ambitions for a sustainable, accessible and better-connected Capital, as well as essential maintenance to the tram network.
'We will continue liaising with partners to ensure work is carried out as quickly as possible, and thank residents for their patience during this time.
'Once completed, the broader development of this area will result in a better quality public space, new, improved pedestrian and cycling links, and better public transport access, encouraging active, environmentally-friendly transport options at this key interchange.'
Cue church bells and general rejoicing.
[Image: Wikimedia, Creative Commons.]
---------