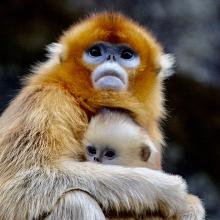 NOT TO BE SNIFFED AT
The Royal Botanic Garden Edinburgh is planning to attach a 14-metre inflatable sculpture to the south-west corner of Inverleith House.
The work – by Australian visual artist Lisa Roet – is titled Golden Monkey, and has previously been exhibited at outside locations in Beijing, Melbourne, and Hong Kong.
It depicts the endangered Chinese snub-nosed or sneezing monkey, and concerns 'the contrast of urban and natural environments, our human connection to nature, and issues of sustainability and deforestation'.
The artist's website says her large-scale public installations concern 'newly discovered yet highly endangered species of primates [and] highlight the epoch of the anthropocene and its impact on mass extinction of species'.
Intricate jewellery and a soundtrack of occasional sneezes has accompanied this particular work in previous iterations.
Broadest possible audience
In May 2020, RBGE announced that Inverleith House had secured funding to deliver a three-year programme of multidisciplinary engagement between artists and ecology scientists.
In partnership with the Serpentine Galleries in London, the gallery will be called Climate House, and offer a transformative, transdisciplinary space 'welcoming the broadest possible audience to challenge the Climate Crisis'.
Public engagement in that programme is expected to begin in summer 2021.
Resonant sneezes
Whilst Roet's sculptures have clear environmental messages to impart, her endangered sneezing monkey climbing the wall will have additional resonances for those in Covid-19 lockdown.
There, however, the social resonances start to peter out. For example, Wikipedia states that in the prelude to mating, the female snub-nosed monkey 'takes up eye contact with the male and runs away a short bit, then flashes her genitals.
'If the male shows interest (which does not always occur), he joins the female and they mate.' None of these behaviours is normally associated with pre-booked slots in the Botanics.
In applying for listed building consent for the installation, an RGBE official says the Golden Monkey won't damage the Category-B listed structure as it will use eyebolts which already exist in the mortar.
A determination is expected by 10 November (20/03859/LBC).
[Image: Giovani Mari, Wikimedia, Creative Commons.]
----------