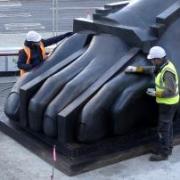 The 'Paolozzis' returned to Broughton Street this afternoon.
The area known as 'Big Foot Country' has been without its Manuscript of Monte Cassino since December 2017.
At that time, in order to preserve them during infrastructural work on Picardy Place, the three component sculptures were removed for safekeeping to Hillside Crescent Gardens.
There – to the alarm of artistic purists – there was some discussion about whether they should remain permanently, or be moved to the central island in Picardy Place.
Thankfully, common-sense and artistic integrity have prevailed. The striking pieces are back where they belong: within Eduardo Paolozzi's spiritual triangle between Calton Hill, the Cathedral, and his childhood home in Crown Place.
After research into Paolozzi's choice of the site, and discussion with stakeholders, it was decided to preserve the former positioning of the three components, albeit a little closer together in order to facilitate other uses of the site.
Work on the area around the Paolozzis – which already includes new paving and the reintroduction of three trees – is expected to be complete by the beginning of March.
Welcoming the return of the works, Transport & Environment Convener Cllr Lesley Macinnes said: 'It's great to see these striking sculptures returned to where they were originally placed when they were gifted to the city almost 30 years ago.
'In the long term, the improvements to this area will deliver better pedestrian and cycling links as well as facilitating public transport access, encouraging active, environmentally-friendly transport choices.
'Enhancing public realm is also key to the future of the site, and the Paolozzi statues will provide a stunning focal point once it is complete.'
Some of Spurtle's previous online coverage of the work and its context can be found here and here and here.
--------