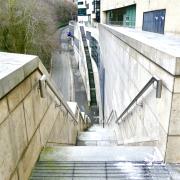 GREENSIDE IMPROVEMENT.
W. D. Macgregor writes: The lecture by Judge Brown on Tuesday night on the housing of the Edinburgh poor has drawn attention to the condition of affairs in Greenside, and though it might perhaps be urged that the dark shadows in Judge Brown's description are a trifle overdrawn, it will not be denied by anyone who knows the district that there is urgent need of improvement. What appears to me to be the most urgent need, and the indispensable condition of improvement, is the formation of better accesses to the district.
As all Edinburgh people know, Greenside lies the north-western base of Calton Hill, and to the east of Leith Street and Greenside Place. There are two cart roads to it, the one from Leith Street by Nottingham Place, and the other from Greenside Place by way of Lower Greenside Lane. For foot passengers there is access by a series of steps in Upper Greenside Lane.[1]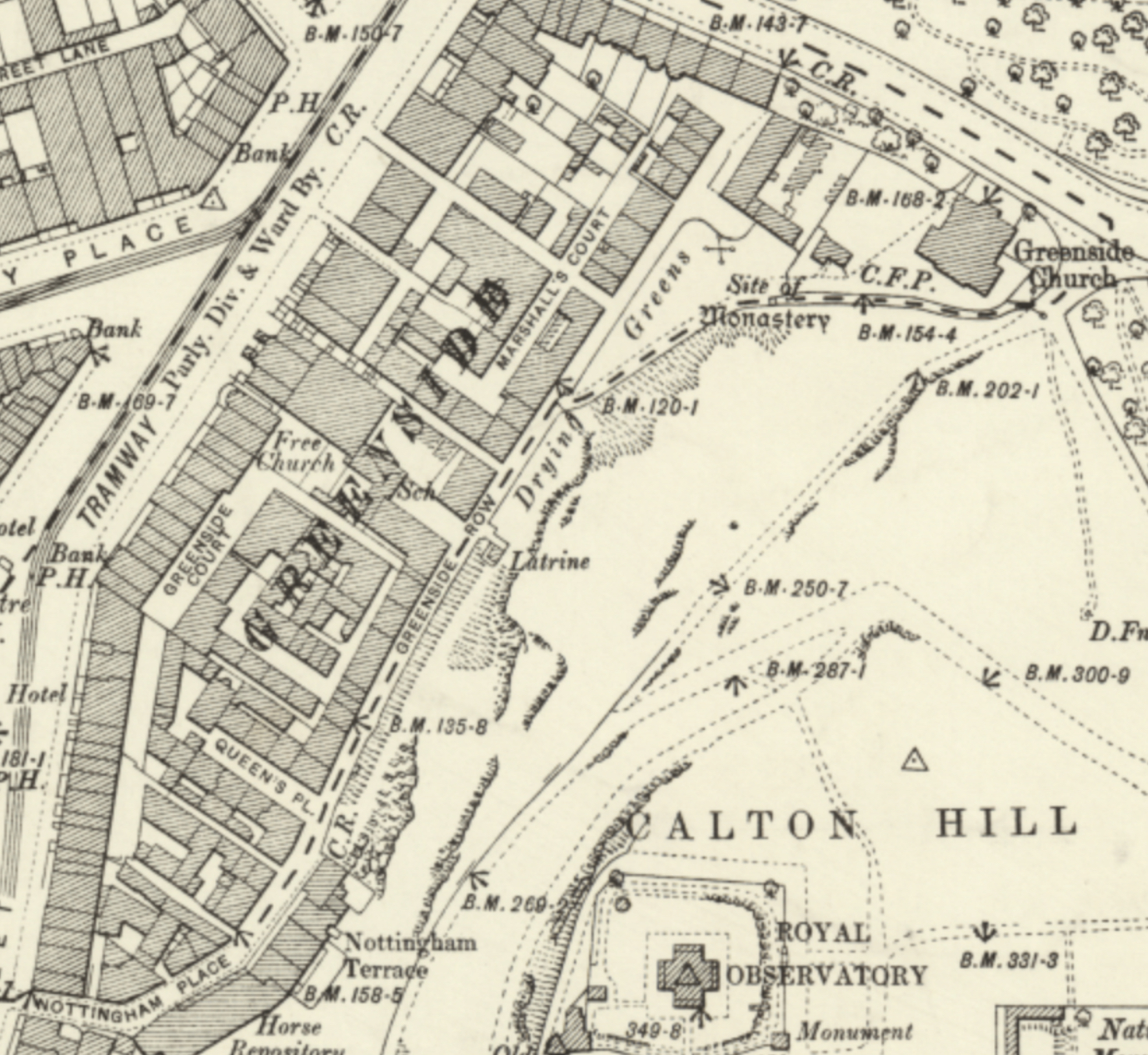 The declivity by either cart road is very great, and for cart traffic very dangerous. The roadway at the top of Nottingham Place is 183 feet above sea level, while a short distance down, opposite Queen's Place, it is 145 feet, being a difference of 38 feet. At the top of Lower Greenside Lane the roadway is about 153 feet above sea level, while Greenside Row at the foot of the Lane is only 116 feet, being a difference of 37 feet between the top and the bottom of the short lane.
If the district is be improved, better roadways are indispensable. I believe that the late Burgh Engineer, Mr Cooper, fully appreciated the need of better accesses to Greenside, and he had an idea of forming a subway from the northern end, called Greenside End, to London Road at a point nearly opposite Windsor Street. The difference of level between those two points would be less than 11 feet.
Mr Cooper also proposed to form wide entries from Greenside Place with communicating stairs and balconies, giving access to the flats in the tenements under the level of Leith Street, and thus render available a considerable extent of house accommodation. Some such proposals will require to be carried out if anything whatever is to be made of the district.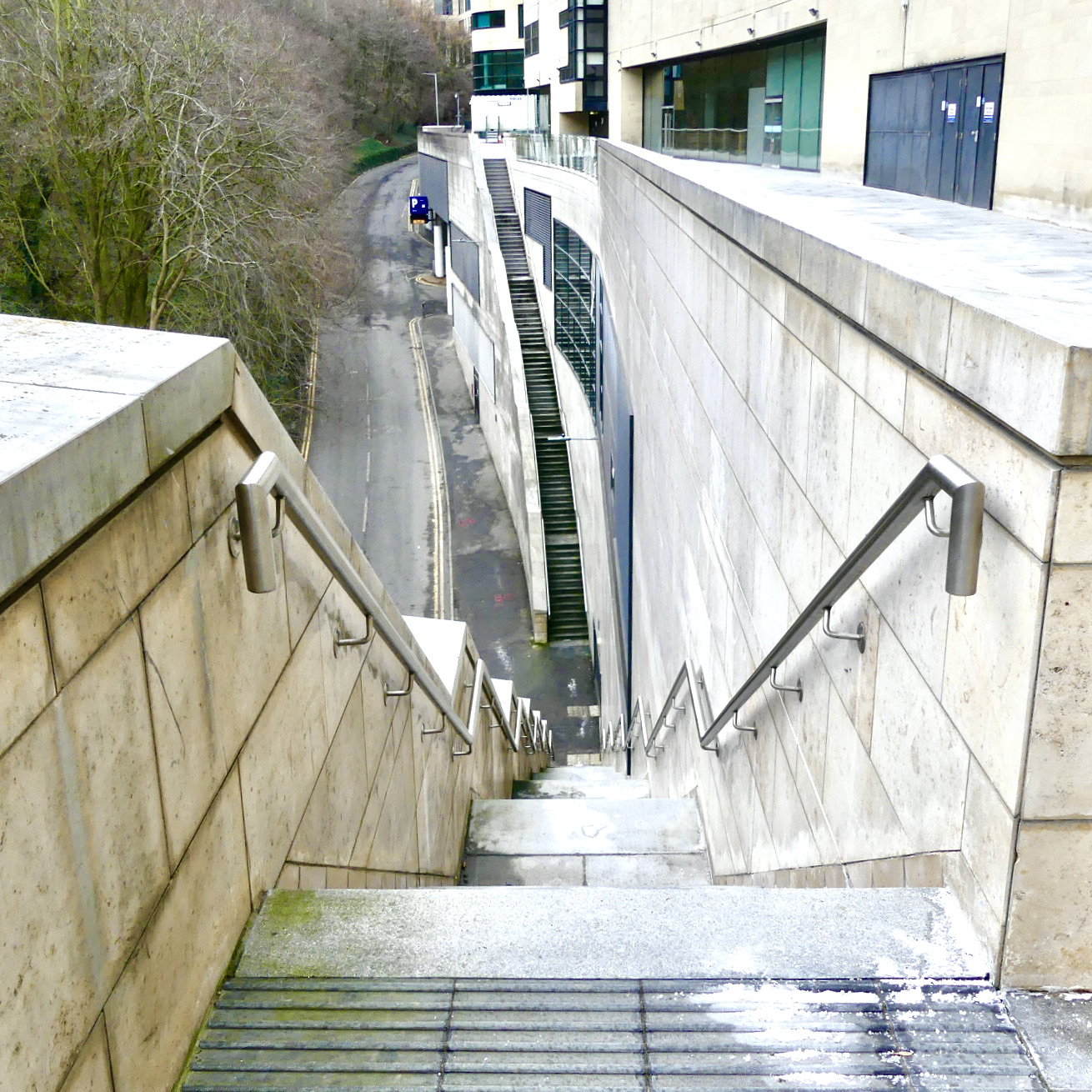 Greenside had doubtless at one time a fairly good access at its northern end before the roadway leading to Royal Terrace was made, and what is now required is the restoration of its northern access by the formation of a subway either by the formation of a road along the Calton Hill at a higher level than Greenside Row, but joining it near Queen's Place and also joining the roadway to Royal Terrace a little below Greenside Parish Church. The level of Greenside at the point indicated is 139 feet, and at the point of junction with Royal Terrace the level is about the same. There would thus be a nearly level road from which all parts of the district could be readily reached.
If this improvement were carried out by the city, the district could thereafter work out its own salvation, for its proximity to the centre city would ensure its further improvement.
Edinburgh Evening News, 6 April 1903
[1] The correspondent omits to mention the steep path between Greenside Row and the top of Blenheim Place.
*****
RESPECTABLE woman to keep working man's house; wife delicate.—22 Randolph Lane.
Edinburgh Evening News, 7 April 1903
*****
FORESTALLED.
Alexander M'Kay (39), bookbinder, 4 Paterson's Court, Barony Street, pleaded guilty to having assaulted his wife on Saturday night by striking her several blows on the face with his fists and once on the side.
The accused, it appeared, went home under the influence of drink, and when his wife asked him for money for food he attacked her in this way. M'Kay then went out, promising to "give her more" when he returned, but meanwhile the wife gave information to the police, and the accused was arrested. He was fined £1, with the option of 14 days' imprisonment.
Edinburgh Evening News, 13 April 1903
*****
EIGHT YEARS OLD AND A DANGEROUS PICKPOCKET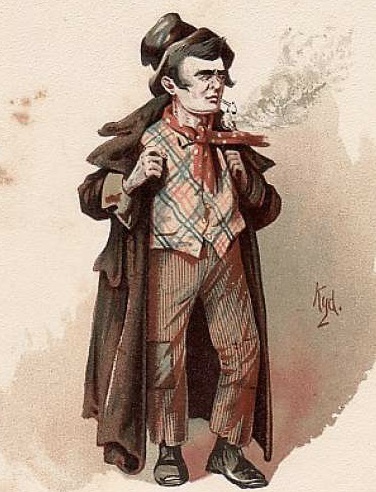 James Henderson (8), and Joseph Parson (13), both living at 10 Little King Street, two small boys, the younger of whom was hardly visible above the dock rail, pleaded guilty to the theft of a purse containing 4s 1d, and 5s 11d worth of store checks, from a little girl in Picardy Place on Saturday. The accused intercepted the girl going to St Cuthbert's Store, and took the purse from her.
Both boys bore bad characters. The first accused, although only eight years of age, was stated to be a member of a gang of pickpockets, who committed a number of daring thefts in St Cuthbert's and other stores in January last. For want of evidence, however, no proceedings were taken against him.
The other boy was also stated to be a pickpocket, but his mother, who was in court, attributed his conduct to his having been led away by companions. Henderson was ordered to receive four, and Parson six, strokes with the birch rod.
Edinburgh Evening News, 21 April 1903
*****
SYSTEMATIC THEFTS FROM AN EDINBURGH TOBACCONIST'S.
SIX EMPLOYEES CHARGED.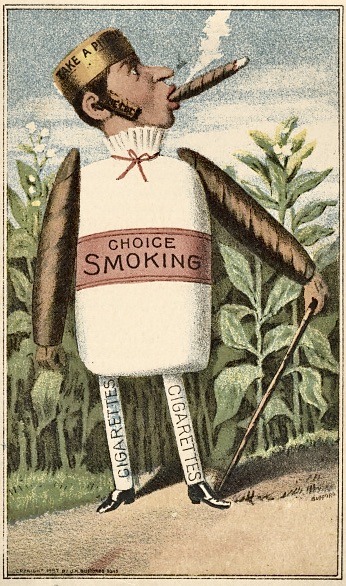 An extraordinary story of systematic thefts from a Edinburgh tobacconist's was told in Edinburgh City Police Court to-day.
For a considerable time past it transpired Mr Christie, tobacco manufacturer 30 Nicolson Square, has suspected that tobacco was going amissing from his premises, and suspecting at least one of his employees, called in the aid of the Criminal Investigation Department. As result, Detectives Knox, Rothnie, and Hunter visited the works on Monday evening, and before the employees were allowed to leave the premises, they were lined up in a room, and, after being told that it was suspected that thefts had been taking place, asked if they had any objection to turning out their pockets.
They all agreed, but in the possession of only one them, an old man named Sinclair, was any tobacco found. Further investigations brought to light more tobacco in his house, while a search in the houses of other employees resulted in the finding of still more tobacco, implicating five girls, who, with Sinclair, found themselves in the dock of the Police Court this morning.
The accused and the amounts they were alleged to have stolen were: John Sinclair (65), tobacco Spinner, 26 Calton Hill, 7lbs.; Catherine Manning (18), tobacco stripper, 141 Cowgate, l½lbs.; Ann Russell or Barclay (25) tobacco stripper, 9 Queen's Place, Greenside, 5lbs.; Elisabeth Purves (11), tobacco roller, 89 Dumbiedykes Road, 6oz.; and Jane Barclay (18) and Marion Barclay (17), tobacco rollers, 7 Ashley Buildings, 8½oz. They all pleaded guilty.
Mr Christie, who told the story of the theft in the witness-box, said it was evidently a case of systematic theft. Sinclair had been a long number of years in his employment, and they had never suspected him of dishonesty. He admitted, however, when caught that he had been doing this for many years. In reply to the Bench, the girls said they had given the tobacco to relatives or male friends.
Bailie Cameron, addressing Sinclair, said he was sorry to see a respectable man like him in such a position, but this was a very serious case, and he must go to prison for 30 days. The girls he sent to the cells for three days, and they left the bar most of them crying bitterly.
Edinburgh Evening News, 8 April 1903[2]
[2] Image: Wikimedia Commons, last accessed 16.12.20.
*****
THE LATE MR. THOMAS TAIT, EDINBURGH—The death is announced at the age of eighty-four of Mr Thomas Tait, of 15 Dublin Street, who at one time was a member of the Town Council of Edinburgh. He was an elder brother of Provost Tait of Kirkcaldy, who died on Saturday last; and the news of whose decease undoubtedly greatly hastened Mr Tait's end.
Born in East Lothian, Mr Tait came to Edinburgh in 1838, and for many years successfully carried on the business of smith and ironmonger in St Andrew Square and Clyde Street Lane. He took from an early period in his life an interest in public affairs, and was a member in succession  of the old Road Board, the Parochial Board, and High Constables, and of the Town Council. He represented St Andrew's Ward in the Town Council from 1878 until 1889, and during that time associated himself in an active and intelligent way with the business of the city.
He was especially interested in social questions, the working out of which would, in his view, improve the lot of the poorer citizens. He was a member and deacon in the Evangelical Union Church, for forty years a Sunday school teacher, and for twelve a superintendent of a Sunday school. On more than one occasion he received testimonials for those church services.
He was a Liberal in politics. Of a kindly, sympathetic nature, Mr Tait was always willing to lend a helping hand to those in need. He was one of the "landmarks" of the east end of the New Town, where his figure, going to and from business with great regularity for so many years, was well known to many citizens.
Scotsman, 9 June 1903