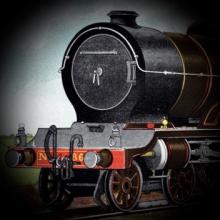 1902
WANTED, girl to wash bottles, and also one to label.—James Robertson & Co., York Lane.[1]
Edinburgh Evening News, 4 January 1902
[1] The company was a manufacturer of aerated water. It did not normally label girls.
****
WOMAN RUN OVER AT MORNINGSIDE STATION.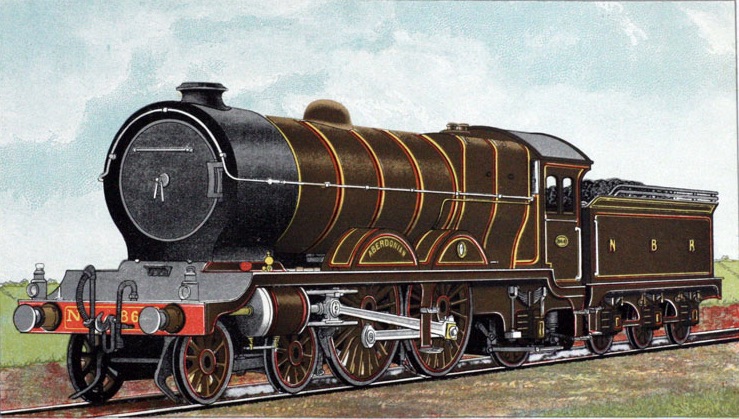 When the porters at Morningside Road Station went on duty shortly after seven o'clock this morning they were startled to find a woman about 30 years of age lying across the rails at the end of the platform.
She had evidently been run over by a passing train, her right arm being almost completely severed, and her left arm severely crushed.
The woman was immediately conveyed to the Royal Infirmary, where she was conscious enough to give the name of Mary Frame, 9 Little King Street.
Frame was fully dressed with the curious exception that she had no boots on, but how she got on to the line is at present unknown.[2]
Edinburgh Evening News, 16 January 1902
[2] In the early hours of the next morning, at the Royal Infirmary, Mary Frame (39) died of 'shock from injuries to arms'. A single woman, resident with her brother at Ross Buildings, Blackhall, she was employed as a bookfolder (685/4 77). Image: Grace's Guide to British Industrial History, accessed on 30.12.20.
****
FATAL ACCIDENT ON THE SUBURBAN RAILWAY.—Last night a young man named Andrew Paterson, who resided at 3 Gilchrist's Entry, Greenside Row, and who was employed as a surfaceman on the North British Railway, was walking on the Suburban line, near Blackford Hill Station, when he was run down by a train, and so severely injured that he died while being removed to the Infirmary.
Scotsman, 22 January 1902
****
MATCH IN EDINBURGH.—A match of 500 points up for a prize value £30 was played off between J. Thomson and R. Irvine in the "Old Ship" Hotel, East Register Street, Edinburgh, and resulted in a win for Thomson by 111 points.[3]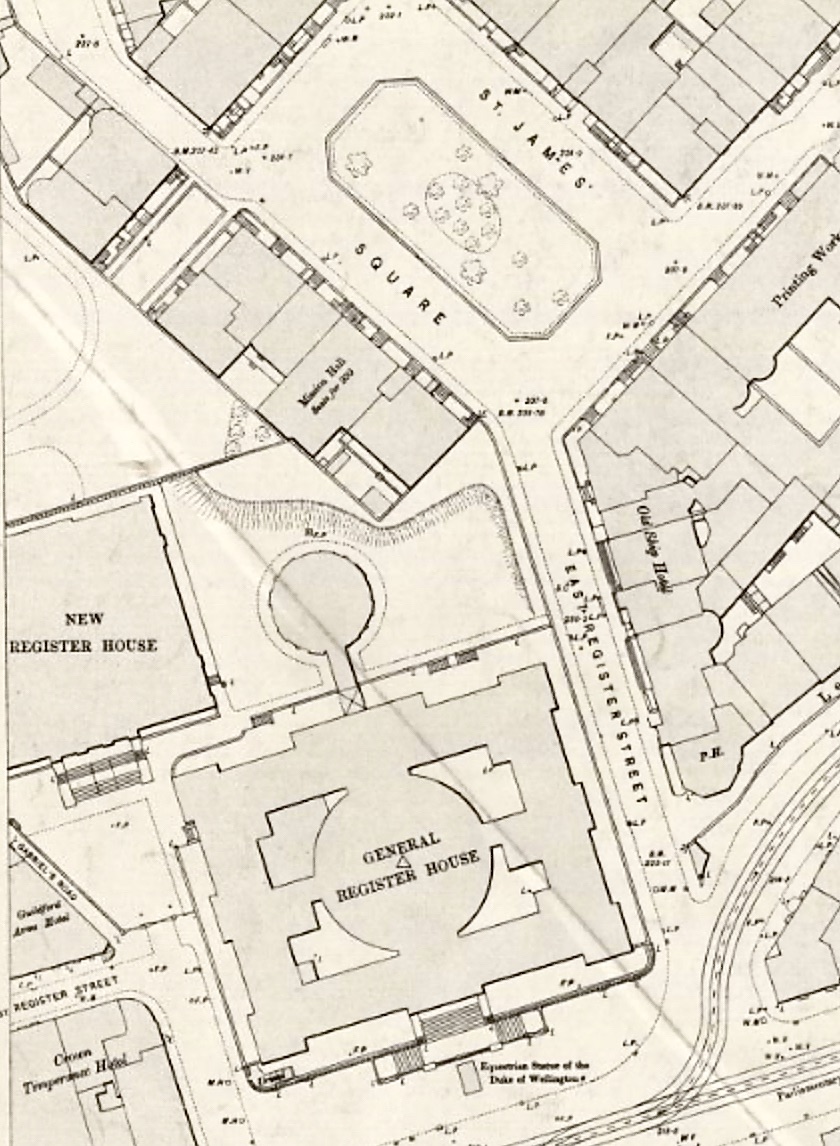 Edinburgh Evening News, 4 February 1902
[3] Equivalent to about £2345 today, or 90 days' wages for a skilled tradesman in 1902. As will become apparent in S (19.4.02),  the match was almost certainly billiards. East Register Street was renamed James Craig Walk in 1974. Image: Ordnance Survey, Large-scale Town Plan, surveyed 1893–94, reproduced with the permission of the National Library of Scotland.
****
PROPERTY OF A GENTLEMAN.—Strong bay Irish mare. 16 hands, 7 years; quiet, perfect in all harness; afraid of no traffic; extra fast and sound; only £18.—See Simpson, grain merchant, 22 Atholl Crescent Lane.
Edinburgh Evening News, 13 February 1902
****
A RARE CHANCE, gent's 1901 roadracer, gear 82, £5 5s.—Niven, 150 Rose Street, South Lane.
Edinburgh Evening News, 18 March 1902
****
PERSIAN KITTENS, 3 pure white, 1 dark, beauties; white tom at stud.—Barker, 11 Church Lane.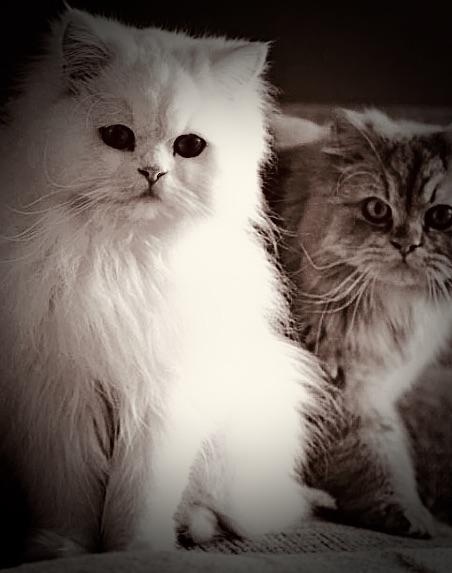 Scotsman, 29 March 1902[4]
[4] Image: Wikipedia.
****
JAMES HIND, coach-hirer, contractor, Dublin Street Lane. Brakes, waggonettes, four-in-hand, vans, lorries, covered waggons; removals; moderate.[5]
Edinburgh Evening News, 4 April 1902
[5]  EB gives 2 defintions of 'brake' and 'break' in this sense:  (1) 'a heavy four-wheeled carriage frame used for the training and exercising of horses'; (2) 'a four-wheeled, straight-bodied, open carriage, usually with no doors or side pieces in front of the seats'. The latter type was used for pleasure excursions by six or more people; [https://www.britannica.com/technology/break], accessed 10.12.20. According to OED, 'van' originally meant a 'covered vehicle for the conveyance of goods, usually resembling a large wooden box with arched roof and opening from behind'. In the 19th century, this shifted to include a covered railway truck for carrying passengers' luggage and the guard. OED does not note its first use for a motorised conveyance. 'Lorry' originally meant any long flat wagon without sides, running on 4 wheels. This extended to trucks and wagons on railways and tramways. Its first known usage in the current sense appeared in 1900: 'Greater interest now seems to centre in the lorry, or automobile wagon, for heavy duty' (Engineering Magazine, XIX, 764/1).
****
"ONE OF THE WORST RECORDS IN THE CITY."
Robert Findlay Greig applied for a transfer of the licence of the Prince of Wales Hotel, West Register Street, and his brother, Alex. Gregg, the present holder, also applied for a renewal.[6]
It was explained by an agent that the applicant was the elder brother of the present holder, who had fallen into bad health.
The Chief Constable said he objected to the licence being granted to either of the applicants. The hotel had one of the worst records of all licensed places in the City. A report he had obtained showed that the place was frequented by betting men, loafers, and newsvendors, and that bets were made at the first-class bar as if it were part of the business of the place. Sweepstakes referring to racing were managed by the barmaid.
An agent for the applicants said the police had made no complaint of the character indicated by the Chief Constable. In reply to Bailie Cameron, the Chief Constable said that the licence holders had been warned by letter.
Both applications were unanimously refused.
Mid-Lothian Journal, 11 April 1902
[6] The hotel was situated next to the Cowan warehouse at No. 46. 
****
HOTEL BUSINESS FOR SALE.—The Subscribers invite offers for the goodwill of that old-established, well-known hotel business, presently carried on at the Old Ship Hotel, East Register Street, by Mr Robert Templeham.[7]
The Hotel is admirably situated in one of the busiest localities in the City. There is ample bed-room accommodation, coffee, commercial, smoking, and billiard rooms, and there is also a bar entering from the street.
The rental of the premises is £510 per annum, and a lease for 10 years from Whitsunday 1902 could be arranged by a suitable party.
The turnover in spiritous liquors for the past four years has averaged about 55 proof gallons per annum, and there is a good turnover in malt liquors.
Stock-in-trade and furniture and plenishings to be taken by purchaser at mutual valuation. Immediate entry could be given.
For further particulars apply to the Subscribers, with whom offers should be lodged forthwith.
ROMAINES & MUNRO, C.A.
50 Frederick Street,
Edinburgh, 15th April 1902.
Scotsman, 19 April 1902
[7] Templeham had gone bankrupt the month before, and the hotel (at 7 and 9 East Register Street) was sequestered by his creditors. At the Edinburgh Bankruptcy Court on 22 April, his liabilities were reported as £2,642 and his assets £2,063 3s 9d.