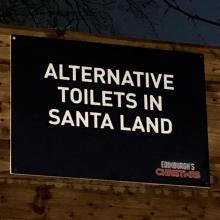 At last week's meeting of the Policy & Sustainability Committee, councillors unanimously agreed to appoint a 'service provider' to deliver a consultation on the future, from 2022 onwards, of Edinburgh's Winter Festivals (Edinburgh's Christmas and Edinburgh's Hogmanay).
This decision followed earlier consultation with the All Party Oversight Group, which will continue to oversee the appointment and consultation processes.
The P&S reached its decision based on a report to it by the Executive Director of Place, Paul Lawrence, which you can read HERE.
In a concisely understated Paragraph 3.4 by way of background, the report notes that:
The footprint of both events has changed over recent years: while the levels of entertainment on offer at Edinburgh's Christmas and Hogmanay have increased, so has the level of infrastructure required to deliver them. In particular, Edinburgh's Christmas had a new layout for 2019/20 that required a large structure to be built in Princes Street Gardens. While this new layout improved the visitor experience and resulted in increased visitor numbers, it provoked strong opinions both for and against and did not have the necessary consents in place.
The consultation will take at least 12 weeks to gauge locals' opinions on the Festivals, and aim for the right balance between residents and businesses once Underbelly's contract ends. Originally scheduled for this spring, the consultation was delayed by the arrival of coronavirus. It will now be delivered as soon as relevant restrictions are lifted, but with a target for appointing a service provider of 20 August.
Criteria of success
Appendix 1 of the report comprises a specification for the consultation. In this, thumbnail sketches of the events are provided, which cannot fail to set the tone for any service provider's considerations.
Both events are characterised as 'successful' based on key performance indicators. They generate a combined income of £152.4M, attract large audience numbers (2.6M to Princes Street Gardens in 2019) and deliver 'a high-quality offer'.
Significantly, the brief notes that:
[…] large audiences in key city centre sites have a significant impact on greenspaces and transport. In future, audience volume may not necessarily be the most important metric and a focus on quality, community benefit and engagement and balanced use of public spaces will be of greater importance. As such, new Key Performance Indicators will be developed for future events to reflect this.
However, also worth noting is that, in shaping the consultation, 'the Council wishes to consider all the financial and non-financial considerations with a strong emphasis on the non-financial benefits'.
There is a presumption in favour of the Festivals rather than a blank sheet of paper, but at this stage the report says the Council is open to new ideas such as community-led events over multiple sites rather than a single management entity focused on one location.
The brief is realistic about managing expectations. In a nutshell, there's very little chance of additional Council money being thrown at the Winter Festivals. And in any case, post-coronavirus realities may radically affect the scale and content of future events.
Discussing the report
There was universal agreement about how the report had successfully embraced previous rounds of discussion, and represented a model of cross-party cooperation.
Cllr Staniforth's Green addendum re-emphasised the intention of making the consultation as good and inclusive as possible, and was accepted.
There were repeated thanks to the Council's Head of Property and Facilities Management, Peter Watton, who had guided the report to this stage.
In moving to accept the report and addendum, Cllr McVey described it as a 'very constructive' bid to 'create a platform, mechanism, and channel so that everyone can have their voice heard' in the 'broadest conversation'.
Sour note
Then Cllr Day introduced an unmistakeably sour note. While matching others' welcome for a broad-ranging discussion, he explicitly contrasted wider consultation to the expressed opinions of unspecified 'usual suspects'.
Without naming names, Day opined that those who had made representations to the P&S on Thursday, including the Cockburn Association, did not reflect the wider city. (In fact, the Cockburn's call for independent assessment of performance figures, a parallel oversight forum, and the need for proper planning consents were not even discussed at this point.)
Not for the first time, Day offered no evidence for such a contention. But Spurtle was reminded of Paul Lawrence's recent response to a similar unsupported assertion. On that occasion, Lawrence pointedly noted the difficulty of expressing the views of people who don't express views.
The tone and substance of Cllr Day's remark on Thursday irked. Would he use the term 'usual suspects' to disparage people who stand for elected office? Who vote in elections? Perhaps even vote for him?
Of course he wouldn't. Citizens' participation in democracy is not a problem. Politicians reacting churlishly to not getting the feedback they want is.
On we go
All in all, we welcome the decision to move forward with the consultation. It's not perfect, but the framework for doing so agreed on Thursday appears well intentioned and reasonably well constructed.
From Cllr Day's comments, however, it seems very likely that some within the Coalition already know what answers they hope to receive. Whoever eventually becomes the service-providing piper for this exercise must resist inadvertent tune-calling by the paymaster.
----------