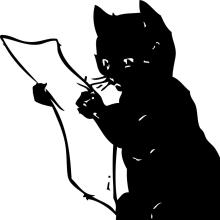 As you read this, advance copies of the November Spurtle are already circulating around Broughton like fallen leaves down a recently unblocked gully.
The new printed issue begins with Leith Walk – how to get across it and whose garden to get comfortable in once you've arrived. It continues with a disturbing turn in a usually peaceful neighbourhood, speculates on the next round of hot-air about bins, and ends with a naked appeal for your dosh.
Chips. That's what on Page 2. Chips, a mystery mezzanine and leeches, and bikes in parks, and high-finance, and accidents waiting to happen.
Then on to good news for green spaces, a massive school roll, and a nominative brain-fankle on Claremont addresses. A 50-ft bottle-brush makes a brief appearance before becoming a permanent new addition to the area's unloveliest street clutter.
Eye-popping, après-ski, preventative, and superseded news nuggets of various kinds wrap up Page 4, although the fun continues from midnight tonight with a colour pdf and the chance to read even more items of outdated local interest on our updated website.
If you'd like to contribute to the Spurtle, we'd love to hear from you. All ideas, news, photos, views, insights, whistle-blows, and offers of legs or money will be gratefully considered. Just email us at spurtle@hotmail.co.uk and we'll be back in touch pronto.
Cheer up everyone, it's nearly Christmas.