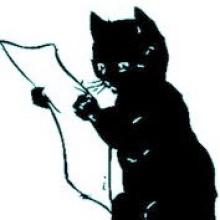 As you read this, advance copies of the March Spurtle are already spreading in all directions across the barony like confused pedestrians trying to cross York Place.
Page 1 begins with the word 'Last' and ends with the word 'objections'. In-between there are thoughts on green flags and where not to find one, Edinburgh's air and where not to breathe it, proactive approaches to Picardy Place, and a hippopotamus in a hamster cage.
On Page 2 we get stuck into those perennial Broughton favourites: railway history, arrests, Aussie Rules Football, loos, cycling, and lagoons. Plus planning and the joys of eye contact.
Challenges facing the Church of Scotland start Page 3, followed by challenges facing the Eastern New Town, challenges posed by the STL from hell, welcome brewery news, floods, public art, and 'coprological hopscotch' on local pavements.
If you're baffled by tramwork complications, commercial churn, or finding your way from one side of Leith Walk to the other, look no further than Page 4. Where you will also find the first mention of our Local Govt Election hustings on 20 April. This year we focus on the City Centre ward.
In short, if it purrs, growls, honks, or grinds to a halt anywhere between Pilrig and Howe Streets, York Place and Canonmills, you'll likely read about it in this month's Spurtle. Copies are available in shops, bars, cafés, services, railing-mounted see-through boxes, AND – for the first time since February 2020 – Edinburgh's Central Library.
Alternatively, you can download a colourful pocket-sized pdf from here after midnight tonight.