1878
THIS DAY'S POLICE NEWS
MOLESTING POLICE OFFICERS.
At the City Police Court, before Bailie Rowatt, a young man, named Patrick M'Gachie, was accused of committing a breach of the peace in Rose Street and Rose Street Lane on Thursday night, and at the same time obstructing and molesting two police officers, and attempting to rescue a female prisoner then in their charge.
He was besides accused of having been found in Rose Street Lane on the same night for the purpose of committing theft.
The prisoner denied the charge, but was found guilty on evidence being led. Having been previously convicted of theft and other offences, M'Gachie was sentenced to 60 days' imprisonment with hard labour.
Edinburgh Evening Courant, 2 February 1878
*****
SCHOOL BOARD PROSECUTION.—At the Edinburgh Sheriff Summary Court yesterday, before Sheriff Hallard […]. A man named John Litherland, residing in Scotland Street Lane, was fined 5s, with £1 expenses, for refusing to send two of his children, aged ten and eight years respectively, to school.
Edinburgh Evening News, 16 February 1878
*****
THE SANITARY CONDITION OF EDINBURGH.—At a meeting of the Public Health Committee of Edinburgh Town Council held today, Councillor Gowans presiding, it was decided to recommend that the proprietors should be called upon to put the houses in Sime's Court, Calton Hill, into a proper state of repair.
A report was submitted by the sanitary officials as to the tenement, 6 Potterrow, which was stated be in bad repair, and it was decided to recommend that the proprietor should be called on to put the tenement in habitable condition.
A similar recommendation was made as to houses Nos. 7, 8, 9 and 10 Simpson's Court, Greenside Row.
Edinburgh Evening News, 26 March 1878
*****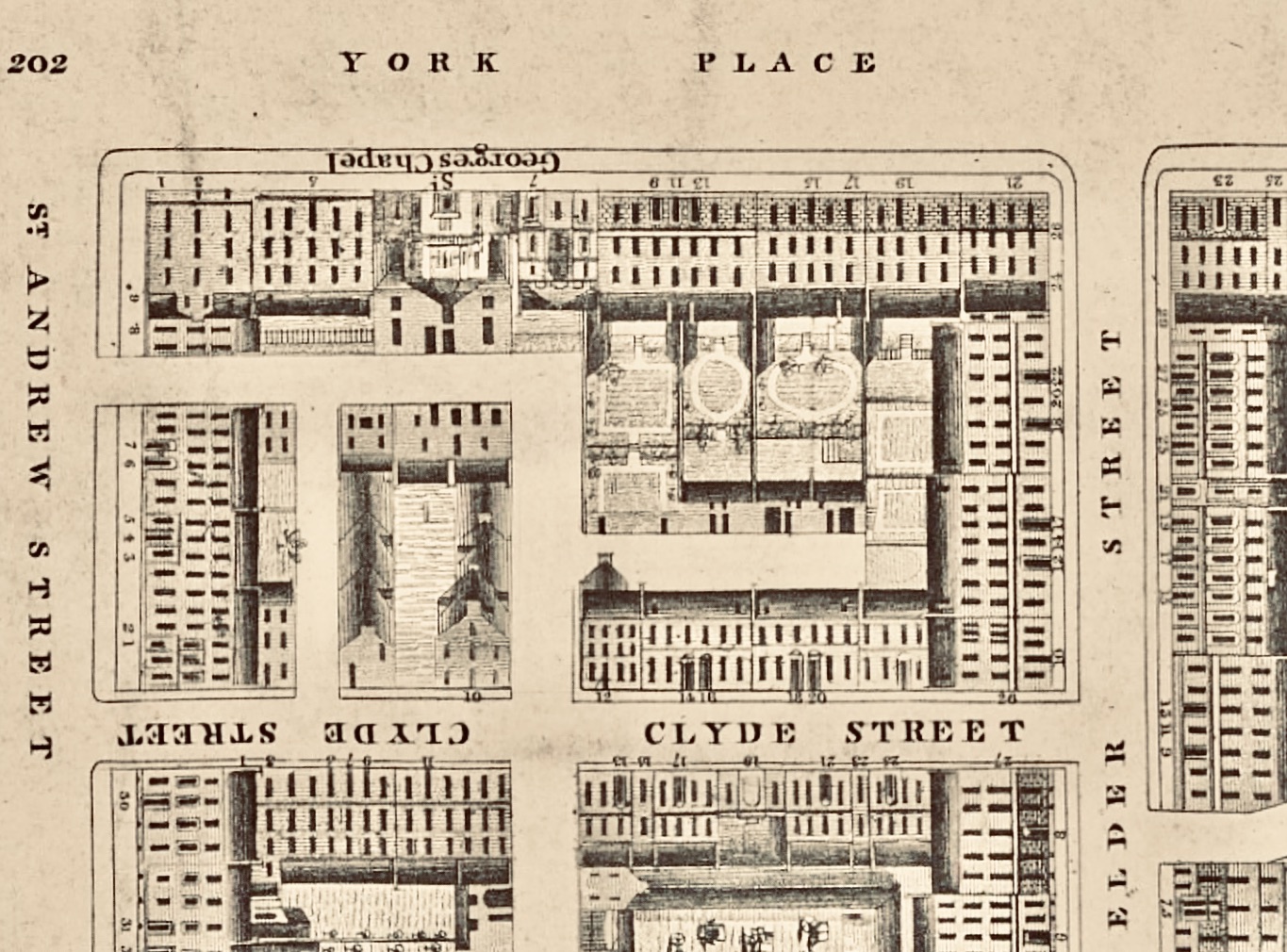 DEATHS.
At No. 2 Clyde Street Lane,[1] on the 4th inst., David Peter, aged 98, formerly beadle for 47 years in St George's Episcopal Church, Edinburgh.
Scotsman, 6 April 1878
[1] Map – detail from Robert Kirkwood, Plan & elevation of the New Town of Edinburgh. Edinburgh: Kirkwood & Son, 1819. Clyde St Lane is the unmarked section of road with a right-angled corner.
*****
SUICIDE FROM THE DEAN BRIDGE.—Last night, about half-past eleven o'clock, while a cabman was passing along the Dean Bridge he observed a man throwing himself over the east parapet.
He caused the occurrence to be reported to a policeman in Queensferry Street, who at once proceeded to the place, and found the body lying on the footpath between the mill-lade and the bed of the Water of Leith. Life was quite extinct, the deceased having fallen from a height of 106 feet.
The body, after being indentified by a miller in the employment of Mr Hay as that of Robert Stewart, cooper, residing at Hawthornbank, Water of Leith, was taken to the Police Office.
Scotsman, 7 May 1878
*****
DAMAGES FOR INSULT AND INJURY.—At the Small-Debt Court yesterday, Sheriff Hamilton gave decree against Andrew Lonie, carter, residing in North Clyde Street Lane, for two guineas, and £1, 5s. as expenses, for having on 27th April last struck William Tait, carter, residing in South Clyde Street Lane, on the head and face with his fists in presence of several persons.[2]
The parties, it appeared, had at one time been in partnership, but were now carrying on business in opposition to each other in the same locality.
Scotsman, 13 June 1878
[2] Totalling about £221 today, or 9 days' wages for a skilled tradesman in 1889.
*****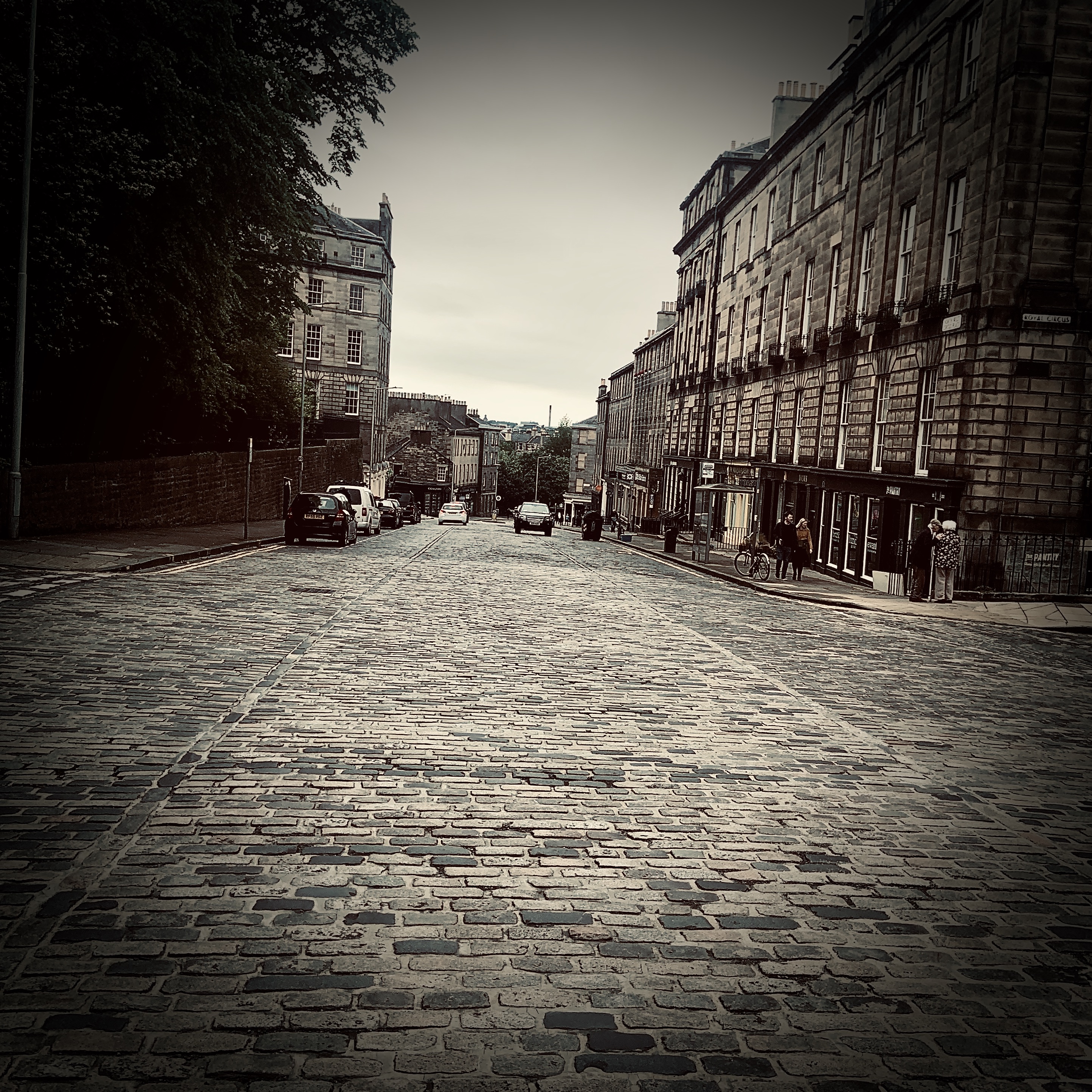 FATAL ACCIDENT TO A CHILD.—On Saturday afternoon, Alexander Galloway, eight years of age, son of John Galloway, residing at Circus Lane, was accidentally killed on the road between Circus Place Gardens.
He was being wheeled by an errand boy in a barrow of which the latter, in going down the incline, lost control, allowing it to run in front of the Stockbridge omnibus, which was coming in the opposite direction.
The consequence was that the little fellow was thrown amongst the horses' feet and trampled, while he sustained such serious injury to the head from one of the wheels that he died almost instantaneously. No blame is attached to the driver of the 'bus.
Scotsman, 17 June 1878
[Image: DM.]
*****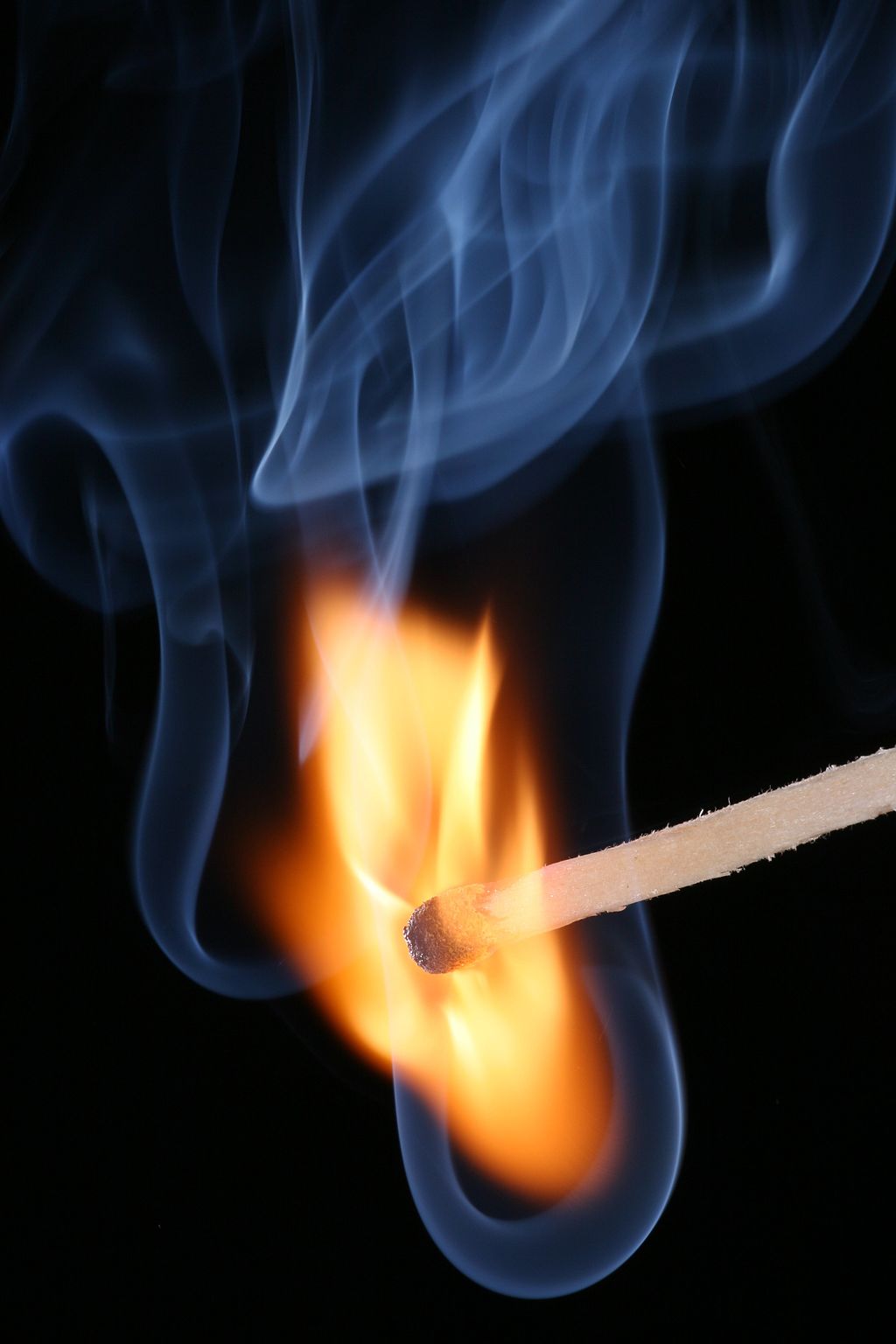 THIS DAY'S POLICE NEWS.
SPILLING PARAFFIN OIL.
At the City Police Court, before Bailie Anderson, a middle-aged man named John Lister was charged with having been riotous and disorderly to the annoyance of the neighbours in his premises at Simpson's, Court, Greenside Row, on Thursday, 1st inst. He pleaded not guilty.
A woman who was called as a witness said the accused had a small shop in Simpson's Court, and dealt, among other things, in paraffin oil. On the day  in question his wife had locked him in the shop as he was the worse for liquor, when he commenced to make a great noise, kicking at the door and shouting. Late at night, when the door was opened, the floor was found to be swimming with paraffin oil. The neighbours were afraid to go to bed for fear of being blown up. They had lodged the complaint against Lister, on the advice of the Insurance Office.
She heard some one say the accused was lying among the oil lighting matches, but she did not see him. Several witnesses were called for the defence, who denied that there had been a disturbance, but admitted that a quantity of oil had been spilt.
The accused said that being drunk he had come against the crane of an oil cask and broken it. It was purely an accident, but perhaps an accident which would not have occurred if he had not been drunk.
The magistrate, in finding the charge proven, remarked on the danger to which the whole neighbourhood had been exposed through the carelessness of the accused, and sentenced him find £2 caution,[3] with the alternative of five days in jail.
Edinburgh Evening News, 10 August 1878
[Sebastian Ritter, Wikipedia, Creative Commons.]
[3] About £132 today, or 6 days' wages for a skilled tradesman in 1878.
*****
THIS DAY'S POLICE NEWS.
A DANGEROUS CHARACTER.
At the City Police Court, John Lunny was charged with having assaulted a policeman in Silvermills Lane last night. He pleaded guilty.
Mr Linton stated that the prisoner first followed a gentleman, whom he threatened. When a policeman appeared, the prisoner threw him down and compressed his throat.
The magistrate sentenced him to 20 days' imprisonment.
Edinburgh Evening News, 16 August 1878
*****
A DISORDERLY HOUSE.
At the City Police Court, Agnes Sinclair, residing in Greenside Court, was charged, along with ten others, with having been riotous and disorderly in her house this morning. She was also charged with keeping a disorderly house. They all pleaded guilty.
Sinclair, who had been often previously convicted, was sentenced to 30 days' imprisonment with hard labour. Jessie Coglan, who was also well-known to the police, was sentenced to 15 days, with hard labour. Mary Murdoch and John Morison, who had each been previously convicted, were sentenced to pay a fine of 10s, with the alternative of three days in jail; while Ann Simpson, John Harris, James M'Auliffe, and Andrew Hannsen were severally fined 5s, with the option of three days in jail.
      Edinburgh Evening News, 13 September 1878
*****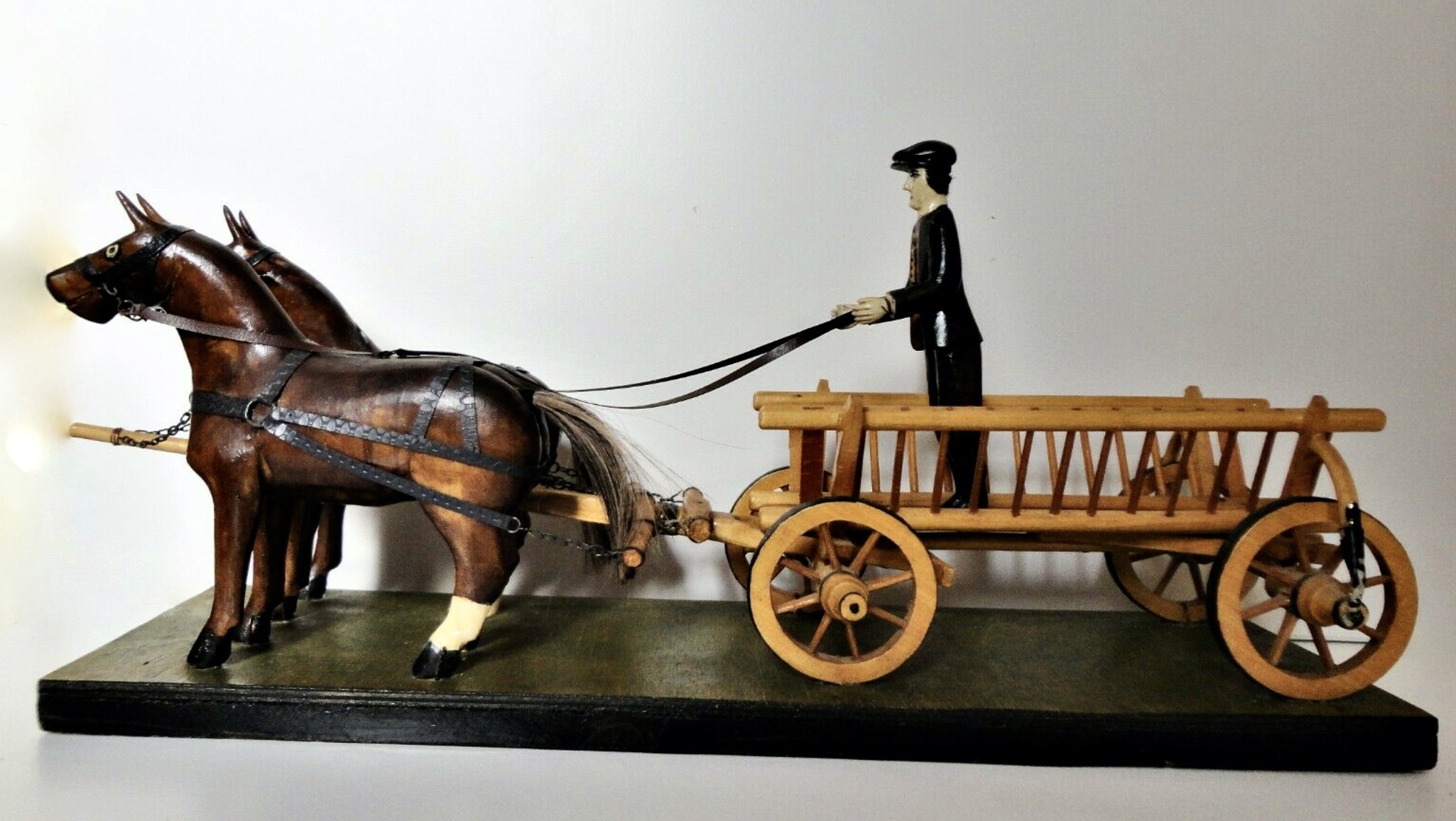 THIS DAY'S POLICE NEWS.
ALLEGED THEFT OF TOYS.
An elderly man named Drummond was charged at the City Police Court, with having stolen a number of pieces of toy carts from a shop in Dean Park Mews, occupied by John Wright, toy manufacturer. He pleaded not guilty.
Mr Wright said that Drummond had been in his employment since June last. He had recently missed several pieces of wood. On Saturday he went into the prisoner's house and found him working at a toy cart. Having his suspicions aroused, he searched the house, and found a number of articles which he identified as belonging to him.
Drummond, in defence, said he was unable to go out to work every day, and bought the wood to keep him in employment at home. He had also saved small pieces of wood from his job in Wright's shop, which he admitted he took home.
—Bailie Anderson thought there might be a doubt in the case, and found the charge not proven. Drummond was accordingly discharged.
Edinburgh Evening News, 15 October 1878
*****
Last night a considerable number of people assembled at the west end of Princes' Street, apparently in expectation that the members of the "Working-Men's Evangelistic Association" would resume the open-air services at the "Five Lamps."[4] None of the company, however, put in appearance, their proceedings for the evening being confined to the hall which they have leased in Queensferry Street Lane.
Inspector M'Lellan and a sergeant of police were in attendance for the purpose, not of warning the preachers (as was done last Sunday) of the consequences of their resuming the services, but of peremptorily ordering the parties to desist, and, in the event of their failing to do so, taking a note of the offenders' names. In other parts of the town, such as Charlotte Street, West Register Street, Canongate, High Street, and Melbourne Place, the preaching was carried on as usual.
At the West Register, the thoroughfare was blocked by a crowd numbering about 200 persons. One of the company of "evangelists" who here presented themselves took occasion to criticise the action of the authorities in interfering with the preaching of the gospel at the west end of Princes Street, submitting that such procedure was prompted by "deceitful men, who did not believe in the Bible, and wished to crush the word of God." The same speaker added that he was "brought to Christ two years ago," and before he desisted from preaching in the open air "he would burn at the stake!"
Scotsman, 11 November 1878
[4] Presumably 5 street lamps branching out from a single stem, as also found at the Foot of Leith Walk before the arrival of the Victoria statue.
*****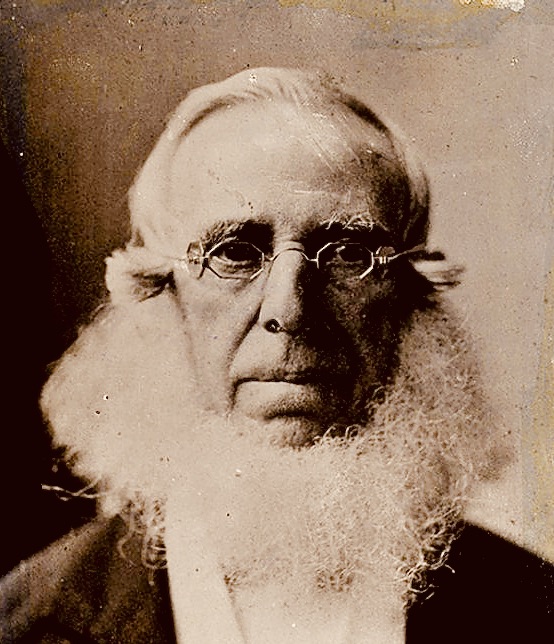 ASSAULTING A HUSBAND.
Mary Forbes or Yeats, residing in Greenside Court, was charged at the City Police Court with having assaulted Robert Yeats, her husband, and Jessie Yeats or Kirkland, her sister-in-law, on Wednesday night.
The prisoner struck her sister-in-law on the face, and pulled her husband about by the whiskers.
She pleaded guilty, and was sentenced to find £2 caution, with the alternative of ten days in jail.
Edinburgh Evening News, 20 December 1878
[Image: Smithsonian Institution.]
*****
News from the Mews will resume on Thursday in 1879.