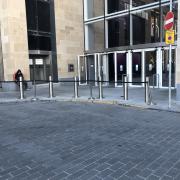 This temporary barrier is now semi-permanent at the St James Quarter's Little King St entrance/exit. It's to stop pedestrians accidentally walking into traffic.
And yet there's not a sleeping policeman in view, and no obvious speed warnings for drivers.
It all seems a bit one-sided given that the overwhelming majority passing through this area do so on foot.