DRUMMOND AND GME
It was the report of the Short Term Working Group in May 2016 in which the idea of Drummond as a home for GME was first mooted.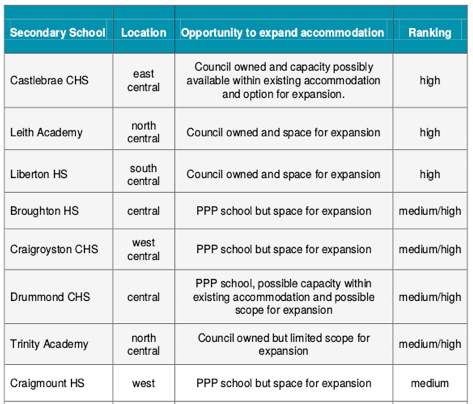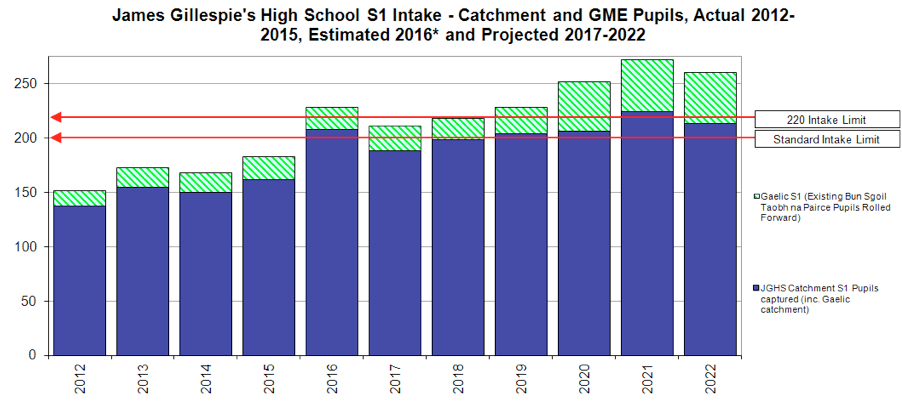 [Projected JGHS non-GME (blue) and GME (green) school roll. Source: Short-term working group report.]
The group examined eight options for dealing with the capacity crisis at Gillespie's. These included changing the school's geographical catchments and moving the entire provision of Gaelic Medium Secondary Education from here to another school.
Schools were ranked for 'their suitability to accommodate GME based on access/geographical acceptability and anticipated ease of providing the necessary capacity within existing accommodation or through extension if required'.
Three schools (Castlebrae HS, Leith Academy and Liberton HS) were ranked 'high' and [Drummond was one of four schools (along with Broughton HS, Craigroyston HS and Liberton HS) ranked 'medium/high'.
Although the document was in the public domain, neither Drummond staff nor Drummond Parent Council were made aware of the idea at this stage.