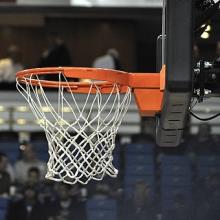 HIGH HOPES FOR DRUMMOND BASKETBALL COURT
Local basketball players are crowdfunding to upgrade the popular court in the grounds of Drummond Community High School.
They're motivated in part by a desire to upgrade dated hoops (currently at the wrong height) and replace concrete with tarmac.
But another important element has been the recent loss of a friend and fellow player. They're keen to honour him in a way he'd have appreciated, and to raise awareness of the importance of sport and exercise for good mental health.
Their fundraising efforts have clearly touched a nerve in the neighbourhood, with 75% of their target £3,000 being raised in just 6 days.
In due course, those behind the scheme will approach City of Edinburgh Council and its private partner at the school for further help.
If you'd like to contribute, you can do so now by donating at the GoFundMe page here.
The basketball court at Drummond is a very well used and much loved local amenity. In 2011, we touched on its surprisingly long history in Broughton here.