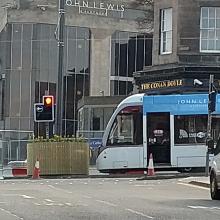 On Thursday last week, a tram reached York Place for the first time since 10 February – but just to test the newly reconfigured track.
Accompanied by dozens of tram contractors, the tram took the better part of an hour to inch its way from halfway along York Place to the current end of the tram line: a large planter at the top of Broughton Street. At points along the way, contractors measured the distances from the overhead line poles and the central reservation to crucial parts of the tram.
Over February and March this year, the York Place tram stop has been removed and replaced by new tracks which will take trams coming up Leith Walk into the City Centre. Most of the track tested on Thursday was in fact the existing track beside the old stop, though the section along the very last few metres is new.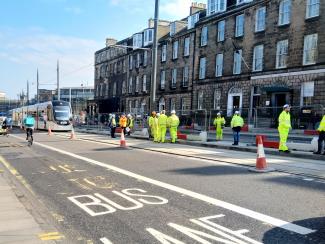 Since 10 February trams have terminated at Shandwick Place. Trams will be back in York Place regularly from the end of March, but not to stop – they will just be reversing back to the new temporary terminus in St Andrew Square.