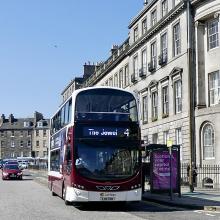 Much heavy traffic, including buses, has been diverted along Leopold Pl during Leith Walk tramworks. The resulting damage to the carriageway is causing troublesome vibration for residents.
Living at the border of both community council areas and Council wards, these locals have had trouble gaining the attention of officials.
Their homes are in Leith Walk ward, but the road outside is in the City Centre. Neither the Tram Team nor the Council's Diversion Team have been keen to tackle the problem.
Prompted by Leith Central Community Council, Cllrs Munn and Rae are now pursuing the issue, along with similar instances elsewhere in the vicinity.