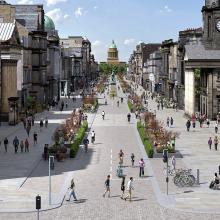 The regeneration of George Street's public realm has entered a new phase with the launch of a final Concept Design. The plans are available for scrutiny on the Council website here (use the menu toggle top-right for more detail). There's a virtual helicopter ride here.
The proposals are budgeted at £32M, with £20M coming from Transport Scotland via Sustrans.
WDA Design has been guiding the project since 2017, with substantial input from the George Street Association and Essential Edinburgh, and a variety of other stakeholders, community groups, and interested observers.
The final proposals were unveiled on Thursday last week, but it's taken Spurtle this long to to peruse and chew them over with others.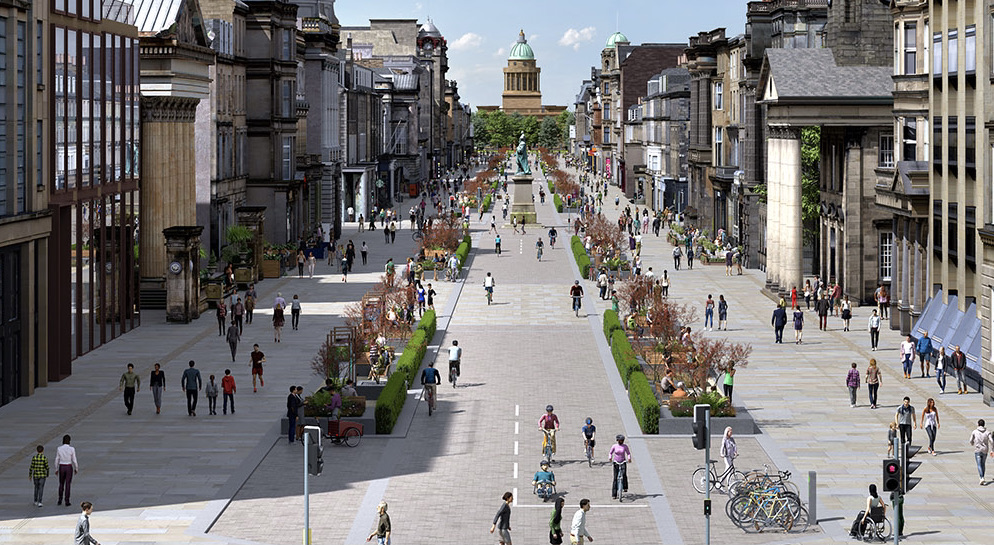 Constraints and opportunities
The parameters shaping the designs have shifted over time, but key determinants are:
very wide variety of users, with priority for pedestrians, cyclists, and wheelers
east–west cycle route
north–south travel routes across the street
Edinburgh Council's City Mobility Plan and City Transformation moving towards a car-free city centre
expanded bus and tram services
sustainable response to climate change
helping to meet the new St James Quarter and post-Covid business challenges.

Key features
Some striking aspects of the proposals are:
much wider pavements
sheltered green spaces (wind-break hedges and shrubs) for rest, socialising, and play
open areas with potential for staging events
outdoor, clearly delineated seating areas for 'café culture'
removal of visual clutter (e.g. signposts, utility boxes)
removal of most motor traffic, including private cars, taxis, and buses
bus stops, taxi ranks and 184 private parking spaces moved to intersecting north–south streets, although who gets to park where and when has not been finalised
discretionary parking dispensations (e.g. for weddings and funerals)
Blue Badge parking in each block
loading and service bays in each block for use at set (off-peak) times
two-way cycle route in the middle of the street
'suitable enforcement regime', possibly using cameras
improved lighting, and highlighting of key features
improved symmetry of design compared to earlier versions, enhanced views/vistas and setting of historic structures/statues.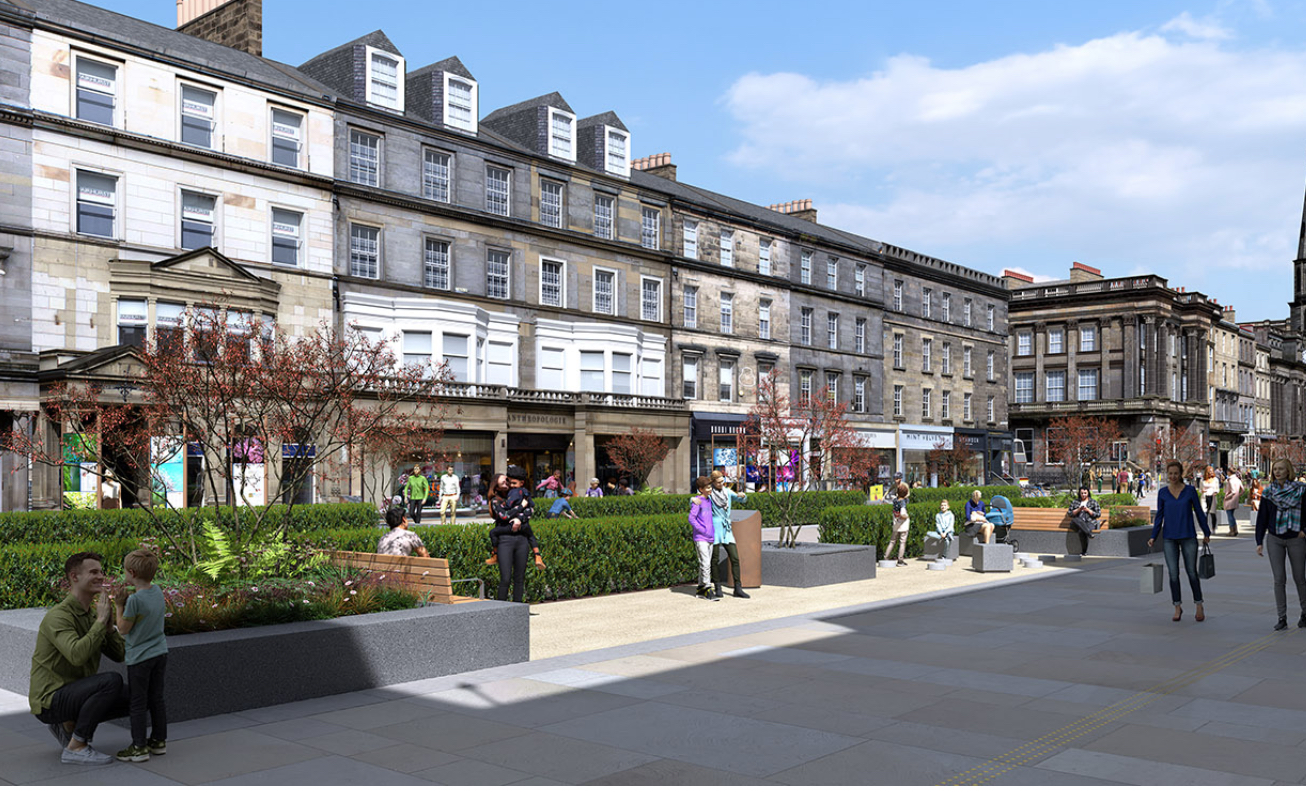 Fine-tuning
Ten discussion sessions are scheduled this month with stakeholders and interested observers. The intention is to 'tease, test, and adjust' the plans through discussion. This correspondent has attended one such meeting, and summarised below are some of the issues raised and responses given.
Waste and recycling
The intention is to minimise visual intrusion. General bins will be situated in seated areas. Domestic general/recycling bins will be clustered on north–south intersecting streets. Commercial uplifts will be coordinated by Essential Edinburgh to reduce costs and speed/streamline operations. The vast cost (and surprising extent of privately owned cellars) make underground waste storage a non-starter.
Night-time economy
People in the dark, with a drink inside them, have been known to use streets in ways not originally intended by their designers. WDA consultants are well aware of this, but say anti-social behaviour will be discouraged by 'natural surveillance' from adjoining pavements, delivery vehicles, and local police patrols. Materials used will be robust enough to withstand misuse.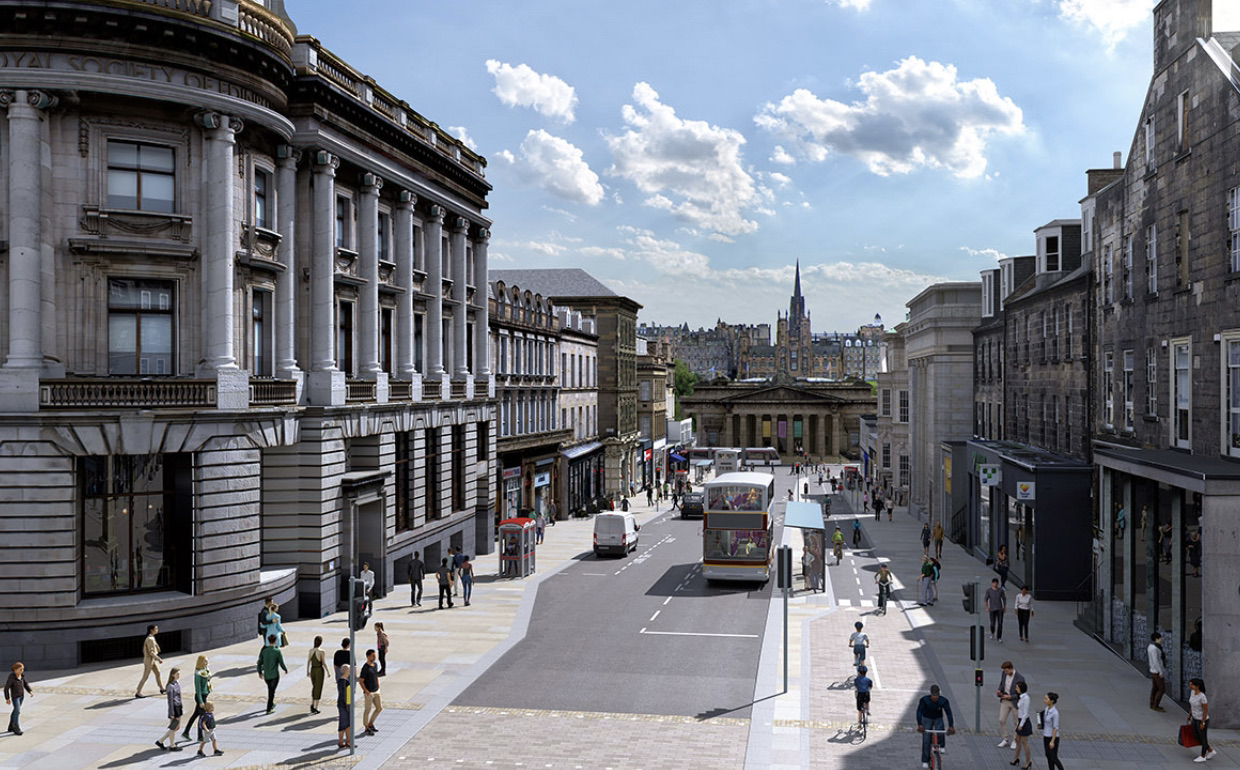 North–south intersecting roads
Upgrading these much-damaged road surfaces forms part of the programme of works.
Restriction of motor traffic
At least one hotelier is unhappy about guests not being able to alight outside the George Hotel. He does not believe nearby taxi ranks will compensate for the inconvenience. He and some others suggest increased traffic on north–south routes will lead to congestion and bus delays.
Open spaces
There will be open spaces with the potential to house 'appropriately sized' events such as performances or mini-markets. They will be much smaller than those areas used in the past to host the Spiegel Tent and helter-skelter. Pop-up electric sockets here could be useful, but could not provide enough power to replace generators. Accommodating underground generators would be prohibitively expensive.
Parking and traffic
There are widespread concerns that determined drivers will forego public transport and park wherever they can in the Second New Town. It is acknowledged by the designers that people with mobility difficulties, but who do not qualify for Blue Badges, would benefit from very short (5–10-minute) parking dispensations for drop-offs and pick-ups. There are also worries among locals that displaced traffic will rat-run through the northern New Town. The Council hopes to prevent that scenario through its City Mobility and Transformation programmes.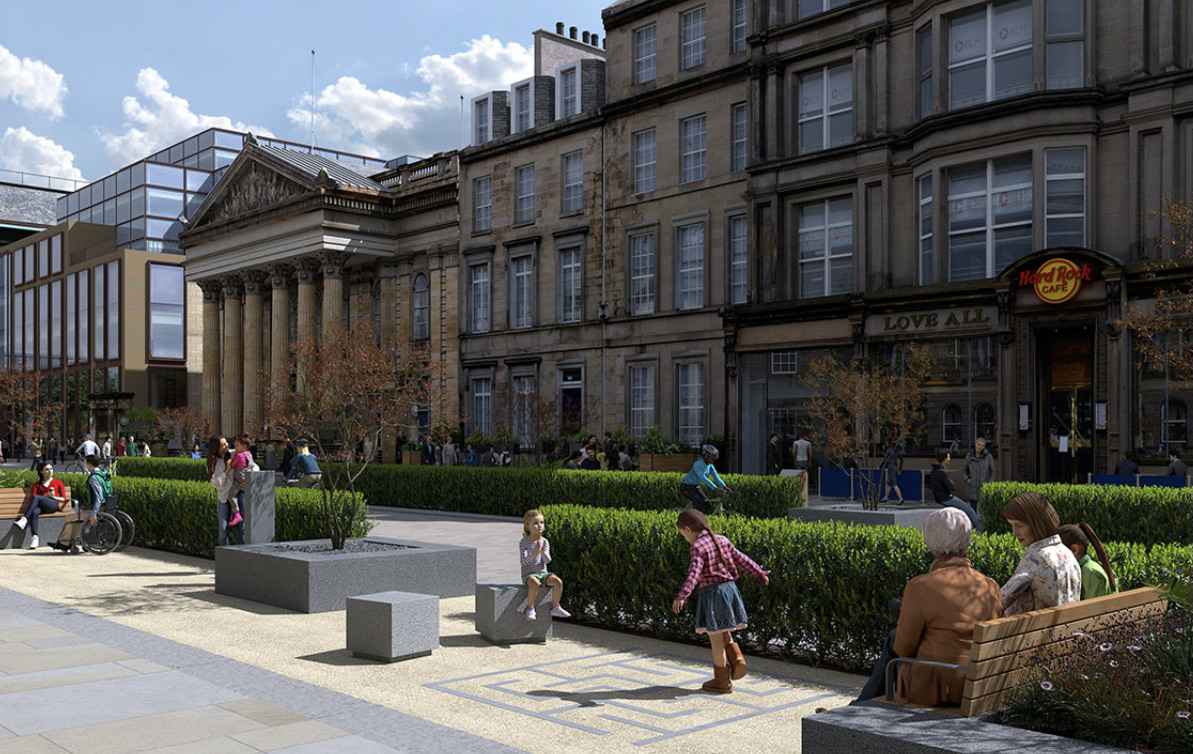 Trees
Early iterations of the George Street redesign featured small trees. Although popular with the public, they were opposed by heritage purists who insist any such substantial greenery should be limited to St Andrew and Charlotte Squares, as James Craig originally envisaged. An acceptable compromise has been low hedges and shoulder-high shrubbery, even though these too did not feature in Craig's blueprint.
Underground infrastructure
Service providers (e.g. water, cables, power) will be encouraged to coordinate any upgrades or replacements before new arrangements are put in position.
Overground infrastructure
'Unnecessary' telephone boxes are likely to be removed (so long as BT charges for this are not prohibitively expensive). The red post-box and telephone box at the east end of the street are likely to be retained. It was pointed out to the designers that infrastructure for children's play is now a legal requirement under equalities legislation.
Toilets
There are no toilet structures in the proposals. It was asserted to designers that this is a serious flaw, particularly given the increasing number of older people in the population.
Money
Spurtle has spoken to one sceptical observer outwith these consultations who doubts £32M is enough to deliver the proposals with top quality. Designers, though, insist that this is a gold-standard project using premium materials expected to last at least 100 years.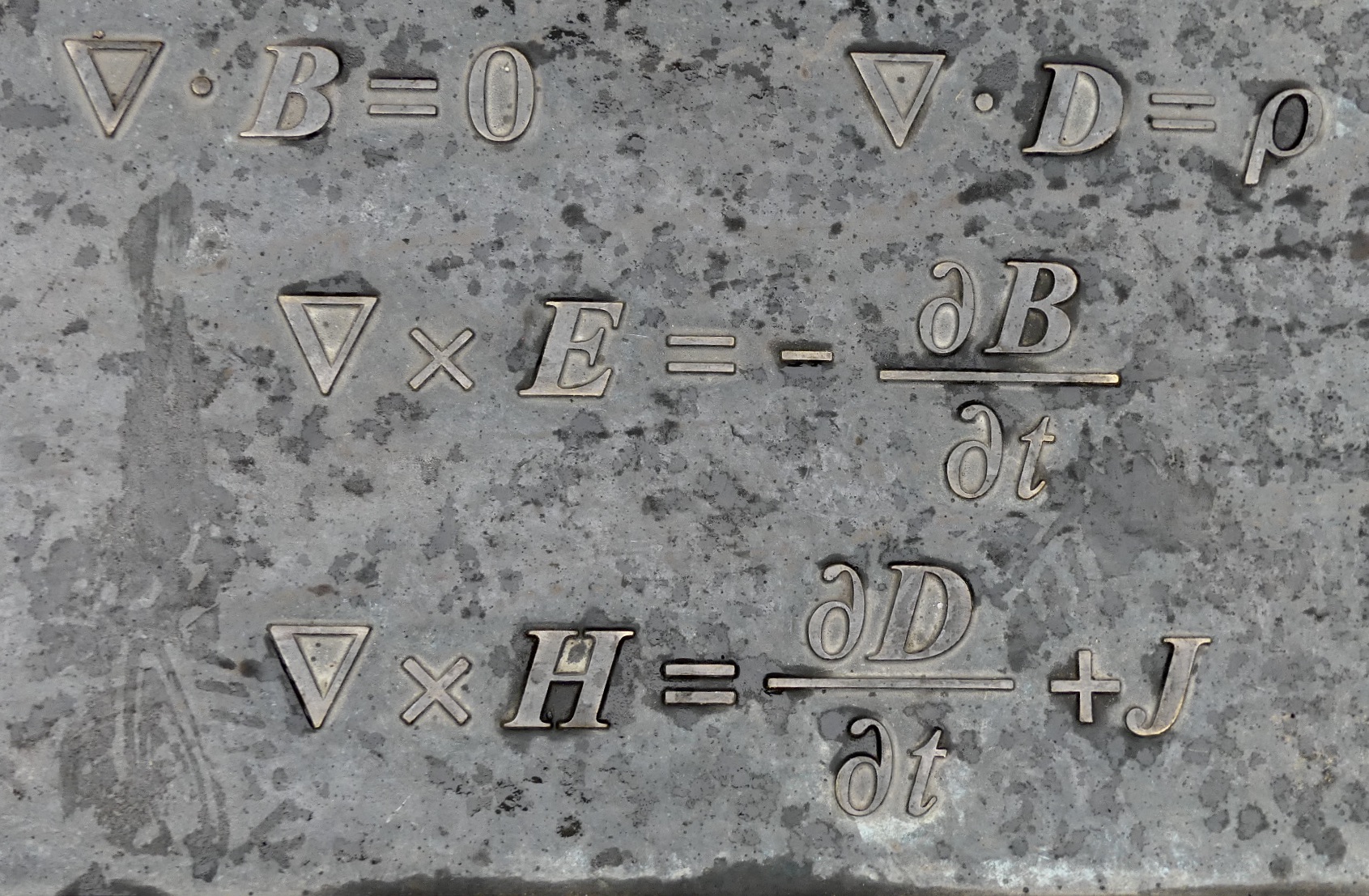 Thoughts
Readers will have their own opinions about the merits and shortcomings of the proposals, and we'd like to hear them (see below).
In general terms, Spurtle welcomes the prioritisation of pedestrians and cyclists over private motorists. So long as sensible provision is made for those who cannot walk or cycle far, this rebalancing should be good for all concerned.
However, it strikes us that the plans' future success will depend largely on how well whatever scheme emerges is managed in future.
George Street does not exist in a bubble. Excluding the bulk of traffic from this central thoroughfare will have knock-on effects elsewhere. As far as we can tell, Council officials recognise this and are taking a holistic approach to improve connectivity and reduce pollution across the city.
Enforcement will be crucial – whether this be by physically excluding certain vehicle categories with adjustable bollards (as on the Royal Mile and in Lisbon), or by employing officials on the ground. Camera surveillance may be the cheapest and most efficient option, even though it gives many people the creeps.
In terms of clearing litter, coordinating rubbish collections, general levels of cleanliness and amenity, Essential Edinburgh has a virtuously self-interested role to play in supplementing standard Council services.
How George Street gets used for events is beyond the scope of these proposals, but still requires careful attention. What Essential Edinburgh describes as its 'programme of carefully co-ordinated promotional activity' has not always aligned with residents' aspirations, contextual sensitivity, or best practice for the environment. For this reason, we are cautious about LDA's description of 'landscaped seating areas for play, culture, leisure, local business and community use' (our italics). We are highly cautious also about Essential Edinburgh's involvement in any other aspect of events programming on the street or within nearby properties.
Spurtle does not trust the Council to grow and disperse Festival/Fringe events across the capital without turning George Street into an endless sequence of shanty bars, luckenbooths, and fire-breathing shouty men on a unicycle. From the outset, we need to be firm about this with our elected representatives.
What next?
We all have until 25 March to register our opinions on the plans in a rather superficial survey HERE.
A report will go to the Transport & Environment Cmte in April, and to funders Sustrans in the next 2–3 weeks. Detailed technical designs are expected to be completed by mid-May. Legal processes for things like Traffic Regulation Orders and enforcement regulations will then take another nine months. Work on the ground should begin in 2023 and finish in 2025.—AM
Got a view? Tell us at spurtle@hotmail.co.uk and @theSpurtle
---------------