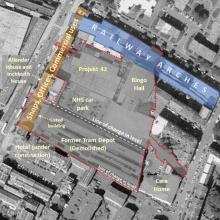 COMMUNITY COUNCIL SEEKS 'DEMOCRATIC CHALLENGE'
Last week we reported the extended deadline for consultation about the Halmyre Street Place Brief.
That extension was granted in order for Leith Central Community Council to gain additional feedback on its own detailed response.
LCCC's draft could not be formally approved before its scheduled March meeting was cancelled at short notice. It has therefore been juggling the need to get some kind of guidance for the site in place promptly, and the desire to subject its own draft to 'a bit more democratic challenge'.
The month's extension strikes Spurtle as an exemplary compromise under the circumstances.
LCCC's document contains 16 key elements they think should be part of the Place Brief. They are succinctly listed here.