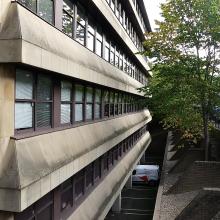 As first reported back in September, MMMARS Dundas Limited aims to demolish the existing structure and erect a new mixed-use development (residential, office, retail, and café/restaurant) at 108–14 and 116 Dundas Street (20/03923/PAN).
An online pre-application consultation process is already underway, with comments invited until Friday 13 November. You can view the plans and make your point here.
Alternatively, you can email comments to consultation@scotthobbsplanning.com
A full planning application will be made in the winter, at which point the public will have a second chance to comment on any repeated, clarified, or revised proposals.
Considerable concern has been stoked locally by a lack of information on the developer's website. A red outline on the aerial plan of the site fails to make clear whether this is simply the property's boundary or the intended extent of new building.
No wonder then that most of the remarks Spurtle has heard over recent weeks pertain to potential increased massing of the new stucture, the 'aggressive' advance of the site line to a position forward of Georgian buildings further up Dundas Street, and loss of trees.
Potential loss of trees across the street on the former RBS site is likewise unifying large numbers of locals in opposition to a separate proposal there.
Despite there being so little information to go on, Spurtle agrees with those readers who say they have nothing to lose by raising their concerns at this stage. The developer may respond positively, but will at least have to acknowledge this element of the public's reaction in any future application.
UPDATE (8/11/2020)
We got it wrong on Friday. Spurtle has now found a route through the website's unhelpfully signposted home page, and discovered an illuminating account of what is proposed here.
In summary, the developer's proposal includes:
a return to the Victorian street line which prevails at the northern end of Dundas Street, and to match the prevailing street line on Fettes Row
demolition of the existing office buildings and match current uses with dwellings on Fettes Row and dwellings above commercial premises/active frontages on Dundas Street; in total, 44 dwellings and 3 businesses are proposed
building forms on Dundas Street which are intended to echo those of the adjacent Victorian tenements; on Fettes Row, drawing inspiration from the Georgian terrace opposite
materials drawn from a 'restricted palette' of blonde sandstone, buff brick, and black framed aluminium
all residents having access to communal green space at the rear, comprising about 33% of the total application site
today's trees being replaced by a variety of low-level planting; a green/brown self-seeding roof is proposed for the roof; both elements would support biodiversity.
In contrast to earlier confusion over an apparent lack of detail, Spurtle now finds much to admire in the plans. We would, however, miss the trees and at this stage remain to be convinced about the charm of low-level planting. We'll report back following submission of a full planning application.
In the meantime, be aware that the developers will present their proposals to the online meeting of the New Town & Broughton Community Council tomorrow evening at 6.45pm. Sign-in details here.