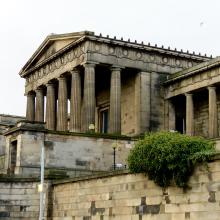 The proposal to repurpose the old Royal High School on Regent Road as a new performance venue and home for St Mary's Music School has taken a major step forward.
In a report to the Finance & Resources Committee, which meets on Thursday this week, Executive Director of Place Paul Lawrence recommends appointing the Old Royal High School Preservation Trust as the Council's preferred partner in disposing of the property by way of a long lease.
Two bids
The property was remarketed in early July this year, and by the closing date on 3 September two bids had been received. One of these bids was from the RHSPT, the other from 'Care Village', about which we know very little.
We reproduce the report's summary of proposals below.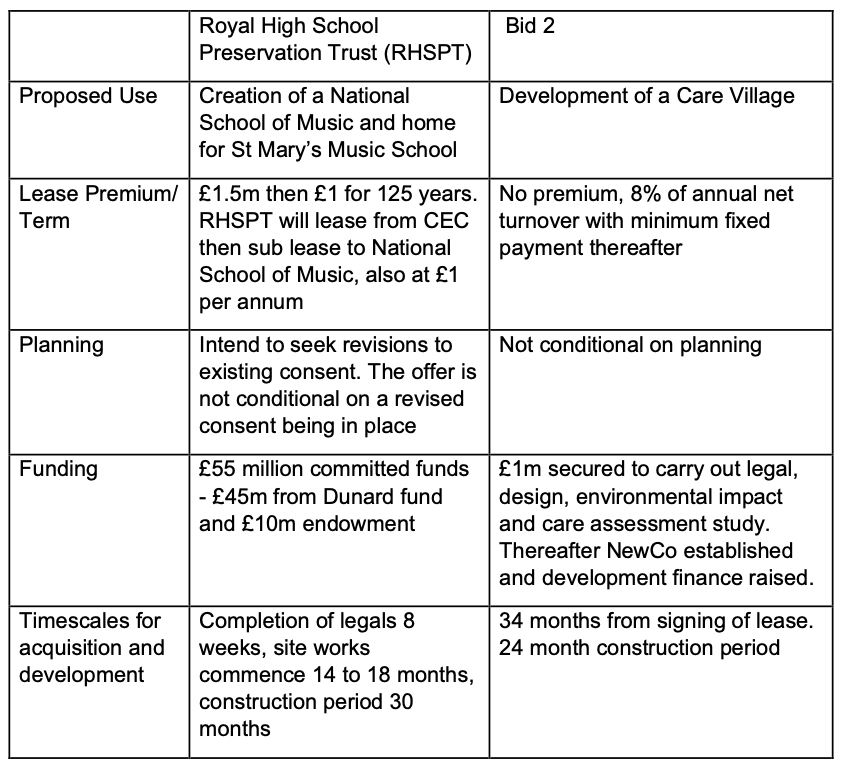 The bids were assessed by Council officials from Estates, Legal Services, and Commercial Development and Investment. With a maximum possible score of 4; RHSPT achieved 2.80 and 'Bid 2' 1.35.
Broad sunlit uplands
Officers broadly approved of the RHSPT's offer, not least because it proposes only minor changes to an earlier scheme which already has planning permission.
They had one reservation, which was that public access to the interior would be limited to how long concerts last there.
RHSPT estimates a cost of £45M for redeveloping the site, with an additional endowment of £10M. It has provided proof of funding. According to its offer, the Council would receive a capital receipt of £1.5M in return for a 125-year lease at £1 per year.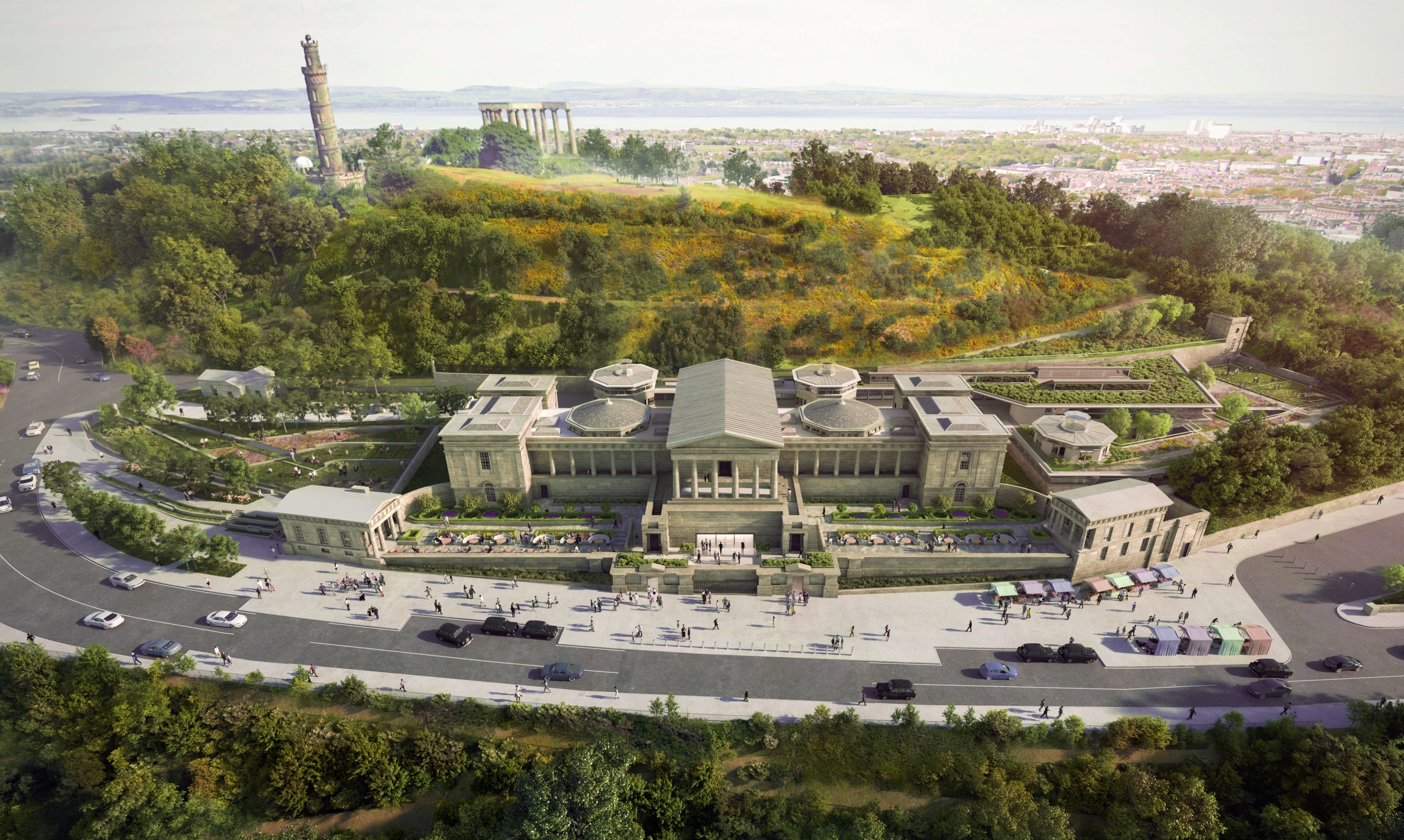 Beware of the fog
Bid 2, said officers, provided insufficient information to understand its impacts. They thought providing accessibility would require considerable (and as yet unspecified) alterations to the building's historic fabric.
There was too little breakdown of Bid 2's costs and funding to make any useful comparison with the RHSPT alternative.
In short, whilst Bid 2's offer might, in theory, eventually result in a better financial return for the Council, the lack of detail meant the potential risks were unacceptably high.
Coming soon, hopefully
If the Finances & Resources Committee approves the report on 7 October, Legal Services will finalise a long-lease contract with RHSPT, subject to conditions.
Discussions will also start between the Council's Culture and Education services and RHSPT about strategies for shared resources, and accessibility for state schools, and adult amateur/community choirs and orchestras.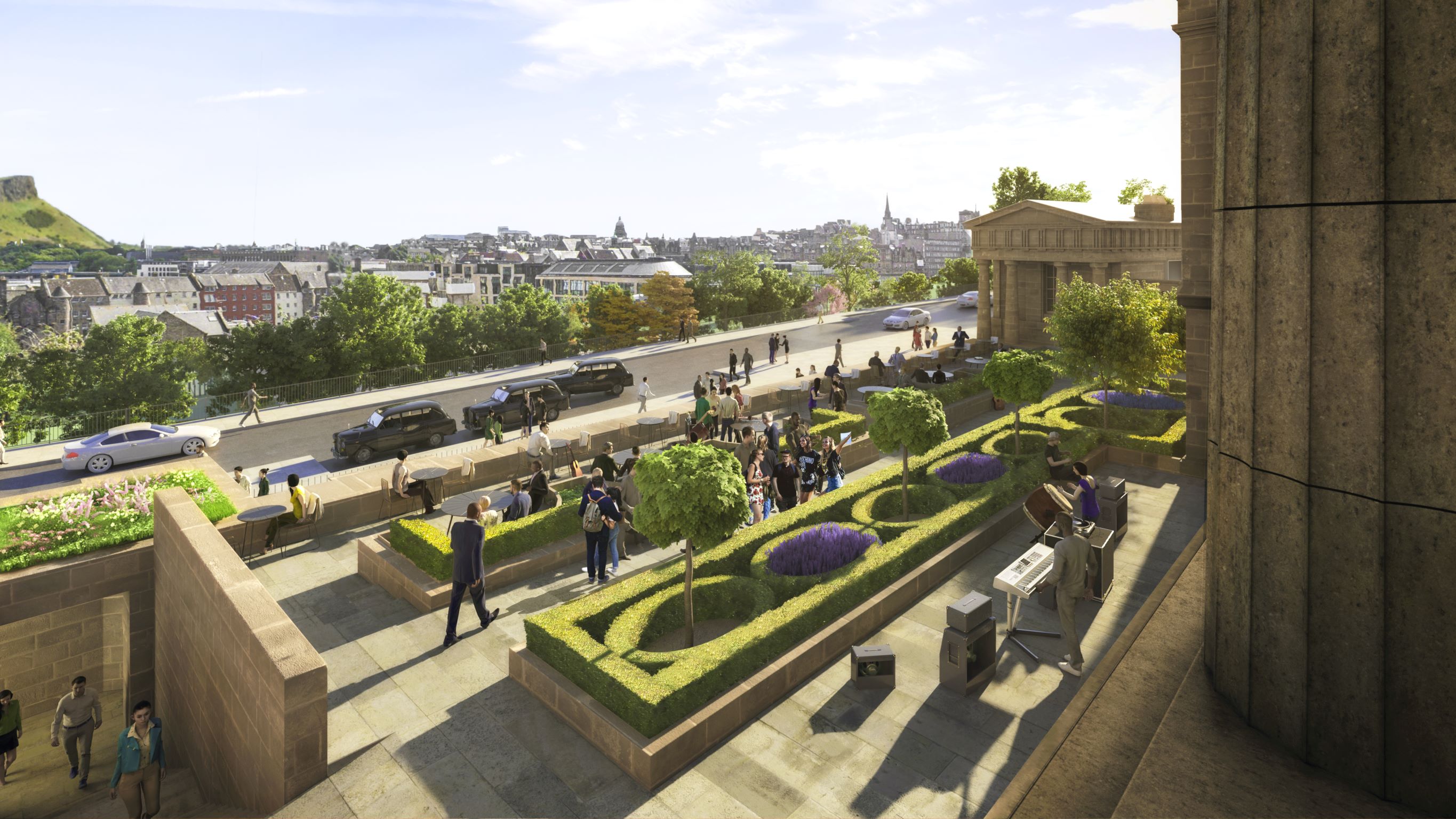 A good thing
Spurtle is delighted by this progress.
If approved by committee, the project promises to: breathe life into a spectacular building of worldwide architectural importance; allow the growth of what is effectively a national music school based on merit; enable inclusive musical partnerships between school and city; and remove a financial millstone from the Council's neck.
What's not to like?
Got a view? Tell us at spurtle@hotmail.co.uk or Twitter
************