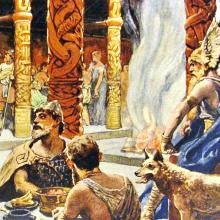 PROPOSALS INCLUDE TEPEES AND GLASSHOUSE
Thor's Bars Ltd of Lancaster seek planning permission for a pop-up event on the roof of the Waverley Mall (20/03336/FUL).
The proposal comprises a bar in a glasshouse, and two canvas tepees housing another bar and food trucks.
Both areas, say TB, 'will be decorated with festoon lighting and will be sympathetic to its world heritage setting'.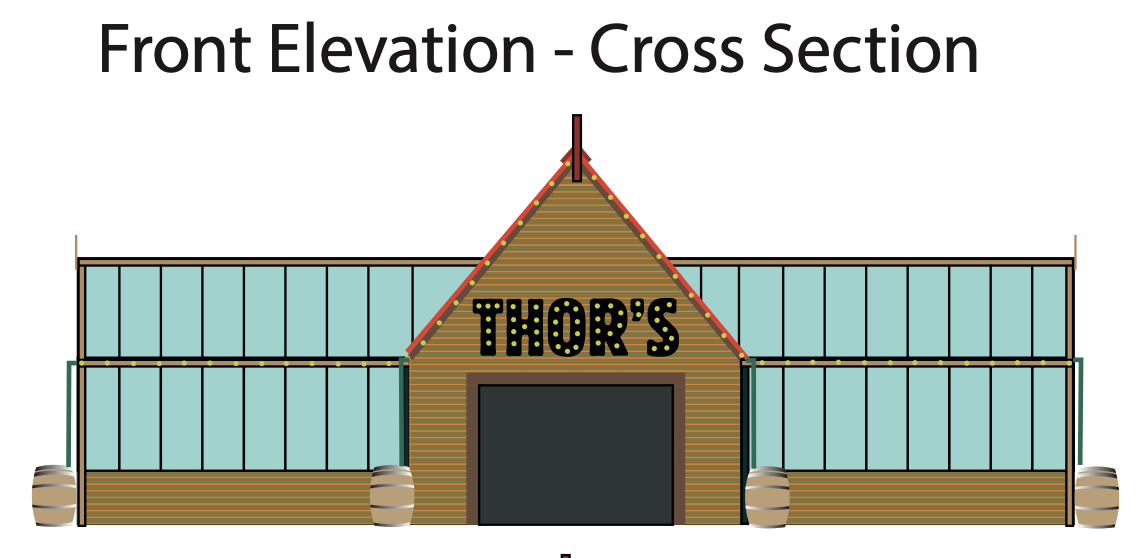 If approved, the event would have permission between 21 September 2020 and 10 January 2021 (trading from 7 October–3 January). This would mark the second year of operation here for TB, which have been invited back by the Moorgarth Group (the firm behind the Mall). Their expanded area (this time with food) is intended to build on 2019's success, and ensure some unity of design across the site.
TB say they would continue to focus on using local staff (increased to 60) and as many local suppliers as possible. Even the unique glasshouse would be built in Scotland from Scottish materials.
'Styling will play a key role in our decoration, reminding people they are in Scotland, with tartan, log fires and a whisky menu.'
TB say customers typically stay in a Thor Bar for one hour, but remain in the vicinity (including alternative bars) for another 4 hours. So, they claim, this latest proposal would likely attract visitors to the city without detracting from neighbouring businesses.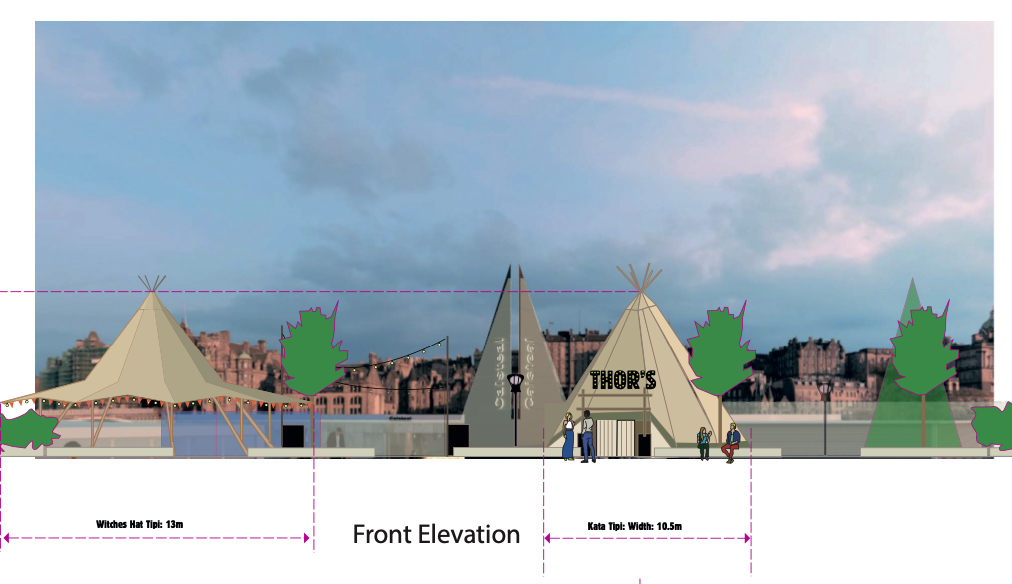 Pop-up drinking's contribution to built heritage
TB boast of their experience in working in a heritage environment and 'conversation area', notably adjacent to York Minster.
'It should be recognised,' they point out, 'that events in historic places make a vital contribution to the economic sustainability of our heritage, assisting in securing optimum viable use.
'Pop up spaces such as THOR'S generate income and allow visitors to experience historic places/buildings from a novel and short-term venue. Something the industry vitally requires after COVID.'
No ill-effects
The effect of introducing a glasshouse and tepees into the World Heritage Site would be negligible, say TB, because the temporary change would result in no harm to the setting and significance of these assets. Not only that, but the tepees are 'stone in colour, blending well into the environment'. The glasshouse – which artfully complements the station roof next door – is constructed 'of natural materials, glass and wood, allowing a 360-degree view'.
In short, 'Having successfully delivered an event on the roof of Waverley Mall in 2019 and having consulted with the planning department in Edinburgh, our new plans fit the environmental, historical and social learnings from last year and we are excited to bring our expanded event to the roof for October.'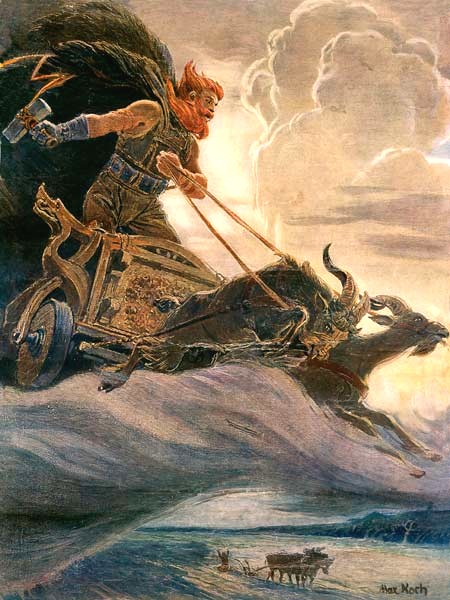 Where to begin?
Readers will have their own views on the desirability of this proposal in particular, and of pop-up drinking venues in general. Especially in an area already deemed by the Council to be overprovided with alcohol licences. However, that's not a planning consideration.
Will it compete with established local hospitality providers? Almost certainly. But that's not a planning consideration.
How will the site be managed to ensure safe numbers and social distancing? There's not much detail about that in the application, but we'd expect the Council to apply standards at least as stringent as those at other events across the festive city. However, that's not a planning consideration.
Do stone-coloured tepees and a glass-sided beer hall fit the heritage setting of Princes Street and the 'Waverley Valley'. Of course they don't, but such considerations have not stopped worse examples being granted planning permission in the past. Impact upon the EWH site and New Town Conservation Area no longer seem to be planning considerations at Christmas and Hogmanay.
Are these festooned pastiches really what we want for one of the most beautiful city centres in the world? Well, apparently yes. We have the politicians we voted for, and a majority of them seem content to ruin the settings people used to visit Edinburgh for in the days before it turned into a funfair. 
Is there a bright side? Yes. The real Thor's home in Asgard was a house of 540 rooms. We appear to be getting off lightly.
If you wish to comment on this application, you may do so using the Council's planning portal here until 18 September. 
--------
Email from Richard Price, Planning Convener, New Town & Broughton Community Council (20:05, 26.8.20): There have been numerous references to an Act that protects the views across the Waverley Valley - the most recent application that this was referenced in was the applicaton by Moorgarth for the additionbal storey (permanent) on the Waverley Mall (18/02748/FUL) which was granted. In the DM Sub-committee report - in response to questions raised by EWH it stated [under j) Other Material Considerations]:
'Any development which takes place on the roof of Waverley Mall has been historically required to remain below certain height levels which have been set out in various acts of parliament, most recently the City of Edinburgh District Council Order Confirmation Act 1991. Section 35 of the 1991 act specifies that no buildings shall be constructed on the roof of the mall beyond a height of 4.55 metres above the south footpavement of Princes Street.
'This represents an overall acceptable height of 71.522 metres above ordinance datum (OAD).
'The building will measure 3.3 metres above the current floor level of the roof of the mall at its highest point, representing an overall height of 69.625 metres OAD. The railing attached to the edge of the walkway situated along the southern boundary of the new building's roof will have an overall height of 70.925 metres OAD. The proposed development on the site is therefore below the levels outlined in the act of parliament. The grant of planning permission does not absolve the applicant from complying with the requirements of the 1991 Act.'
I haven't [yet] checked whether the current temporary application is in compliance with this (but would assume that it is).
----------