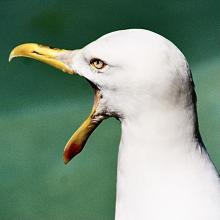 Council-hosted 'information events' about its controversial communal-bin review will take place across Spurtleshire and beyond this month.
As we understand it, these will relay Council intentions, and may consider fine-tuning details. But they won't involve discussing basic principles or the virtues of bin-hubs over gull-proof bags.
Genuine consultation on those issues may occur at a different time (see Issue 312, p.1). But don't hold your breath.
There may be trouble ahead
The scheduled Council engagements could have some use. For example, Spurtle hopes for clarity about proposed arrangements in areas like Bellevue, where multiple waste-collection systems currently operate on streets with very different dimensions and infrastructural capacites.
But we anticipate prickly interactions between defensive officials and outraged adherents of bespoke waste-management solutions.
We also anticipate even more prickly interactions between officials and local residents who find a life-enhancing bin-hub will shortly appear right outside their windows.
No doubt reasonableness will prevail to some extent. There is little point in not attending.
Let's face the music
BROUGHTON RESIDENTS:—Wednesday 17 November, 9.45am–1.45pm, Broughton St Mary's Parish Church, Bellevue Crescent.
OLD TOWN RESIDENTS:—Wednesday 24 November, noon–4.00pm, The Crannie, 9 Cranston Street.
STOCKBRIDGE & INVERLEITH RESIDENTS:—Friday 19 November, 11am–3.00pm, Stockbridge Parish Church, 7B Raeburn Place.
WEST END RESIDENTS:—Tuesday 30 November, noon–4.00pm, Walpole Hall, St Mary's Cathedral, Palmerston Place.
--------------------------------