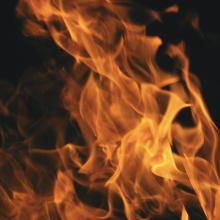 FIRE IN AN EDINBURGH WORKSHOP.
A fire broke out in a joiner's workshop situated in Swinton Row, Broughton Street, Edinburgh, yesterday afternoon.[1]
The workshop, which occupies a two-storeyed brick building, is in close proximity to Messrs Moir & Co.'s large funeral undertaking establishment, where, in the stables and yard, there were a large number of horses, hearses, cabs, and other vehicles.
The fire at first had a very alarming appearance, but the large detachment of the Fire Brigade, under Firemaster Pordage, soon had the fire under control. The damage done amounted to several hundreds of pounds.
Scotsman, 16 October 1901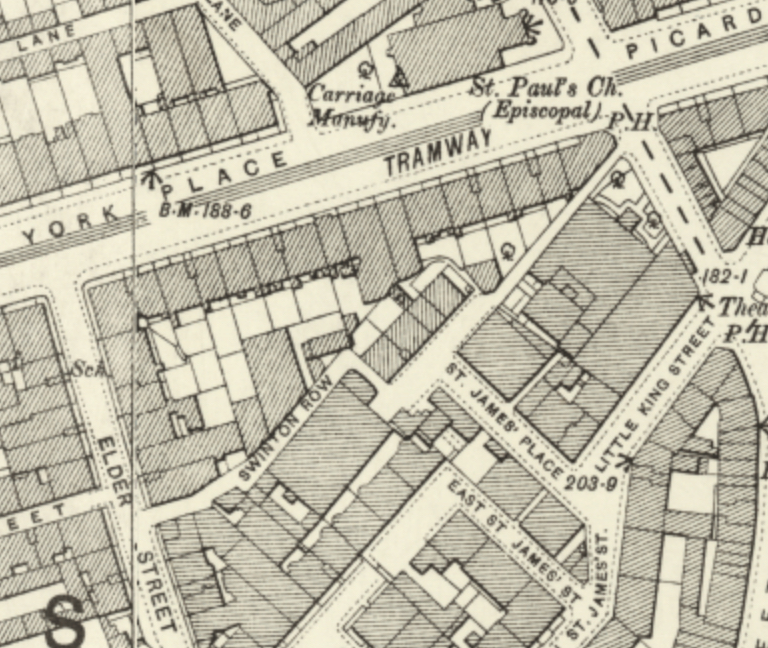 [1] Swinton Row was covered by the St James Centre multistorey car park in the 1970s. Image: Ordnance Survey 1896, accessed 13.2.21; reproduced by permission of the National Library of Scotland.
****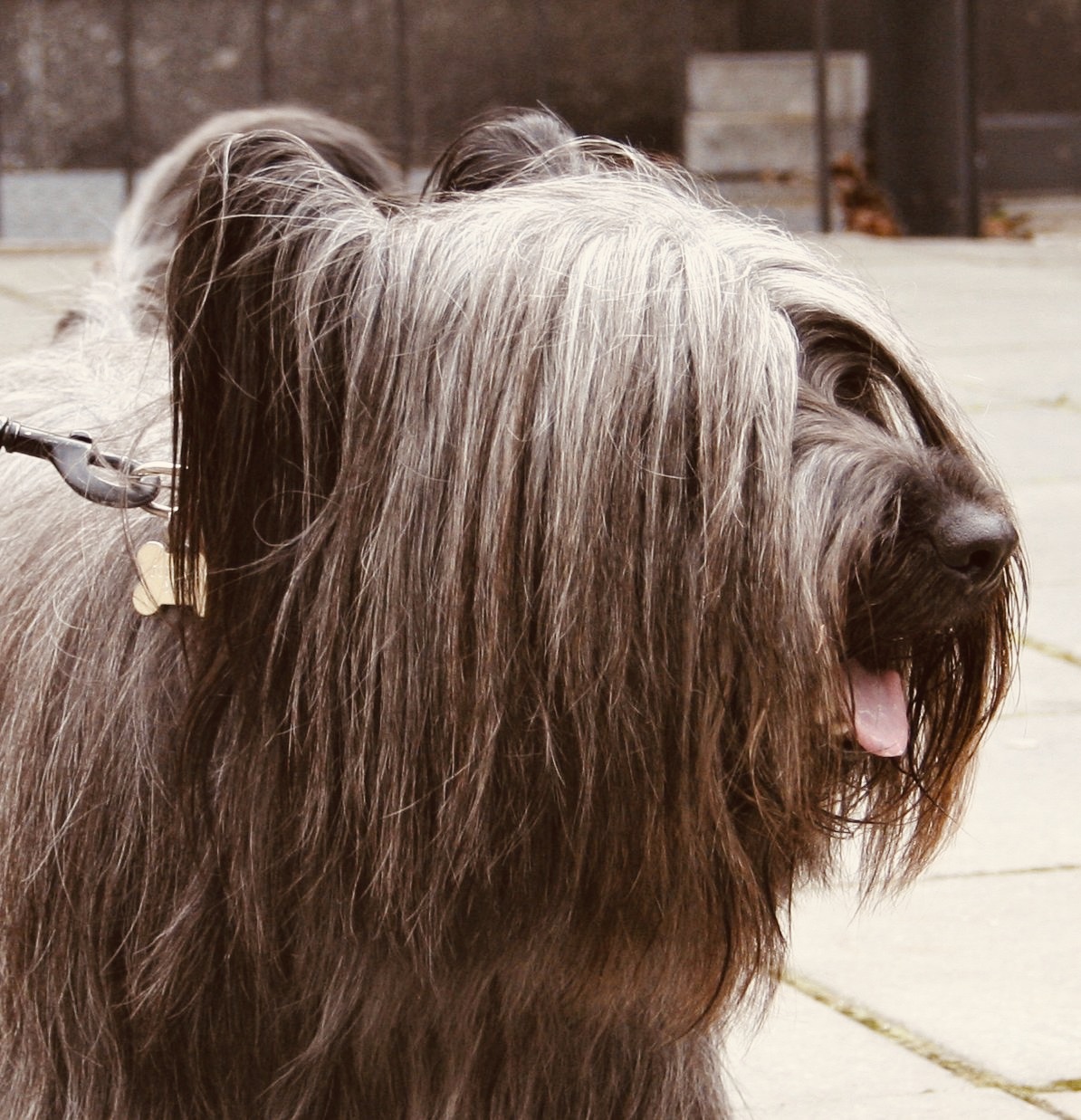 SKYE TERRIER BITCH, 4 months, prick-eared, prize breed, for sale: exchange Persian tom or canaries.—Barker, 11 Church Lane.
Edinburgh Evening News, 20 November 1901[2]
[2] Image: Wikipedia, accessed 19.12.20.
****
SERIOUS CHARGE OF NEGLECT OF CHILDREN.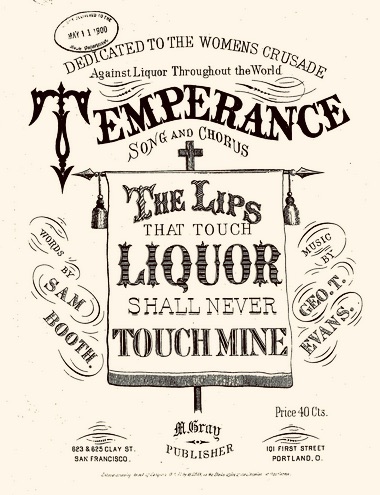 Sheriff Robertson, Aberdeen, was engaged yesterday for an hour and a half hearing evidence in a charge of neglect of children, brought against George Gordon Lumsden, painter, 19 Clys Cottages, Dean Bank Lane, Edinburgh. Accused had three previous convictions against him for a similar offence.
Mrs Lumsden (28) stated that in June last her husband, without any warning, left for Edinburgh. She had received from him 10s a week, and that was quite inadequate to maintain her and her six children, who had suffered greatly from want of food and body and bed clothing, especially since the cold weather came in. Herself and her baby had to be treated at the Dispensary.
A splendid workman, her husband could earn 36s. a week,[3] but he was of very intemperate habits. He came back in August with 2d., and went away again.
The local inspector of the Association for the Prevention of Cruelty to Children said that in Edinburgh Lumsden had earned in wages between 15th June and 12th September the sum of £15, 15s. 7d.;[4] and from the latter date up to 12th October, £2 a week. He also spoke to the destitution in which the family was kept by accused's failure to send sufficient money. The mother, a sober, attentive woman, did the best she could for the children. Accused drank all his wages.
Lumsden, who was examined on his own behalf, said he had had to get clothes, and paid to his brother 14s. a week for lodgings. He had been off work for four weeks. He had left Aberdeen as he could not find steady employment.
The Sheriff said he must take it as proved that the accused did not send enough money to support his wife and children because of his bad habits. It was a wretched pittance he had remitted to them. The sentence was four months' imprisonment with hard labour.
Scotsman, 30 October 1901
[3] About 4 days' wages for a skilled tradesman; equivalent to roughly £140 today. Image: Wikimedia, accessed 29.12.20.
[4] About 46 days' wages for a skilled tradesman; equivalent to around £1,194 today.
****
TO-MORROW (THURSDAY),
14th November—at Twelve,
Within SMITH'S STORES, NORTH-WEST THISTLE STREET LANE.
Dwarf and climbing roses, strawberry plants, rhododendrons, azaleas, magnolia, ornamental and decorative plants,
 as per Catalogues.
Scotsman, 13 November 1901
****
ENGINEER MECHANIC.— intelligent man wanted immediately.—Geo. Waterston & Sons, Thistle Street Lane.
ELDERLY WOMAN wanted to keep working man's house; references as to sobriety and honesty indispensable.—No. 6611 News Office.
ENVELOPE FOLDERS.—Experienced hands wanted.—Apply Geo. Waterston & Sons, Thistle Street Lane.
Edinburgh Evening News, 22 November 1901
****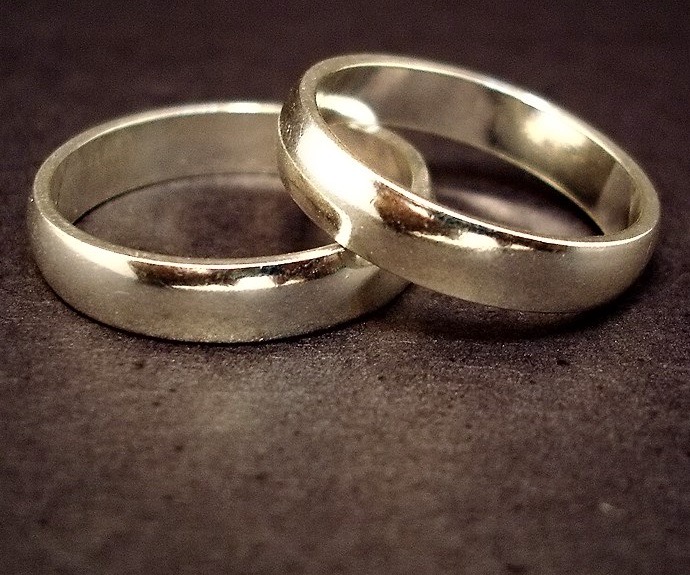 EDINBURGH GOLDEN WEDDING.—The golden wedding of Mr and Mrs Alexander Finlayson, 6 Alva Place, Abbeyhill, was celebrated last night. There was a large gathering of children, grandchildren, and friends.
Amongst other presents, was a marble timepiece and a photo album from his fellow-workmen in the coachbuilding establishment of Messrs Croall & Croall, York Lane, where he has himself wrought as a coachsmith for the long period of 45 years. Mr Finlayson is still hale and hearty, and quite able for his work.[5]
Edinburgh Evening News, 23 November 1901
[5] Alexander Finlayson, husband of Rachel Craig, died at home on 28.11.03, aged 75, of arterio-sclerosis and pulmonary congestion (684/3 600). Image: Wikimedia, accessed 13.1.21.
****
DUNCAN'S XMAS AND NEW YEAR AUCTION SALES, at 148 SOUTH ROSE STREET LANE (30 Yards from Charlotte Square.)
First Sales on SATURDAY, 7th December, at 3 and 7 p.m. and on 11th, 14th, 18th, 21st, 23d, 24th, 28th, 30th, and 31st, at 3 and 7 p.m. Free Gifts of Wines, Provisions, Teas, Watches, Xmas Cakes, Buns, Shortbread, &c., to Buyers at those Sales, First-Class Quality only. No Rubbish.
Edinburgh Evening News, 6 December 1901
****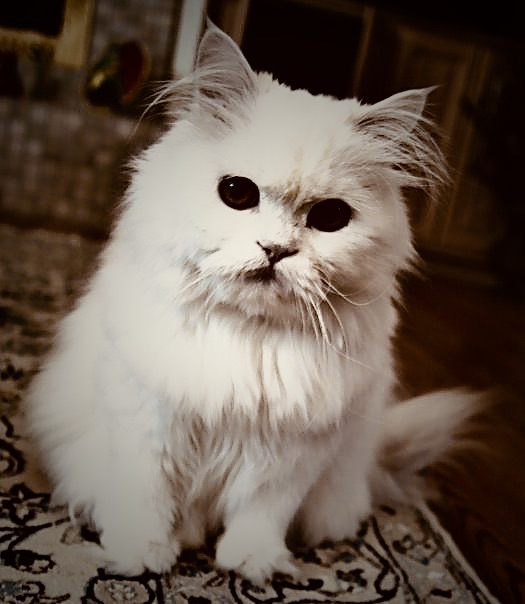 CAT. Persian, white tom, at stud: fee moderate.—Barker, 11 Church Lane.
Edinburgh Evening News, 19 December 1901[6]
[6] Image: Wikimedia.
****
GREAT SALE
BY
RENTON & COMPANY
OF THE WHOLE OF THEIR VALUABLE STOCK,
EXCLUSIVE IN FASHION AND OF THE VERY BEST MATERIAL AND WORKMANSHIP.
THE MOST FASHIONABLE AND RELIABLE LONDON AND PARISIAN GOODS,
AT EXCEEDINGLY LOW PRICES.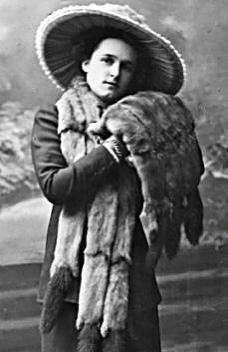 ____
Fur department.
SKUNK MUFFS …. …. 22s 9d, were 32s 6d
SABLE MUFFS …. …..  67s 6d, were 84s
Silk department.
BLACK BROCHE SILKS …. …. 2s 6d, were 3s 9d
PRINTED SATINS …. …. …. …. 2s 6½d, were 2s 11d
Dress department.
SCOTCH TWEEDS …. …. …. 2s 5½d, were 4s 6d
NEIGEUX FRIEZE ….. …. ….. 2s 11d, were 4s 3d
Linen department.
BLEACHED COTTON SHEETS … 4s 9d, were 7s 6d
DAMASK TABLECLOTHS …..  .…. 3s 11d, were 6s 6d
Print department.
SERVANTS' PRINTS, "DRESS LENGTHS" … 2s 4½d were 4s 6d
FANCY VELVETEENS …. …. 1s 5d,  were 2s 3d
Lace department.
LADIES' LINED FLANNEL SHIRTS …. …. 4s 3d, were 7s 6d
HEMSTITCH HANDKERCHIEFS …. …. …. ½-Doz. for 2s 6½d
Mantle department.
FUR-LINED MANTLES …. …. …. …. 29s
STYLISH PLUSH MANTLES ….. ….. 73s
Costume department.
STYLISH BLACK SKIRTS …. … 15s 11d, were 25s 6d
TAILOR-MADE COSTUMES …. 27s 6d, were 42s
Outfit department.
MOREEN UNDERSKIRTS …. …. 3s 11d, were 6s 11d
FLANELETTE DRESSING GOWNS …. 6s 11d, were 10s 6d
Mourning department.
BLACK ZEBELING …. …. 2s 9d, were 4s
BLACK BROCHE MOHAIR …. 1s 11½d, were 3s
Quilt and blanket department.
SATEEN DOWN QUILTS …. …. 11s 9d, were 16s 9d
TEVIOT BLANKETS …. …... ….  9s 9d, were 12s 6d
Glove department.
RUSSIAN LEATHER GLOVES …. 1s 6½d, were 2s 11d
PIQUE KID GLOVES …. …. …. …. 1s 11½d, were 2s 11d
____
EQUAL REDUCTIONS THROUGHOUT ALL DEPARTMENTS.
RENTON & COMPANY,
12, 13, 14 PRINCES STREET
3, 9, 10, 11 WEST REGISTER STREET
____
Edinburgh Evening News, 21 December 1901[7]
[7] Image: Photo Detective, accessed 30.12.20.