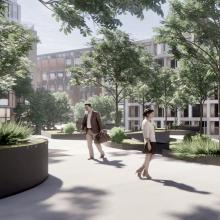 Ediston and Orion Capital Managers have now made available some plans, summaries, and visualisations for a mixed-use development on the site of the former Royal Bank of Scotland complex between Dundas Street and King George V Park.
You can access them here and complete a short online questionnaire on the package here. If interested, you should complete and return the questionnaire by 1 May.
This is the third and final round of public consultation arranged as part of the statutory pre-application notification process required for such major projects.
Responding to local concerns
The developers are keen to highlight their responses to residents' issues raised at previous exhibitions. They point out that:
There will be no student housing.
Connections between the site and King George V Park have been reduced to one at the park's south-west corner.
Height/scale/massing have emerged after discussions with Edinburgh Council and Historic Environment Scotland. [This is a timeline only. There is no indication here of the extent to which CEC and HES aspirations have been met.]
Removal of trees will mostly [but not exclusively] result from concerns about their health and condition. New tree planting and management will be secured by legal agreement. The 'woodland' boundary with Fettes Row and Royal Crescent will be retained.
New residents will have limited on-site parking, and no access to residents zone parking permits off-site. [Sceptics continue to wonder how well this will work in practice.]
Neighbouring properties will be surveyed before work starts, and construction techniques will be chosen to minimise the risk of structural damage.
Context and uses
The design acknowledges and celebrates an interface between New Town formality to the south and west and a 'softer landscape' to the north and east.
The numbered elements shown below comprise: (1–3) residential, (4) office/retail, (5) hotel/restaurant, (6) 'health and well-being facility'.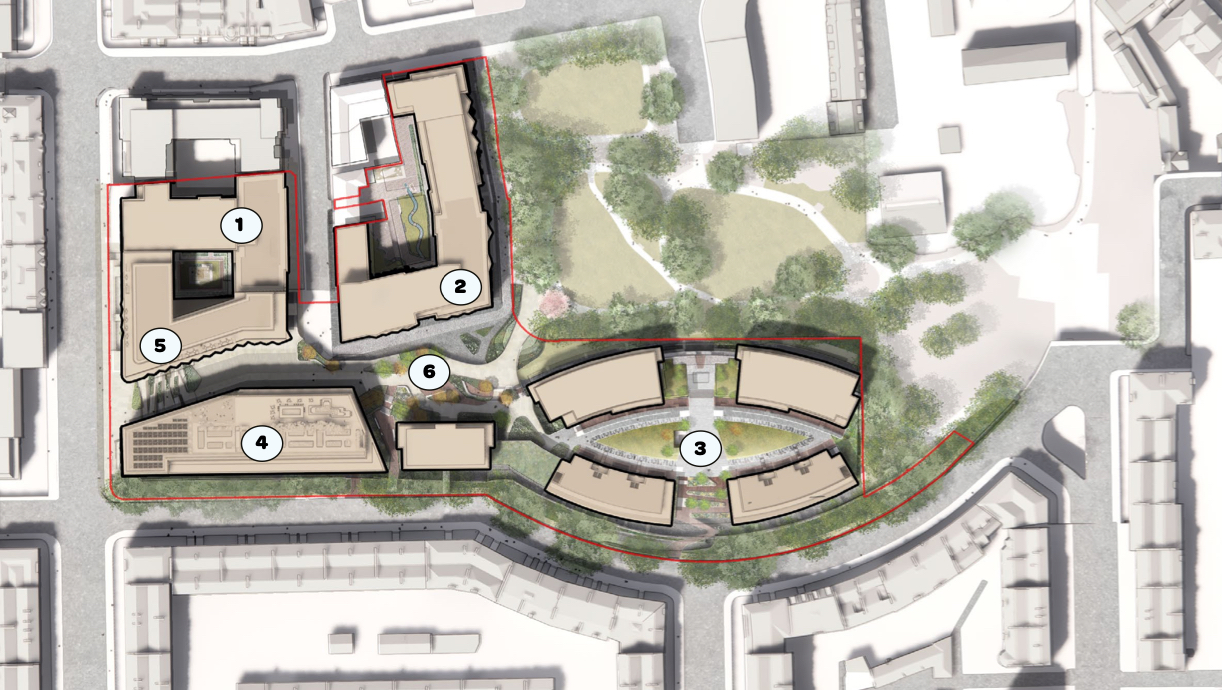 A few observers may raise eyebrows at yet more hotel space for a city some consider already overburdened by tourism. Others may wonder at the feasibility of such a use in a potentially travel-wary post-Coronavirus world.
Spurtle doesn't know quite what to make of the 'health and well-being facility'. If this is a new general practice or dental surgery in response to popular local demand, we're for it. If it's yet another gym or yoga studio, we're underwhelmed.
In general, Spurtle (or, at least, this correspondent) likes the ease of east–west access through the development. However, we can see why some locals are calling for a kind of gated chicane to slow cyclists at the park entry/exit.
Some locals are also calling for a greater delineation between development and park. Spurtle agrees that the arrangement is currently unclear at the southern edge of the park, but we find the proposal for the western edge (below) rather imaginative and attractive.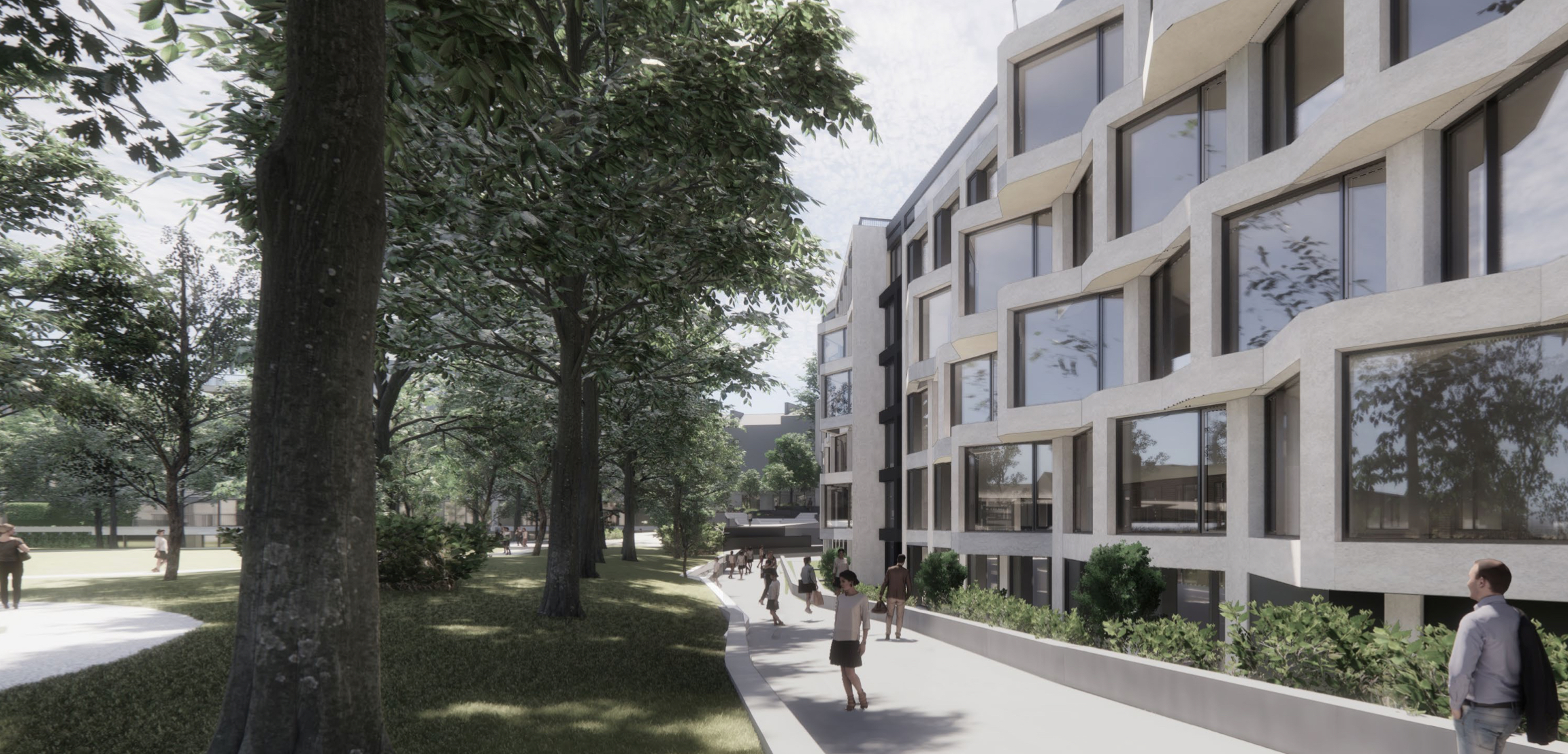 Impact on neighbours
Spurtle applauds the creation of open and green spaces between and above built structures. We assume that the image below, envisaging afternoon summer sunshine, depicts the minimum of overshadowing.
But how overshadowed would the park and neighbouring buildings be during other seasons and times of day? Such details should become apparent later as part of the Environmental Impact Assessment that will accompany a full planning application. It is a shame they are not available now.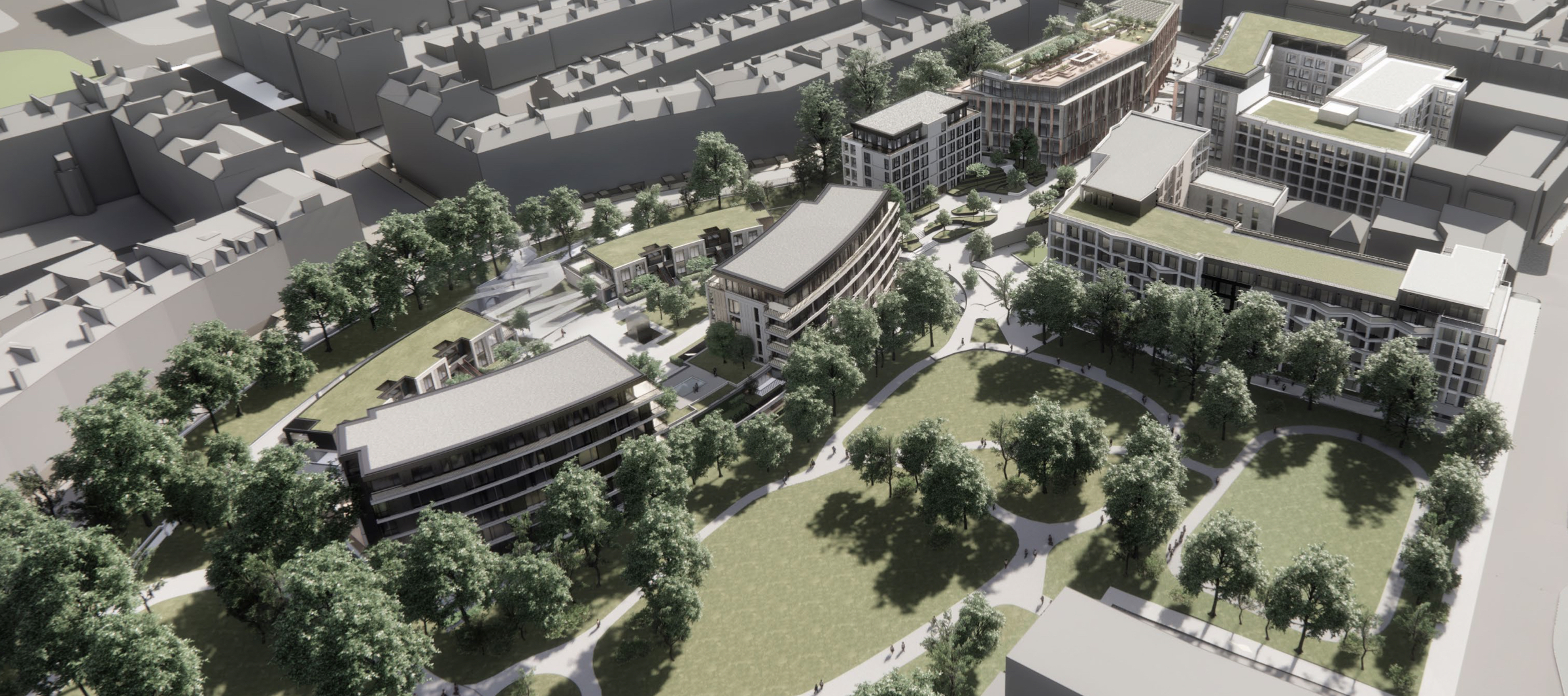 Mirroring Royal Crescent to the north, and setting the tallest residential elements back from their neighbours there, appears to be a sensible solution (although this will require close attention and inevitably impacts on the park instead).
Spurtle likes the new ramped access at the foot of Dundonald Street and the retention of the open view south towards Fife.
We understand there are concerns among some locals that the open space between the two new crescents (see the image below) will now be private rather than publicly accessible as previously shown.
We don't understand how these locals know this from the information provided in this round of consultation, unless they infer it from distinctions between 'civic garden and 'residential garden' in captions to images.* But if they are right, then the ramped access praised earlier is perhaps surplus to requirements.
[* A reader writes: 'In the description under 'residential gardens' it states 'these gardens will form communal gardens for the residents of New Town North' coupled with the comment under Item 4 from the 2nd Exhibition that 'Some respondents requested no new route from Royal Cresent / Dundonald Street.' ]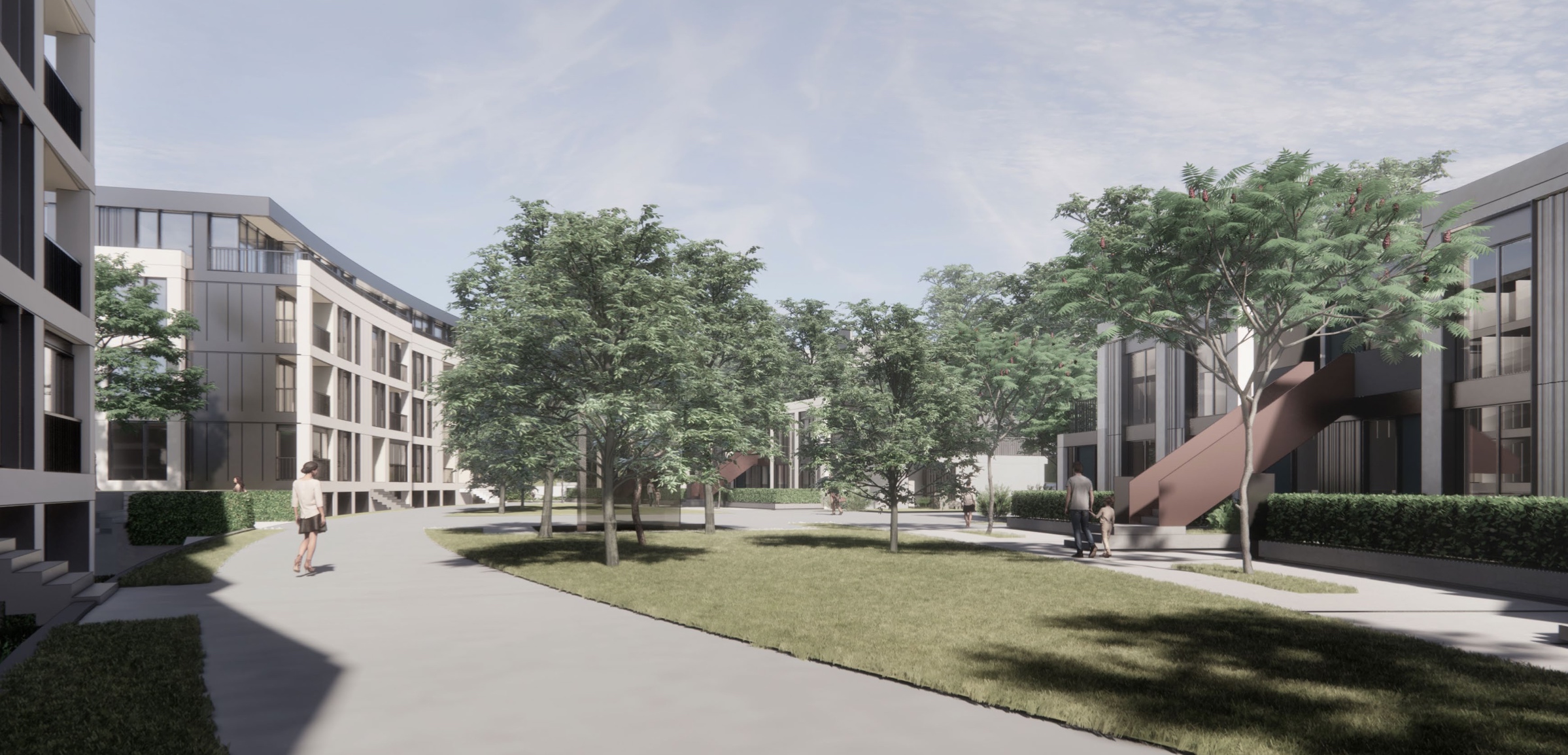 Fettes Row residents may be less happy about the new office buildings facing them. While some have perhaps grown accustomed to the jungly broodings of the RBS ziggurat over the years, few would want to see anything higher, closer, or otherwise more obtrusive.
The images below partially show the Dundas Street elevations. The building on the left is the proposed hotel/restaurant, and the one on the right would house office and retail units.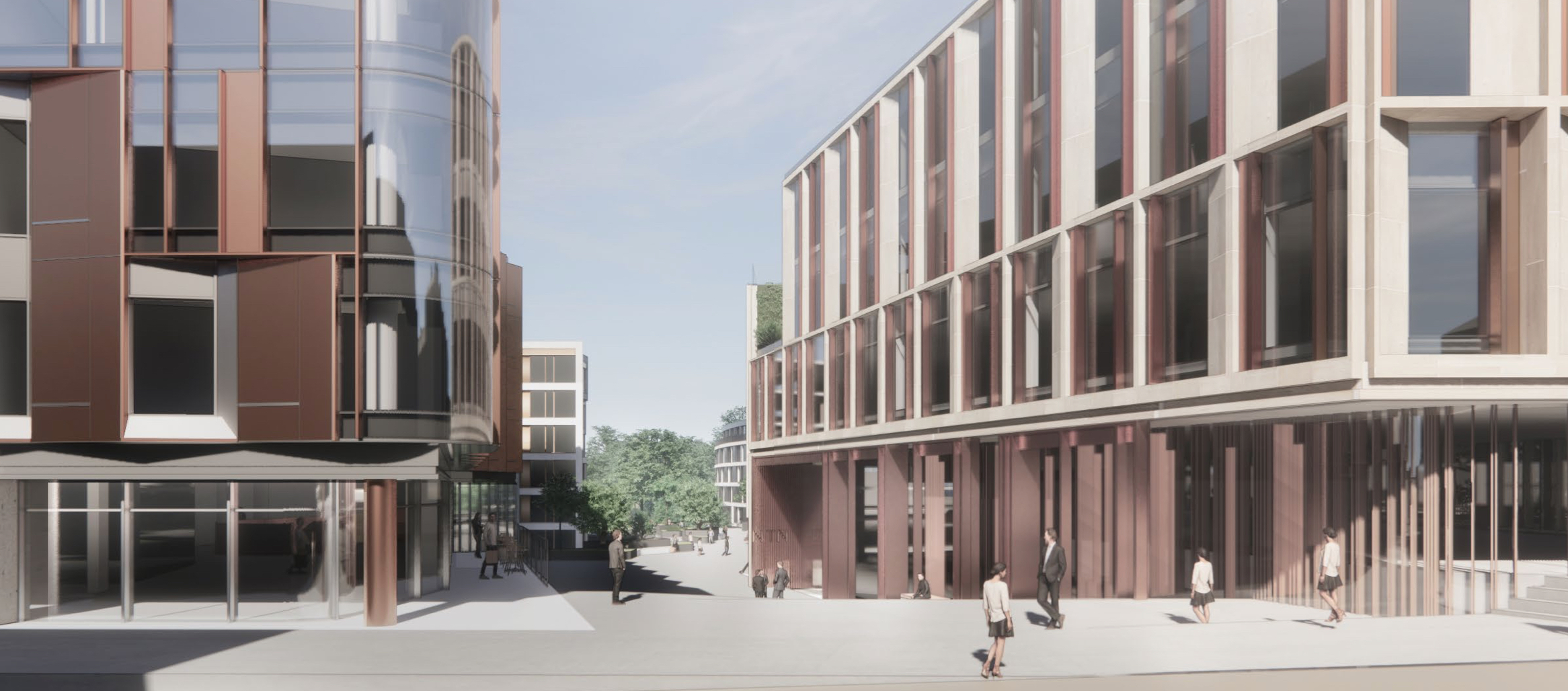 We have three observations to make about it:
When one compares the aerial plan (the second, numbered image in this article) with the current arrangement (see photo below), the building line appears to have moved forward towards the road. Some prefer the existing more set-back arrangement as better representing a 'gateway' into the New Town.
The design doesn't strike us as scintillating, but neither is it downright offensive.
Worryingly, it looks utterly sterile. Perhaps this is a shortcoming of the visualisation, but surely we should hope for more visible, colourful and vibrant elements to animate it at street level.
Finally, three points about what we haven't yet seen.
First, we could do with greater clarity about the design and height of the residential buildings closest to Royal Cresent.
Second, how will the developers plan to illuminate the site at night and on dark winter days – how this is implemented will be crucial to the development's overall success.
Third, how will the private residential gardens be laid out? There are intriguing glimpses of these in the aerial views and plans, but they are hard to interpret.
How necessary?
Local resident Richard Price pays close attention to new developments as Planning Convener for the New Town & Broughton Community Council. In a private capacity, he says he awaits with interest Ediston's justification for knocking down (in a Conservation Area) the block adjacent to the Applecross building.
'The issue of sustainabilitty is clearly becoming more important, and complete demolition of a 1970s structure seems inappropriate.
'I understand much of the current building on site cannot be repurposed, but the need for 100 per cent site clearance seems to me (as a lay observer) unnecesessary.'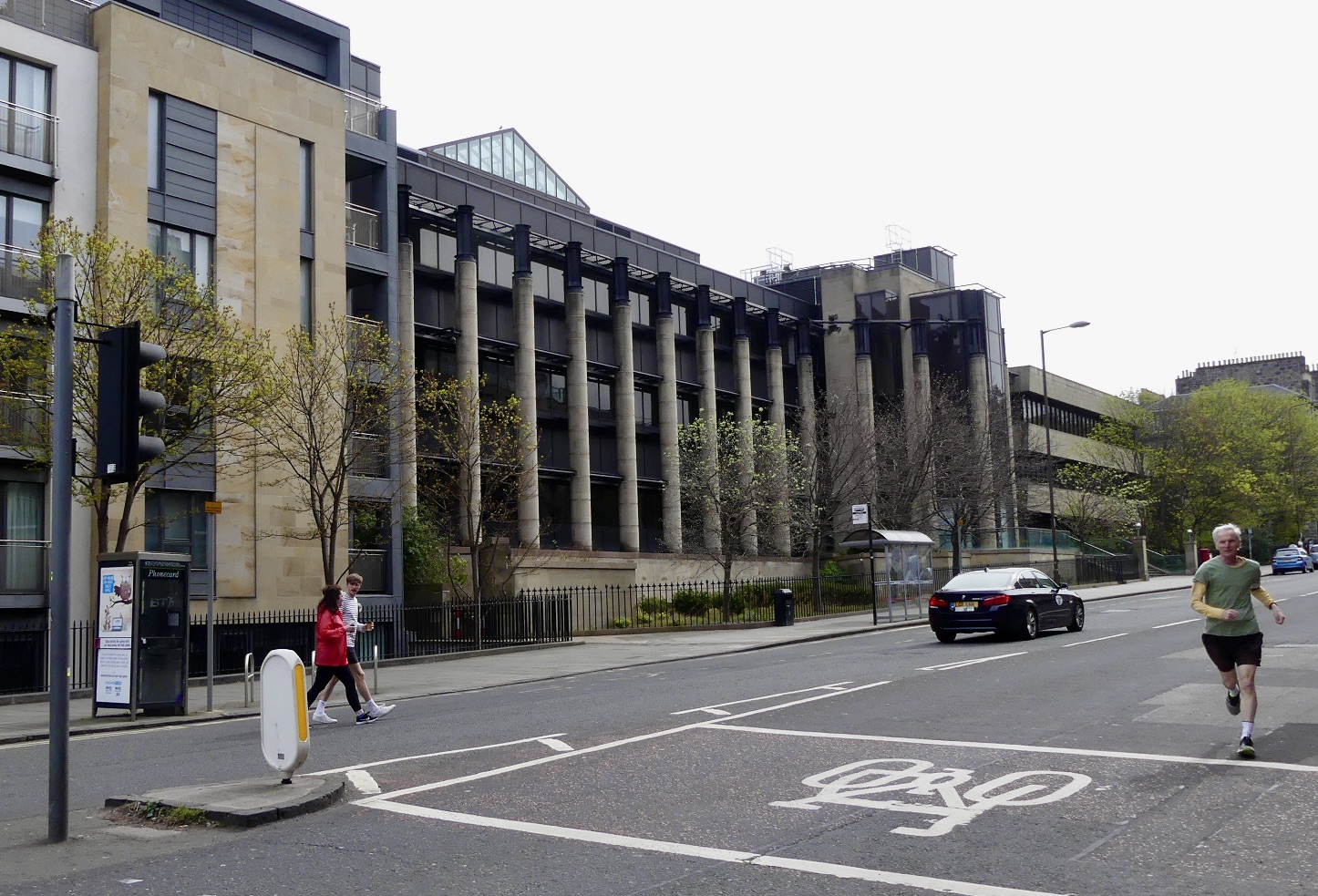 Devil in the detail
The visualisations show the extent to which new development will be screened from view by trees. There is no detail about the materials and precise dimensions of such buildings, which will obviously be visible during spring and winter months.
The Third Consultation website is an unabashedly feel-good work, whose images (and proposed weather) are certainly attractive. This correspondent finds much to praise here.
However, care is needed. Experience suggests such artistic fantasies tend to overegg a sense of horizontal spaciousness, abundant foliage, successful planting, and building materials that have not yet stained or decayed.
Still to come
What we have seen so far are therefore well-intentioned sunbeams and pixie-dust.
Proper scrutiny will have to be applied later in the planning process. How effective that process will be under current pandemic arrangements is anybody's guess.
The developers hope to submit a detailed planning application this summer, and, if successful, to begin work in summer 2021.
They envisage completion of the project in 2024, although all such scheduling was thought through before the full impact of Coronavirus hit home.
Reactions
Reactions from Spurtle readers up until 11 April appear at the end of our article here. Any more after that date will appear below.—AM
Got a view? Tell us at spurtle@hotmail.co.uk and @theSpurtle and Facebook
-----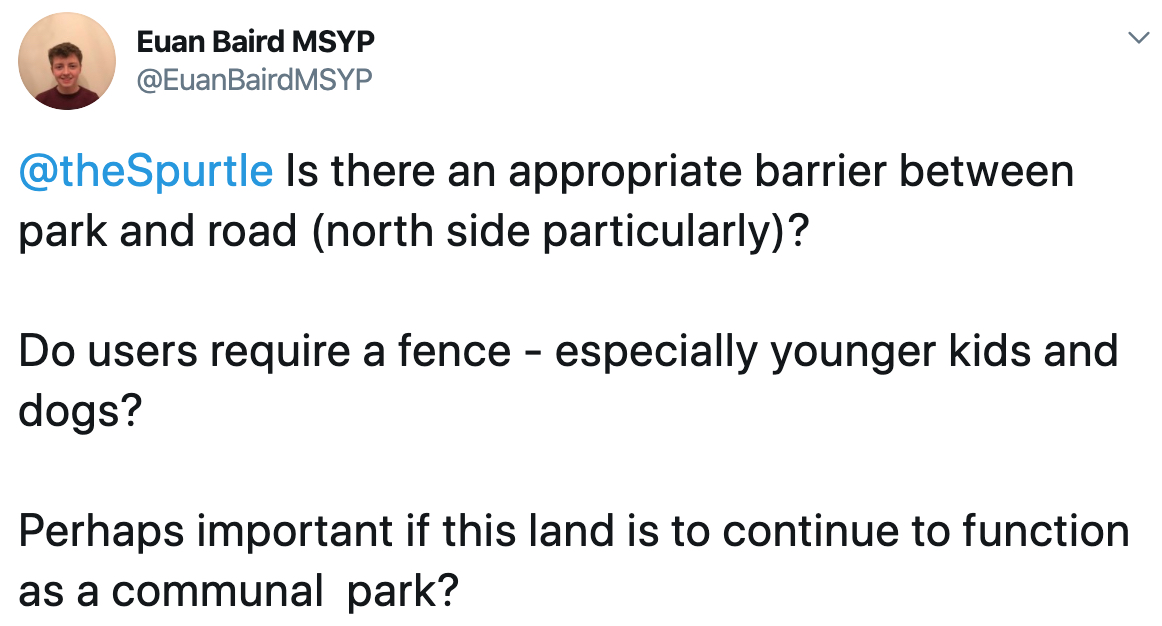 Email from Christopher Day: Since you asked for comments on your article, as a Dundas St resident, I'm fuming that they're planning to remove all the trees on this street. Obvs designed to let them build as close to the street line as possible. And Richard Price has got a point about the existing block on that street. Part of the same issue.