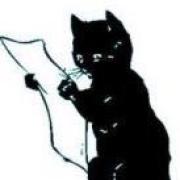 As you read this, printed copies of the July Spurtle are already appearing across the barony like half-eaten fish suppers on a pre-Lockdown Saturday morning.
Issue 297 starts with shameless public nudity, whereby hangs a tail. It continues with suggestions for Council officers to chew over, more doubts on discussions in a crisis, and thoughts about a stuck-up local whom few people seem ever to have liked much.
Hold very tight, please! Page 2 is dominated by transport – a move to improve matters on East London Street and good news for those planning a staycation at Ocean Terminal. We also cover a hidden gem in the heart of Pilrig, and the efforts of neighbours to keep it green. There are items on planning and the pandemic, unwelcome visitors, and what's left in Leith of a body who never had any elbows.
If it's whopping great snakes you're interested in, Page 3 is the place to go, where an inveterate romantic tells his mortarium from his pistillum and hopes for a unicorn. We also cover problems with overcrowded public transport (Gentlemen, when in doubt, summon a police constable), the zeitgeist of Zoom, the virtues of villages, and the multiple merits of urban decluttering. Churchgoers and others will shudder at what happened to a popular elder.
No Page 4 is complete without bananas, and this month they're here in abundance. We also look at the curious passions stirred by caffeine on Heriot Row's, and reflect fondly on the ending of false dawns and misleading evenings in parts of our website.
A limited number of printed copies will soon be visible on noticeboards across Broughton and beyond, and available in piles from selected outlets in Bellevue Road, Howard, East Claremont, London and Broughton Streets. Numbers are limited, so catch them while you can.
Alternatively, you can download a colourful pdf here from midnight tonight.
If you'd like to help out with the Spurtle – contribute articles, photos, indiscrete news in strictest confidence, ideas, legs, cash – we'd love to hear from you. Please email us at spurtle@hotmail.co.uk