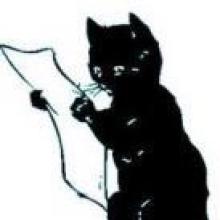 UNHELPFUL PREVIEW HERE
As you read this, copies of the May Spurtle are not fluttering from the presses like so many cherry blossoms borne on a gentle breeze across the Barony of Broughton and beyond.
Rather, in the absence of working print-shops, Issue 295 remains trapped in the egg-bound bowel of the Editor's computer.
Happily, thanks to the laxative effects of modern technology, all that will change at midnight when readers can download a colourful pdf from our Homepage here.
For now, be advised that Page 1 contains changed expectations and important processes currently on hold, concerns, a questioning finger, and lingering doubts.
On Page 2, we consider contradictions on how to progress, suggestions that old methods won't work in future, and repeat helpful remarks from Dutch experts taking a long view of how to do things better in future.
Page 3 reports ways to restrain a policeperson's potential for overhelpfulness, has a stab at rubbing along with fellow citizens, and adds to the gaiety of nations with a retrospective on avoiding death for a mere 3 shillings.
After a few promising nuggets about ineffectual 'Keep out' notices and urban foxes, everything reaches a shuddering halt on Page 4. Here we present the answer to a question that will have been troubling readers since at least the top of Page 2. It comes as a blessed relief.
This is a strange time, and we have just the strange Spurtle to match it.