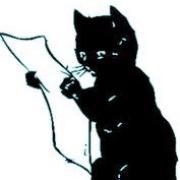 As you read this, advance copies of the June Spurtle have already spread across the barony like fresh hail through a spring T-shirt. Gird your goosebumps and embrace the news.
On Page 1 we commence with news of the May election, and ill-advised speculations on a Coalition deal formulated before the real thing emerged just after it was too late to correct ourselves. When in doubt, Shoot the Editor.
We have reports, too, of a bipedal phenomenon newly arrived in Broughton, the botched beginning of beautiful bins, and the grisly end of a local landmark.
Park concerns mark Page 2, as do worries about the chronic lack of creative spaces. We project bright things for a Broughton novelist, bemoan bits that get everywhere, and applaud athletic infants running miles mostly for a good cause but maybe to escape fire officers mucking in with the community.
On Page 3 we learn again the importance of understanding other people's views before we profoundly disagree with them, delve into the ever cultural minds and bottomless booze buckets of Nuveen Real Estate, and catalogue the further erosion of Edinburgh communities thanks to lovely people who don't want to live here or stay too long.
We touch upon nonsensical advertising for thoughtful design, continue grieving for lost bottles, consider a long drop, wonder what's next for Leith Walk, and examine the two-way perspective that is splendid rooftop views.
And as if that weren't enough, we look at 3-D community councillors on Page 4, along with officials' potential incompetence, the lack of bitumen, bags of enthusiasm, and help for those who find themselves stranded in the wrong century.
All this and more awaits you in printed copies available the length and breadth of Broughton and beyond. Alternatively, download your hyperlocal news in handy byte-sized chunks from our website HERE any time after midnight tonight.