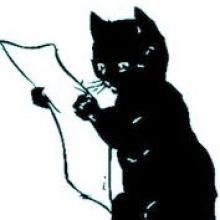 As you read this, advance copies of the February Spurtle are already fanning out across the barony like invitations to a Downing Street after-work work meeting for people who won't be doing any work at it.
Page 1 jumps straight into a controversial development, grinding teeth, and serious crime before lightening the tone with coffee-and-cake news and ways to help local kids get lost in the countryside.
We kick off Page 2 with the wit and wisdom of Lord Stockton, give details of a spectacular new festival venue within easy reach of Broughton, and offer a little background to a new face in Bellevue Crescent. She favours fish suppers.
On Page 3 we bid farewell to an old friend, detail a convenient method for wallowing in historical shame, and provide exciting insights into family-friendly ways to  dismantle assailants. We anticipate boogieless mornings in Forth Street, a modernised corner of Pilrig Street, and Marshall's Court with a living wall and improved sewerage. Break out your flipflops.
Broughton Street's past tops Page 4, where there's also word of a new wave in keeping your New Town basement dry. We conclude with a punchy little item and an awkward question: Is it good enough?
In short, Issue 314 is concisely worded, densely packed, hyperlocal reportage of all things happening in one peculiar square mile of north/central Edinburgh. If it squeaks, chatters or roars in Broughton, you'll read about it here first.
Pick up your copy from any of the usual outlets – pubs, eateries, shops and services – or download a colourful pdf of the same here from midnight tonight. Old issues going back as far as February 1994 can be accessed here. BYOB.
One last thing … if you'd like to get involved in news gathering, writing, production or distribution of the Spurtle, we'd love to hear from you. Email us at spurtle@hotmail.co.uk