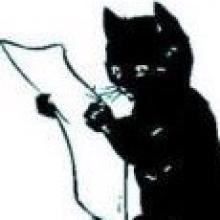 As you read this, advanced copies of the December/January Spurtle are already appearing across the barony like Lockdown-busting shoppers from Newcastle trying to keep a low profile in parties of 30.
Page 1 steps gingerly into the traffic, looking both ways before tumbling headlong into a rain-filled pothole. It carries news of stable development, local views (and their possible absence), and the great smell of coffee not everybody likes.
On Page 2 we go back to school, yet again, and examines how we could do better in future. There's a Wet Wet Wet retrospective, wintery prospects, party warnings, retail tidings good and bad, booze news, and a potential stocking-filler for those whose stockings are already too full.
Page 3 features the window musings of an appreciative cat, winter lights, and an item of historical humbug on the subject of Christmas past and present. (It's never been as good as it used to be.) Numerous brief bits and bobs of local interest glisten like wet fillings in an otherwise beautiful smile.
Finally, on Page 4, we have Viking-style frolics, smarter-than-average clothing, hair loss, highly charged luminaries, garden misunderstandings, and the dubious prospect of dwelling blocks in places the sun may not shine.
All this and more. Oh, and compliments of the season.
Spurtles will be available in many of the usual unusual outlets across Broughton and beyond from tomorrow. Alternatively, you can download your free colour PDF at our website's Homepage HERE from midnight tonight.
Don't read it all at once … we're about hibernate, so this will be our last printed issue until 1 February 2021.