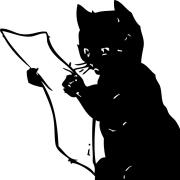 As you read this, the first printed copies of the March Spurtle have begun appearing across Broughton like spring birds peeping in the teeth of domestic moggies.
Page 1 flutters fitfully with news of a controversial addition to the city's streetscape, masked dogs, and a cracking structure in need of some tender loving mastic.
Page 2 leads with abuse, continues with delay, looks hopefully at improvements, and anticipates the joys of Winters to come. Along the way there's pandemic advice, raw marinated fish, après-ski opinion, and enterprising youngsters smelling of soap suds and freshly filled savings accounts.
Hacked off and hobbled describes the lead story on Page 3, with serious implications for riverside dwellers and the timing of Edinburgh's new City Development Plan. We use the word lazaretto for the first time in Spurtle history, find fault with free will, and expound upon dog poops, pop-ups, pieces of porcelain pasted on walls, and prowlers.
Googly eyes and a new drain grace Page 4, where there's also more hyperlocal Covid news and, for those readers unable to read it, an indispensable snippet on where to find paper copies of the Spurtle.
Issue 304 will satisfy all your up-to-the-minute, out-of-date granular news needs. You can find it in shops and newsagents across the barony and beyond, or download a colourful pdf from our website HERE after midnight tonight.
Remember: we need your input. Please send us ideas, photos, articles, innuendoes and items of interest – anything touching on life between York Place and Warriston Crescent, St Stephen's Church and Pilrig St Paul's. No news too small, no remuneration whatsoever – spurtle@hotmail.co.uk