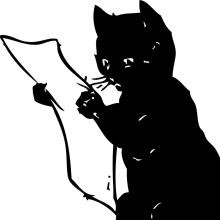 As you read this, advanced copies of the April Spurtle are already dispersing across the barony like personal items storm-torn from a clothes line and caught in the branches of a tree just out of reach from your opposite neighbour's first-floor kitchen window.
Page 1 looks at ways to address a tatty muddle that ought to be the capital's tiara. It continues with a lumpen mess, reports Picardy residents' demands for better, and concludes with first news of the forthcoming Spurtle election hustings. And there's a view of a doo.
On Page 2 we report on the possible end of free on-street storage of valuable possessions, discuss the merits of floating beds, and explain why residents see red at some plans for a green. We bid farewell to an artistic headbanger, delve into poisoned dental sticks, and marvel at the frightening cost of New Town square centimetres.
Page 3 reviews poetry, repeats resistance to science, and examines different routes to the same end. We look at webs, placards, and World Heritage suggestions, then the loss of haberdashers and foliage.
And finally, we conclude Issue 305 with some Kenyan cuisine, cylindrical drums, the passing of a popular butterfly, and the arrival of a huge goose.
In short, whatever it is, if it flaps, flutes or fascinates anywhere between Pilrig and St Stephen Street, Queen Street and Canonmills, you'll probably find it first in the April Spurtle.
Printed copies are available at: Bellevue Convenience Store (Bellevue Rd); Broughton St (various outlets, including Real Foods); Canonmills Newsagents (Howard St); Claremont Food & Wine (E Claremont St); Hopetoun Cres Gdns (central gate); Leopold Pl Newsagent; Queen St East Gdns (central railings); Scotland St Library (railings outside No. 37); Spey Ter Newsagents; Tattie Shaws (Elm Row); and Weigh to Go (Crighton Pl).
Alternatively, stay up till midnight and download a full-colour copy in waterproof pixels from our website here.
All news, views, images, ideas, and brickbats welcome at spurtle@hotmail.co.uk