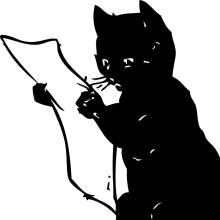 As you read this, advance copies of the June Spurtle are already dotting the shelves of local shops like huge pepper grounds on the boiled eggs of a salad nicoise accidentally left overnight on the kitchen table. At least, I think they're pepper grounds.
Page 1 contains contested spaces, controversial clusters, and one word too many; takes a deep breath before consultation; and rejoices in the gore-bellied posturing of an Edinburgh humbug long gone but not forgotten.
Obstructions and objections feature on Page 2, as do the miserable pleasures of black, an absence of politicians, pollinators, and the future of Crombie's on Broughton Street.
On the buses
Viper's bugloss is not an obscure German death-metal band but a surprising survivor of frosts and stray tennis balls. It features on Page 3, along with an all-night rave in which social distancing was not respected, the arrival of fresh fresh bread, a plea for help, a change of fish, and the immobility of our local bus depot.
We conclude with things that go bump in the street, green thoughts on long-distance travel, some words of thanks, and a retail update which won't detain busy readers in a hurry not to shop local.
Basically
Basically, if it hoots, whinnies or pongs between Pilrig and Howe Streets, York Place and Canonmills, you'll most likely read about it here first. Find your copy in shops, street dispensers, and cafés, or download a colourful e-version from our website after midnight tonight.