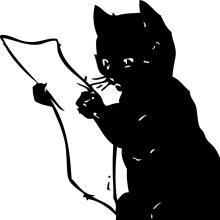 As you read this, advance copies of September's Spurtle are already scattered about the barony like pelicans chasing a fish supper.
Page 1 begins with high hopes of K-pop (but not as high as before), two men in hats, and a councillor feeling the heat. Locals, as usual, are sceptical about everything.
If it's vampires that quicken your blood, Page 2 is the place to be with sleeves rolled down and socks up over the knees. We have reports on crime, pugilism, good and bad pop-ups, and regrettable departures from the Broughton scene. Also, bins.
On Page 3 we welcome hoes, visit the Hague, and look back at the shocking nuisance of grafitti. We also dip a toe in cement, note a squeeeze on Leith Walk, and tiptoe around the issue of 'a stupendous rotten pong'.
A.A. Milne's contribution to Edinburgh architecture features on Page 4, as do updates on two major development projects and first news of a third.
In short, September's Spurtle is a hyperlocal Dundee cake: dense on detail and juicy with factual gossip. Pick up your toothsome mouthful from shops and bars across Broughton and beyond, or download a colourful e-version from the website HERE after midnight tonight.

Image: Wikimedia commons.