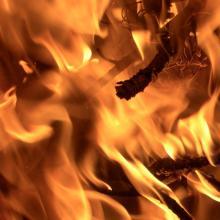 1837–38
Fire.—On Thursday night, about seven o'clock, the premises in East Thistle Street Lane, in which Messrs M'Crie & Co. carry on the business of paper-staining, caught fire, which, however, by the prompt attendance of the firemen, was soon got under with an engine, and with comparatively little damage.
The fire, we understand, originated from the process of boiling the oil—a process which ought never to be tolerated in a large building, as in this instance, which consists of four or five stories, with contiguous buildings on both sides.
Scotsman, 15 April 1837
*****
EXTENSIVE SALE OF A TAVERN-KEEPER'S EFFECTS, HOUSEHOLD FURNITURE, &c.,
By warrant of the Sheriff,
On Tuesday the 25th July 1837, at Eleven o'clock forenoon, at Gabriel's Road,[1]

CONSISTING of Grates, Fenders and Fire Irons, Carpets and Rugs, Mahogany Dining and Breakfast Tables, and Hair-bottomed Chairs, Sideboard, Chest of Drawers, Mirrors, Bedsteads, Feather Beds and Bedding, and an extensive assortment of Kitchen articles, Grate, and Hotplate, &c.—Also, eight Mahogany Coffee-room Boxes, with Tables and Seats, Gas Metre and Fittings, with Brackets, Lustres, &c.; Lamps, Oil Cloths, &c.; Porter Engine, a large quantity of Pewter Pots, Crystal Measures, Cruet Stands, Knives and Forks, &c. &c., and a small quantity of Silver Plate.
Ready Money.—No Duty.
Sheriff-Clerk's Office,
Edinburgh, July 20, 1837

Scotsman, 22 July 1837

[1] Gabriel's Rd was a meandering track that originally ran from Inverleith to today's Little King St via today's steps at Glenogle Rd, E. and W. Silvermills Lanes, Dundas House and W. Register St. Most of it gradually disappeared under new development during the 19th century. The Robin Hood Tavern and Coffee House was at No. 1, at the city-centre end of the route, and was replaced in the 1860s by New Register House. In the Ordnance Survey, 1851, it is marked as a hotel and tavern. According to an advertisement in the Scotsman (11 June 1831), it comprised an "excellent coffeeroom, three confortable [sic] parlours, besides kitchen, bar-rooms and other conveniences" on the second storey of a tenement. This was the setting for the multi-authored 'Noctes Ambrosianae' (1822–35) in Blackwood's Magazine, named after the tavern's then landlord Mr Ambrose. See also entries for 2 March 1843 and 11 June 1869.

*****
MAN KILLED.—Monday forenoon, a slater of the name of William Kemp, about 50 years of age, fell from the roof of a stable in Rose Street Lane, and was killed upon the spot. The deceased was subject to epilepsy.
Caledonian Mercury, 10 August 1837
*****
A little boy was amusing himself on the Calton Hill, behind Nottingham Place,[2] when he rolled from near the road on the hill down to the bottom. He was taken up considerably injured and was removed to the Royal Infirmary.
Caledonian Mercury, 14 August 1837
[2] The southern section of today's Greenside Row (also called Nottingham Terrace) was given its name by Samuel Wordsworth, stabler, who built houses here in c.1812. See entry for 1 November 1845.

*****
STRIPPING.—On Sunday last, about four o'clock, a child on returning from a walk with its mother, lingered a little behind her while she was ascending a stair in Castle Street, where they reside, and was decoyed to Hope Street lane, by a boy, who induced it to accompany him by a promise of sweetmeats.
The little miscreant then took the child into a cart and stripped it of its trowsers, a flannel petticoat, and a band.[3] On Wednesday, a similar offence was perpetrated also by a boy, in a close in the High Street.
Caledonian Mercury, 28 September 1837
[3] Boys up to the age of 3 or 4 commonly wore frocks with pleated skirts at this time.

*****
SHERIFF COURT
James Manderson, smith, was convicted of house-breaking, by entering a wright's shop in Old Broughton, by lifting three tiles from the roof, and taking away several tools and a linen apron. Sentence, sixty days in Bridewell.
Caledonian Mercury, 30 April 1838
*****
EXTRAORDINARY ACCIDENT.—On Thursday, between two and three o'clock in the afternoon, as a noddy[4] belonging to Mr David Robertson, coach-hirer, Dublin Street, with two persons on the driver's box, was proceeding down Duke Street,[5] the horse made a sudden attempt to turn into the stables in York Lane.
In order to check this movement, the person beside the driver seized the left rein and pulled the horse's head smartly round; at the same time causing one of its legs to strike against the wheel of the noddy. The animal, being frightened perhaps, with great fury instantly darted down Duke Street, turned into Abercromby Place, and overset the coach into the sunk area of the house of Dr Taylor, No. 1, in that street.
The consequence was, that the vehicle was dashed entirely to pieces, the horse killed, and the driver's arm broken in two places, besides one of his ankles thrown out of joint. The person who was on the dickey beside him was also severely hurt, but fortunately escaped without any broken bones.
About forty feet of iron-railing and parapet stone were thrown down with the concussion. The driver was taken to the Royal Infirmary, where, upon inquiry, we learn that he is doing well.
Scotsman, 14 July 1838

[4] A plain, horse-drawn, two-wheeled cart.
[5] Duke Street was the name given to the section of today's Dublin Street between Queen Street and Abercromby Place. Dr Taylor's house is now occupied by Dunpark Property Agents.
*****
DEAF AND DUMB—On Tuesday a public examination of the pupils attending the Deaf and Dumb Day School, No. 12, Calton Place, took place in the Waterloo Rooms,[6] before a numerous and highly respectable company.
This useful institution took its rise from the benevolent exertions of a few individuals about a year and nine months ago, and the number of scholars, which was only six at its opening, has increased to twenty-three.
They were examined by the Rev. Mr Ferguson of St Peter's, who, with great ability and acuteness, put them through their various exercises, in expressing their thoughts by the finger alphabet and by the use of signs, in writing and cyphering, in the elements of geography, and in the principles of Christianity, in all of which there seemed to be a universal feeling, that they acquitted themselves in a remarkable and creditable manner.
The Rev. Mr Innes presided, and expressed himself in terms not only of satisfaction, but of admiration, at what had been done during the short period of the existence of the school. At the close of the examination, a few of Mr Gall's blind pupils read portions of Scripture from raised letters, in which they gave a pleasing specimen of the progress they are making; whilst a few of the Deaf and Dumb held intercourse with their fingers with two or three blind children, which seemed to afford great gratification to the company.
This humble institution, under two well qualified teachers, one of them deaf and dumb, is already in a state of pleasing efficiency, and promises to be an extensive blessing to the community.
Caledonian Mercury, 2 August 1838
[6] Today occupied by Howies restaurant on Waterloo Place.By the 1840s, the Waterloo Rooms had moved or extended to the site of today's Apex Hotel.
*****
The pupils of Mr Alexr. Adam, Swinton Row, were examined in the Calton Convening Room, on Monday last, in presence of a number of their parents and friends, who appeared all highly pleased with the progress they had made under their teacher, in the various branches, viz. English reading, recitation, history, grammar, geography, writing, and arithmetic. At the close medals were given to the duces for essays on various subjects.[7]
Caledonian Mercury, 11 August 1838
[7] Calton Convening Room seems to have been another name for the Waterloo Rooms (see Note 6). See also the entry for 2 September 1846.

*****
FIRE IN THISTLE STREET LANE.—A fire was discovered early on Sunday morning in a hay-loft in Thistle Street Lane, but was speedily got under by the firemen, who, with Mr Paterson, were soon on the spot. The effects were saved, with the exception of some hay and straw.
A man who was found in the premises when the fire was discovered, is in custody on suspicion of incendiarism. He was much intoxicated at the time; and it is stated that he had been accustomed to sleep there, and that a spark from his pipe, falling among the straw, had produced the combustion.
Scotsman, 16 October 1838
News from the Mews will resume in January 1839 on Monday.

Image top-right: Wikimedia, creative commons.